If you're as smitten with the ocean as me, you might appreciate this little projector unit I discovered for this week's Interesting Item (Omoshiro Zakka). It brings the soothing comfort of the deep blue to your bedroom, bathroom or wherever you choose to put it.


Dubbed the 'Relaxing Ocean Projector Pot', this waterproof device allows you to project the splendour of the ocean surface onto the walls or ceiling of your home, giving you that cool blue under the sea effect.

Personally, I would be inclined to have in my bedroom as I drift off to sleep, giving me that 癒される (iyasareru) – healing – feeling of an aquarium. It has a one hour timer to automatically turn it off in case you drift off to sleep and they suggest it might be put to good use if you plan on inviting your boyfriend or girlfriend over for the evening.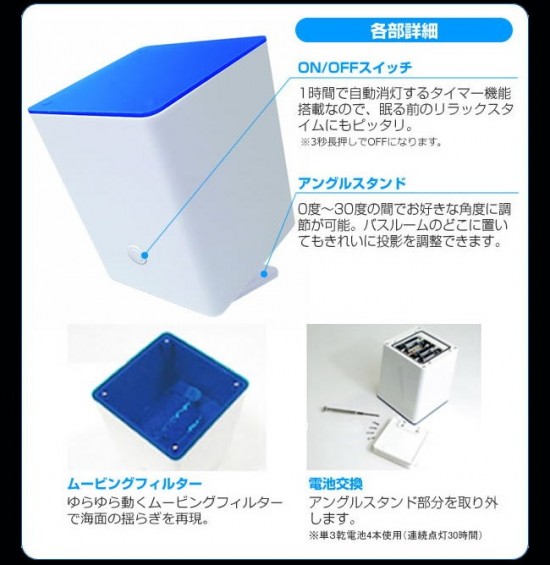 As you can see from the above image, it has exchangeable batteries, timer, angle adjustment and moving filter to give that wavy flow of water you'd expect from the sea. It weighs in at about half a kilogram and costs just over 3000 yen. Maybe a gift to consider for this year's upcoming Valentine's Day perhaps? Let me know if it brings results ;)
Source: Rakuten