Known as 'the Angels of the Sea', these squishy little creatures captured my imagination while travelling around Hokkaido in Japan. Out in Hokkaido they have taken on minor celebrity status with items such as the ubiquitous Hello Kitty line of key chains Japanising this small shell-less snail into a cute fashion accessory.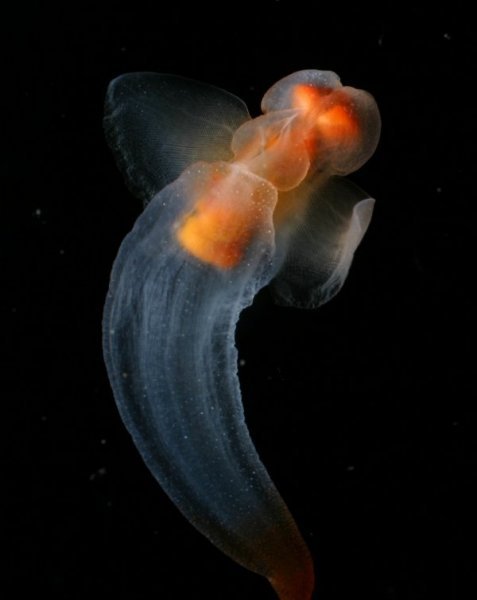 It seems that they generally dwell in very cold waters. The particular image above is from the NOAA (National Oceanic & Atmospheric Administration) who quote it has having been photographed under Arctic Ice. I would suppose they are also found in waters near Hokkaido in the colder, Nothern part of Japan since I had never even heard of this creature before going there. I happened across an advert for the クリオネ (Clione) as I scanned a magazine detailing tourist attractions in Sapporo – a random store selling souvenirs had a showcase of them in a chilled circular tank for the customer's perusal.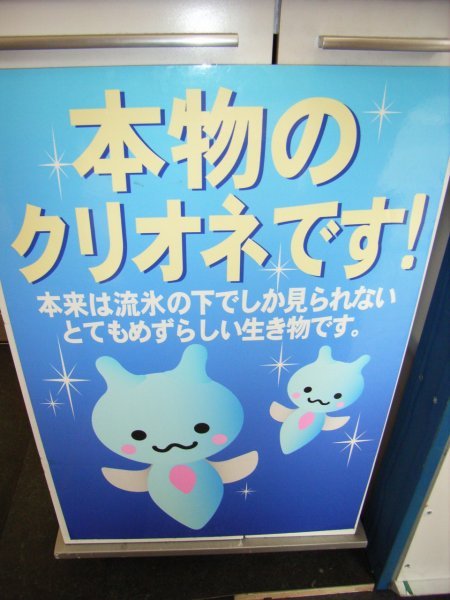 Although they don't actually have any bioluminescence of their own, they are captivating creatures in their own right. They move by flapping their butterfly-like wings (hence the other alias 'Sea Butterfly'), bobbing about in the water. Perhaps what is most striking is the deep red/orange coloured organs you can see through the jelly-like body.
Seeing them flutter around I think is somewhat akin to viewing an x-ray in real time, but I guess there is a certain cuteness to them. Or perhaps I've just absorbed too much of the 'cuteness culture' in Japan…
What do you think? Is it cute? Weird? Cool? Or just plain gross?
Additional information: http://en.wikipedia.org/wiki/Sea_angel