It's that time of year again where we all start to get the Christmas feeling, and Nintendo Japan is as early as the rest of them with their latest batch of lovely members-only gifts. Last year included a Platinum Super Mario Galaxy soundtrack, a Super Famicom-shaped Wii controller and a calendar.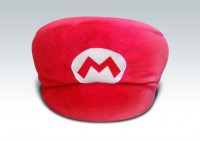 This year sees a Golden Wii wheel, a Super Mario hat (the real deal!) and…a calendar. Check out the Japanese page here or more of my thoughts on how to cash in on similar goodies below!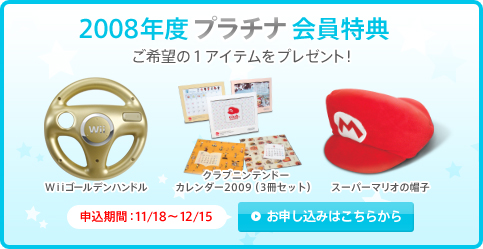 Okay, so the calendar is a little weak, but this stuff absolutely rocks when you compare it to the stuff that Nintendo of Europe give out, which amounts to little more than mobile phone ring tones and desktop backgrounds. Oh, did I mention the T-shirt 'stickers' that you can print out and iron on (only to be gone with a few washes)?
But this stuff… It's a smart little marketing ploy from the chiefs at the Big N really – it certainly worked on me. I bought games this year that I perhaps would have waited to buy in order to save up points. You need 400 points per year to become a Platinum member (200 for a Gold membership, but not really worth it unless you fancy the calendar). Platinum members get lavishly rewarded at year end with the above sort of gifts!
To give you a rough scale, each 'big' game (usually that Nintendo themselves put out, like Zelda, Mario, Metroid – etc) gives you about 30 points. Lesser games (usually cheaper in price) give you less points. But you can gain massively more points if you 'pre-book' your buying the game and register the points quickly. Here's how:
Say the next Mario game comes out next month. I could log on to the Club Nintendo website now and register to say that I will definitely buy the game. When the game comes out, I queue up to be one of the first to buy the game and I get my special golden ticket that is inside the game box. (Well, actually, it's yellow, but we can pretend it's golden :p). On this ticket is a serial number that gives me points when entered on my account on the Club Nintendo Japan website. If I register my points within 14 days, I get the main 30 points, plus another 15 points for pre-booking and registering within the allotted time. I also sometimes get 30 more points for 'quick' registration (though I'm not sure how quick you have to be – these 30 points have always surprised me!) But that's not all! Log back onto the website about 20 days after you register your points, and you can fill in an 'after play' questionnaire. This gives you another 10 points! Just for answering a survey!
It's also worth noting that pretty much all Nintendo products give you golden tickets! Buy a Wii console and you get 80 big ones in one shot!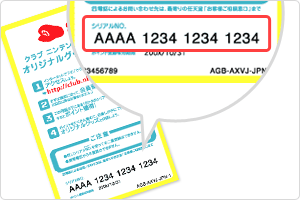 So that's
30 (main game)
15 (pre-registration)
30 (quick point registration)
10 (after-play survey)
= 85 points!
So you'd only have to buy 5 of the 'big' games per year to become a Platinum member. 'Big' games are usually famous titles that have a long-running series, or games that Nintendo have spent a lot of time on. You can tell by the price: over 5250 yen (27 pounds) and you're looking at a big game. Check out the table below. The first section is for games, the second is for hardware items (60 points for a DSi console!)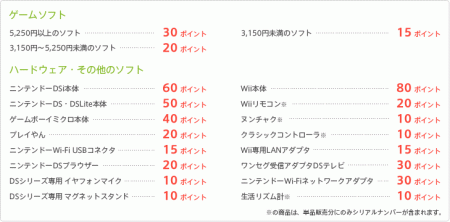 Also, games that have been out for a while and have gained platinum status (like the Phoenix Wright series) give you less points. So it really pays to pre-register and buy games as soon as they come out.
Why not just pre-register for all the upcoming releases and only register the points of the games you end up buying? I hear you ask…
Nintendo have thought of this too. Register 2 or more games and end up not buying them and registering the points in time, and you will be subject to a penalty. The rules are, if you don't enter the points for a game that you have pre-registered within the two-week timespan, and if this happens twice in a row, you will not be allowed to register points for 12 weeks! Better make sure you have some shady deal with your shopkeeper to keep you a copy of the game! :P
So why not give it a try? The only pre-requisites are:
a) You have a Japanese address (or bribe a Japanese friend to be your address in Japan)
b) You can read Japanese (or use the online translation services like Jim Breen's JDIC. Or bribe a Japanese friend and use them – we call them 生き字引 – a 'walking dictionary' in Japanese :P)
c) You buy only Japanese games. Well, it goes without saying! This is Nintendo of Japan, not Nintendo of Europe or America!
So off you go!
Visit Club Nintendo
Also, guess which present I chose for this year's Club Nintendo Platinum member status and win a cookie!