The Daily Mail has a history of stealing images and only paying up if and when they are caught and pursued. A quick Google search will turn up lots of results, but here, here and here are a few. It appears as though I am the latest test subject, as their MailOnline web newspaper has decided to publish my urban exploration photos from Gunkanjima without first contacting me to ask permission and without payment. This is copyright infringement.
---
Update: 25th April 2012, 11.24am. After a vigorous social media campaign, the Daily Mail contacted me and agreed to pay me for use of my images as well as crediting me properly. They added a link to my website and finally paid the invoice we agreed on. See the bottom of this post for more details.
---
Not only that, they cut off the watermarks from the bottom of all but one photo and re-sized several, blowing them up to larger sizes which lowered the overall image quality. As a photographer, that disappoints me more than anything, as the edited images just look terrible. Indeed, one comment on the article described them to "appear to have been taken with a 2002 model of Nokia."
The Daily Mail did have the courtesy to credit me with the images, adding their own black-box watermark with my name, although they did not link to my website or the original article which they took the images from. I also tried twice to leave a comment on the original article but as of yet it has not appeared (despite other, newer comments appearing), meaning it did not make it through their moderation process, for whatever reason…
The article is here: http://www.dailymail.co.uk/news/article-2126264/Hashima-aka-Gunkanjima-Photos-desolate-Battleship-Island-coast-Japan.html.
It is also being discussed here on Daily Mail's Google Plus page, as well as here, here in Japanese.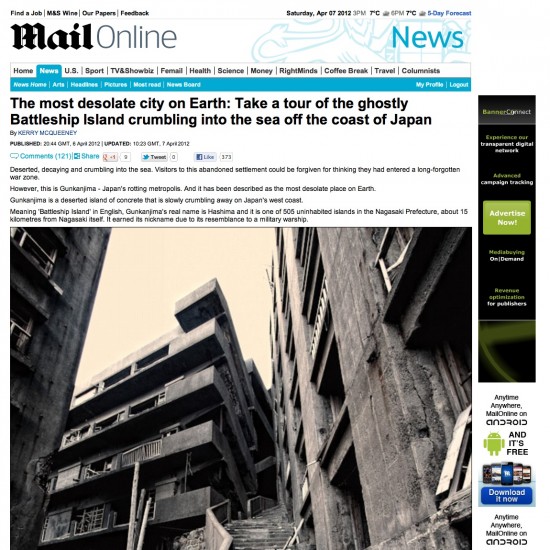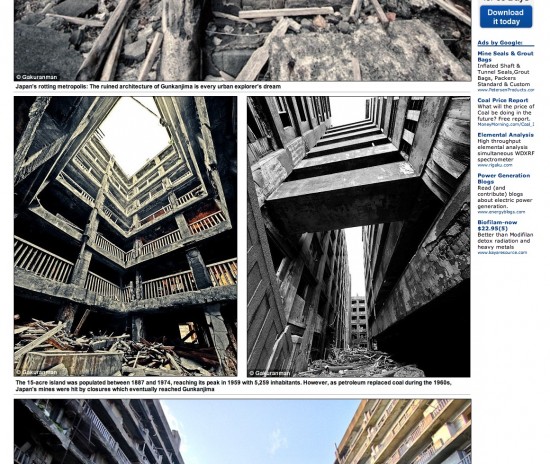 Naturally the first thing I did was to grab a screenshot of the page and log it on Verionista which you can view here, just in case they decide to trying removing the content and running. You can see the full screenshot here. Article was re-published here. Google cache link is still not ready.
Next, I typed up an email to the editor and included my prices, based on the standards set by the National Union of Journalists. Basic rates here and for online images here. My email is as follows:
Dear Sir/Madam,

I am emailing you in regards to the article published on the Daily Mail website 'mailonline' entitled:

The most desolate city on Earth: Take a tour of the ghostly Battleship Island crumbling into the sea off the coast of Japan

Link: http://www.dailymail.co.uk/news/article-2126264/Hashima-aka-Gunkanjima-Photos-desolate-Battleship-Island-coast-Japan.html

I am flattered that you liked my photography and appreciate you giving me credit. I am however not pleased that you published the images without first contacting me to ask permission and without paying me for use of my work. I'm also unhappy that you cut off the watermark from the bottom of most of my images and also blew up several images, thus lowering the quality of the work.

Below is my invoice for the use of 11 images to which I own the copyright. The rates per image are as recommended by the National Union of Journalists.
Link: http://www.londonfreelance.org/feesguide/index.php?language=en&country=UK&section=Photography&subsect=Online+use+of+photos

Invoice:

800px+ size: £175 x 6 images = £1,050
600px size: £130 x 5 images = £650

Preliminary total: £1,700

Doubled for unauthorised usage:

Total: £3,400

Regards,

Michael
After that, I dropped the editor of the British Journal of Photography a quick line asking for any help or advice, as they seem to have covered these stories in the past.
I'm currently waiting for replies from both editors, so there will undoubtedly be updates to come.
In the meantime, I'd like to request that you share and link to this article as much as possible. In the past people have had success in getting the Daily Mail to pay for the use of photos they have used without permission, although not without quite a fight. I'll need all the backing and support I can get to bring this issue to the attention of other media outlets and for the Daily Mail to take me seriously. It's not just a personal issue either – this sort of thing happens to photographers all the time, and we must stand up against it and make it known that photography isn't free to use just because it's on the internet.
It's completely unacceptable for a major media outlet like the Daily Mail to take photos without permission, edit them and use them commercially. Replacing my watermark with their own does not grant them free usage rights, and it says very clearly on my About page that I do not give consent for my work to be used in a commercial context without prior permission.
Well, we'll see if they respond…
---
*Update 8th April 2012, 01.00am* Thank you for all the re-tweets and messages. I'm currently in contact with a lawyer and also hearing from people who have suffered similar copyright infringement at the hands of the Daily Mail. Please keep up the support by spreading the word, especially to large social media sites like HackerNews, Reddit, Digg, Stumbleupon and any other media outlets. The more pressure is on the Daily Mail, the more likely they will take notice. I really appreciate the help, thank you.
Now trending in London (via Trendsmap):

*Update 8th April 2012, 03.00am*
It looks as though the Daily Mail has tried to pull the article from its website. But it's too late. I've got the screenshots and the article is saved in Versionista for all to see. I shall be proceeding with my invoice as planned. Please continue spreading the word – I really appreciate it.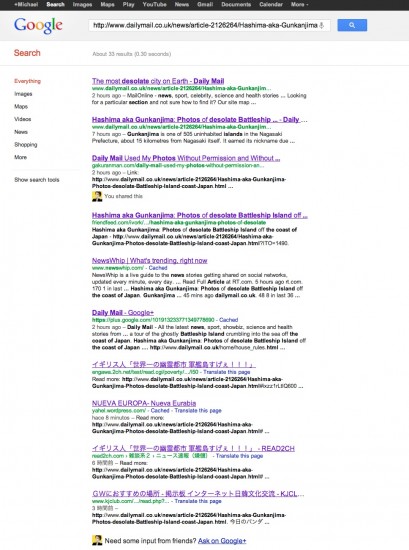 *Update 8th April 2012, 03.32am*
The article is back up on the Daily Mail website – perhaps they saw this post and realised I already made copies? I've no idea what they are doing, but please keep pressing the issue. I'm gathering information to make a small claims appeal.
*Update 8th April 2012, 04.00am*
Adding HackerNews and Reddit links discussing this article.
*Update 8th April 2012, 04.35am*
Received email from Steve at Associated Newspapers, but when I tried to reply, the email bounced. Steve, please email me from an address I can reply to. Many thanks.
From:
DM Online Pictures
*******@assocnews.co.uk

Message:
Hi Michael. I'm in receipt of a web blog regarding the use of your
images on the daily Mail Online. Could you please forward a contact
number so as to resolve the matter and any other issues arising.
Regards: Steve
*Update 8th April 2012, 04.50am*
Steve got back in touch, so hopefully we can start moving things along now and processing that invoice. Just as well I was posting this all on my website, or we might have been waiting a while before they realised I couldn't reply to the email :).
*Update 8th April 2012, 05.50am*
Received a phone call from Paul, picture editor of the Daily Mail Online. I'm pleased to say that we had a polite conversation and he apologised for the misunderstanding. Apparently the images were posted online overnight without his full understanding. It was his impression that I had been contacted and had given permission for the Daily Mail to use my images. I had received no emails, but felt that Paul's response was sincere. Given that he has recently taken over as Picture Editor for the Daily Mail from the original editor and was keen to try and improve the Daily Mail's image, I was happy to give this matter the benefit of the doubt.
After some negotiation, I agreed to waive my unauthorised usage fee and settled for an undisclosed amount lower than the fees set by the NUJ. The amount I received I felt was justified for the use of the images, given that there were many images being used together as a set in single post. Quite often 2nd and 3rd images are charged at lower rates than single stand-alone images, which I had not factored into my original calculations. Paul also agreed to update the article giving proper credit to me by linking to my website (which has now been done) and also expressed interest in using other photos of mine in the future. In short, I feel that the matter was resolved in an amicable manner and pleased to see the Daily Mail taking this matter seriously.
I'd like to thank everyone on Twitter and other social media sites for their help and support. It's now 6am in Japan and I've been up all night dealing with this, but the speedy response and satisfactory conclusion were no doubt due to the pressure everyone helped apply. I'm one again left in awe at the power of social media and hope to return the favour to you all in the future. I'm still awaiting payment however, and will update this post when I receive payment to finally bring this matter to a close.
Also, many thanks to Brent Martin, Solicitor Advocate who works at http://bullivant.uk.net/. He contacted me very early on and offered his advice and help voluntarily, and it made a big difference in helping me have the confidence to properly negotiate a price. Although I do not know anything about the company (indeed, the website currently has no content), his personal advice was very useful. His email is: BMartin AT bullivant DOT uk DOT net and he is on Twitter here.
*Update 12th April 2012, 09.00am*
After a bit of a drop in communications, due mostly to the UK Easter Holidays and the picture editor being away on vacation, things finally got moving again. Paul took time out on his holiday to refer to the matter to other colleagues who were working and Dan promptly took care of filing my invoice. Apparently I should be paid by Wednesday next week. Fingers crossed! Pleased to see things moving along quickly despite the initial headache. It doesn't absolve the Daily Mail of their actions, but it does go some way to restoring faith that photographers will get paid, although only if they realise and get in touch with the paper…
Another photographer, Rob Greer, contacted me to say that he was in the exact same situation of having images taken without permission and without payment and is currently trying to get in contact with the Daily Mail to file his invoice. The Daily mail article is here (NSFW):
http://www.dailymail.co.uk/femail/article-2102667/Who-fat-dimpled-wrinkly-broad-flanked-person-Woman-posed-nude-25-recreates-photos-decades-on.html
And his original article with photos is here:
http://www.robgreerfineart.com/blog/chiarascuro/fine-art-nudes-and-body-image/
Not the journalistic practices of old that we expect… It certainly doesn't seem like this sort of thing is a genuine mistake at all…
*Update 21st April 2012, 02.17pm*
Looks like not two days after my photos were stolen, another photographer had the same thing happen to him. His photos were taken and he wasn't provided with a link back to his website. This post was used by the Daily Mail to create this article. Peta Pixel also picked up the story here: http://www.petapixel.com/2012/04/20/the-daily-mail-stole-my-photos-and-i-got-paid/.
Still haven't received payment on my own images, but the invoice will supposedly be processed very soon, by 25th April. Fingers crossed!
*Update 25th April 2012, 11.24am*
The Daily Mail finally sent the payment to my bank account today, which hopefully brings this issue to a somewhat amicable close. Throughout the episode however, I have seen numerous other accounts by photographers who have been subject to the same sort of underhanded practices. Images taken and used without consent, manipulated, watermarks removed, unpaid (etc.) This all taking place on a large, money-making corporation website is unacceptable. I sincerely hope that the Daly Mail stops these practices and starts contacting photographers to licence the use of their images in advance, paying them fair rates.
If, however, these practices continue and in the future other people have their work taken and used in the media without permission, I hope this article serves as a guide in how to go about being properly reimbursed. I urge any such people to stand strong and assert their rights. Make copies of the infringing content first, and then contact the picture editor in charge by telephone if possible, or email/letter if not. Be firm but polite in pursuing the payment you deserve, and don't settle for fees lower than you deem acceptable – you will quite likely be offered rock-bottom rates at first. Make sure any terms agree are in writing (even an email is better than empty promises made on the phone). If all else fails, contact a lawyer to write a letter to the media outlet requesting payment along with your full invoice. If, as unlikely as it is, the issue is taken to small claim's court, you will likely win. This guide may also be of use. Best of luck!