Alrighty then. It's high time I announced the winners to my recent competition with Flutterscape! There were a great selection of insightful entries with advice on how to best learn a foreign language which made it really tough to choose the best, but it had to be done. See below if you're getting goodies from Japan!

I'll be writing up a post with some of the tips and tricks for language study that you all mentioned to me pretty soon, so stay tuned for that too!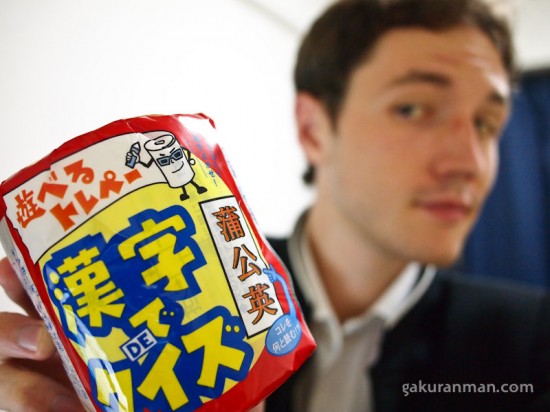 3rd Place Winners
Taking home a block of Tofu note paper or a kanjified loo roll are:
Congratulations to you all! I'll be sending the prizes out randomly, so it'll be a little bit a surprise what you get ;).
2nd Place Winners
Receiving tofu note paper *and* kanji toilet roll are:
J tells us to try learning by singing, Ntsebo talks about slowly building up your studying and Tony recommends making a hardcore t.v. schedule!
1st Place Winners
Oh yes. Kanji loo roll, tofu papers and a handy Japanese phrasebook go to:
Crowbeak
Tracey Lee
Rene
Vassasu
Rene kicks us off with a neat blog post talking about the importance of correct intonation and accent and how learning grammar can be made easier by absorbing the patterns naturally. Crowbeak instructs us on the importance of using real sources and information when learning the language and gives plenty of great examples. Tracey Lee tells us 4 ways to boost your studying by directing your language study to fit your own interests, staying organised, chopping and changing things up and practising real communication. Finally, Vassasu drills us a load of different options in an amusing Youtube video. (Anybody sending me Hard Gay pictures of themselves will be banned! :P)
Star Prize Winner
And finally, we get our star prize winner. It wasn't easy, and I had a tough time making the decision over some of the other more creative entries, but Alexandra's insightful comment won me over by making me think more deeply about language learning and its roots in childhood. Well done Miss Rowland! You'll be receiving the full set of stuff: the Japanese phrasebook, Kanji toilet roll, tofu note paper, Potechi no Te and a personalised thank-you postcard from me :).
**********
So if your name is on the list, get in contact with me (if I haven't got to you first!) I'll need to verify your email or IP address in order to match you all up before getting the goodies on their way to you!.
Sorry to all those who didn't win this time. There were a lot of thoughtful entries and people who were clearly making a great effort, but only 12 prizes to hand out :/. There will be competitions here on Gakuranman.com in the future though, so stay tuned and keep studying hard :). And naturally, a big, big thank-you to Flutterscape for donating all the awesome prizes. If you haven't done so already, go an check them out for buying cool stuff from Japan in the cheapest and easiest way possible!
Until next time!