I'm the proud owner of some wonderful fan art! Dave from The Ramen Blues (also the artist behind my Gakuranman image) has kindly drawn me this fantastic piece!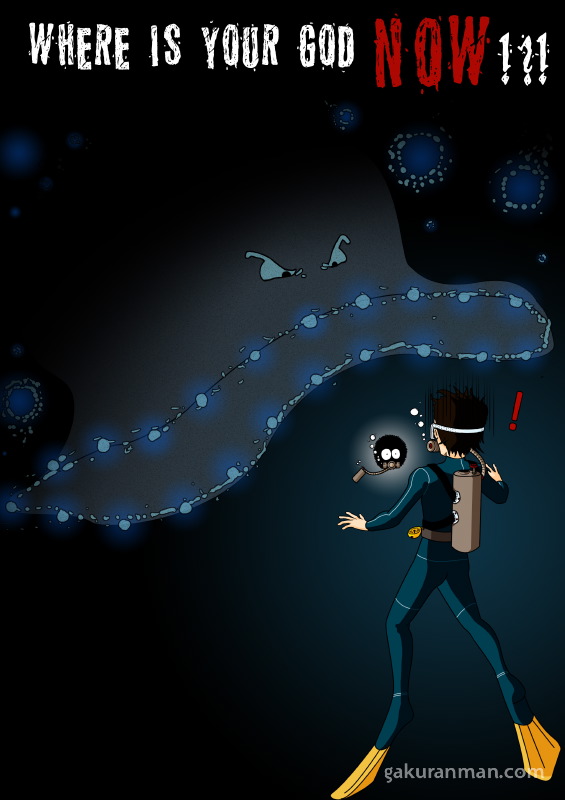 It depicts me scuba diving at some unfathomable depth in the ocean (way too deep for real diving without a submersible) 'meeting my maker', in a philosophical sense. Goodness knows what a susuwatari (wandering soot, from the Ghibli movies Totoro and Spirited Away) is doing down there with me, but it has been a mascot of sorts for me for some time now. You can see in the background the bioluminescent jellyfish, featured in the image below, as well as Dave's own creation of a deep sea monster with glowing luminescent lips. I wouldn't like to be on the receiving end of a smooch from that guy!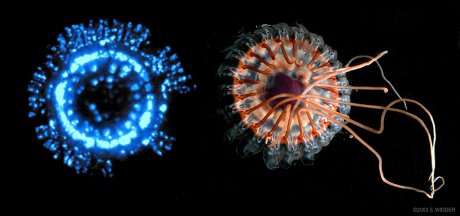 (Image by E.Widder)
Thanks again Dave! Be sure to check out his blog for all sorts of Japanese-y goodness, including Fire Festivals, recipes, Japanese language practice and the report of the third Jblogger conference that I hosted on Edufire just recently!