Whereof one cannot speak, thereof one must be silent. – Ludwig Wittgenstein.
So goes the age-old philosopher's quote on the front of Iori Tomita's book 'Transparent Silence'. A curious collection of see-through animals, preserved in jars and dyed with colourful chemicals to give a 3-dimensional x-ray look into each specimen. Pretty much the exact kind of bizarre cross between science and nature that I love!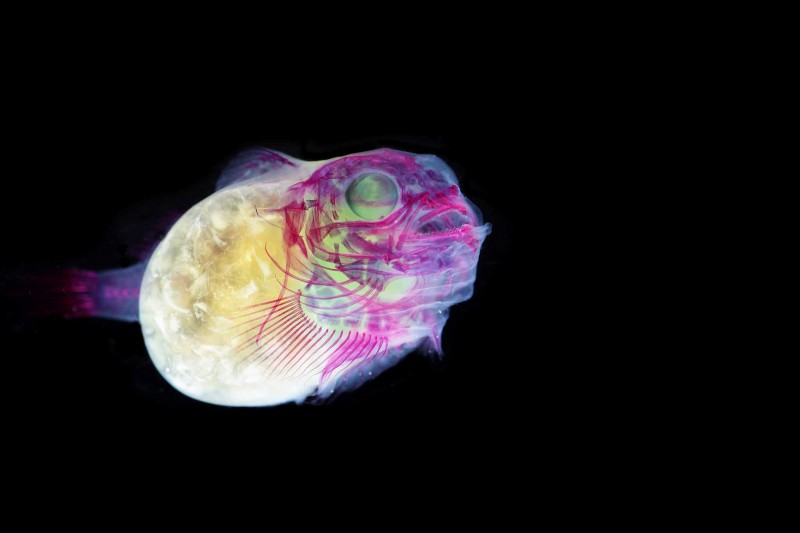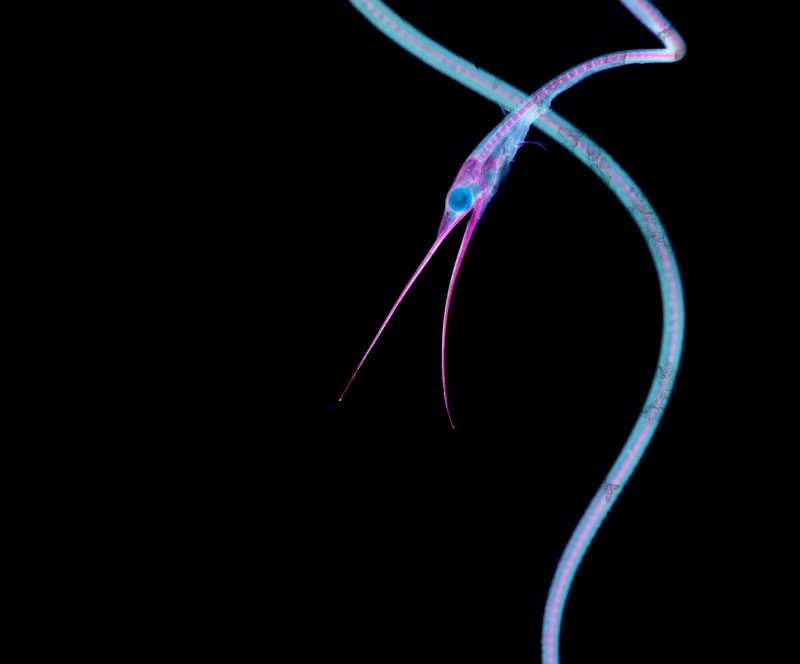 The project is called 新世界「透明標本」 – New World Transparent Specimens. The specimens are created using a preservation and dyeing technique usually only used for scientific purposes, such as examining the skeletal system and the underlying biological makeup.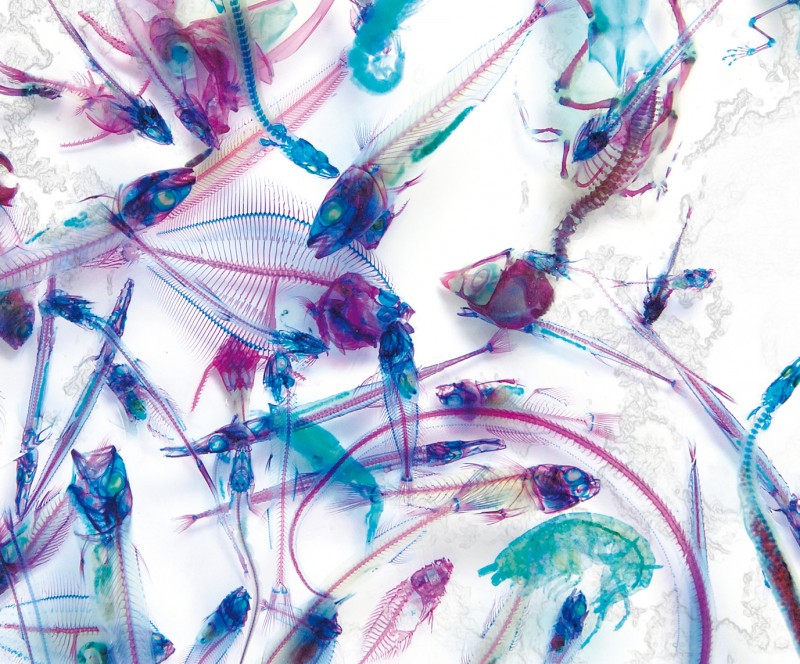 Tomita uses an enzyme to dissolve the natural proteins in the flesh. He then injects red dyes into the harder bones and blue dyes into the softer cartilage, thus highlighting usually unseen internal structures. The dead creature is then preserved in a jar of glycerin.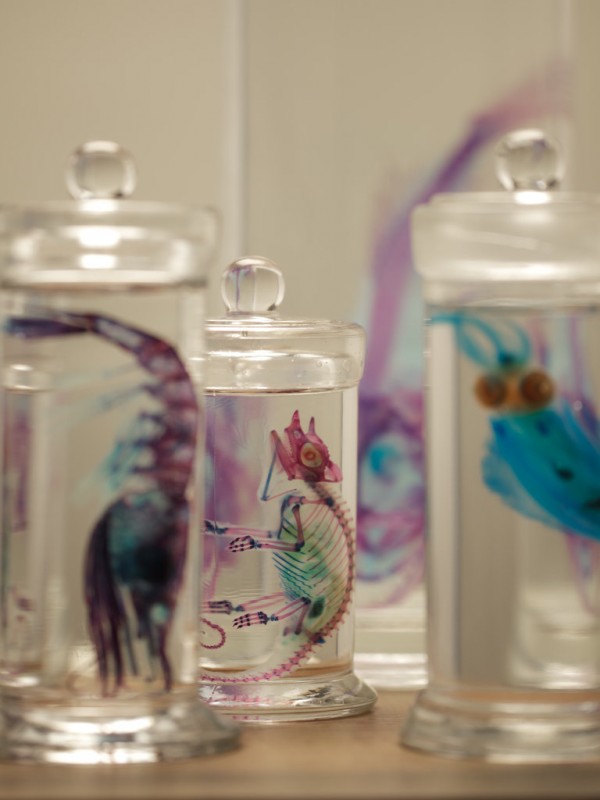 If you're the strange type like me, you'll be pleased to know that you can even buy smaller versions of some of the specimens at select Tokyu Hands department stores in Japan. Larger, rarer versions are also on sale at exhibitions. I might have to take a trip to the Nagoya branch and have a look next time I go!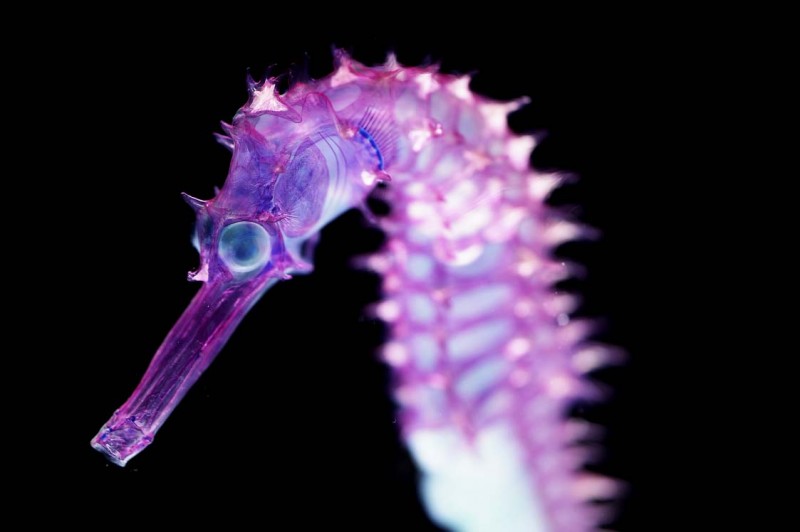 From Tomita's website:
"Originally, the method of making transparent specimens enzymatically turning the protein transparent, dyeing the bones magenta and dyeing the cartilages blue was established for scientific purposes to study the skeletal system. Taking this a step further to refine the form and coloration of the specimens requires time and experience. I create transparent specimens as pieces of work that help people feel closer to the wonders of life. People may look at my specimens as an academic material, a piece of art, or even an entrance to philosophy. There is no limitation to how you interpret their meaning. I hope you will find my work as a "lens" to project a new image, a new world that you've never seen before."
He also has two books available – a photo book with descriptions of the creatures and another book with more stunning photographs woven together, curiously, with the wise words of Wittgenstein.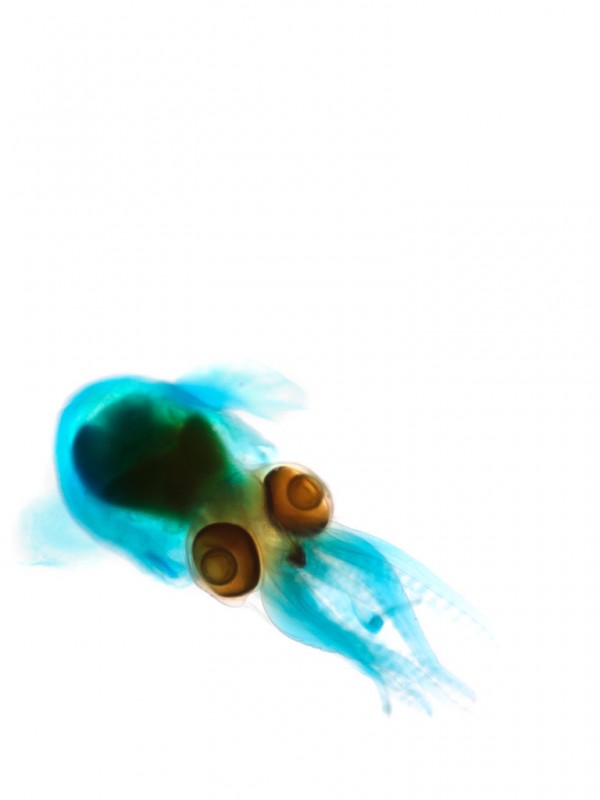 You can read more about these fascinating creations on Tomita's website, which has more pictures, information about exhibitions and other cool stuff. One upcoming event is the Tokyo Mineral Show this December 9th-12th at Sunshine City in Ikebukuro.
Tomita on Twitter.
New World Transparent Specimens book
Transparent Silence book
2012 Calendar
Pretty neat stuff! Would you mind having one of these sitting on your shelf? Or does the idea of hosting an aquatic corpse made you shudder with disgust? :p