We reached the end of a long, winding road that snaked through a tiny Japanese village in Kawatana, infamous for being the site of a kaiten (回天) training school. Kaiten are the manned suicide torpedoes used by the Japanese Navy during WWII to take out enemy vessels.

The Kawatana Torpedo Boat Training School (川棚魚雷試験場跡地) was established in 1944 in response to Japan's ever-worsening situation in the Pacific War. The school was used to train young men as torpedo pilots who volunteered themselves for the cause. In addition to the torpedo pilots, other squadrons from the Japanese Special Attack Units were also trained here, including Shinyo (suicide boats), midget submarines and, although never used, the Fukuryu (suicide frogmen), who would make stealth attacks from under the water. Kamikaze pilots were trained at the nearby Tachiarai base.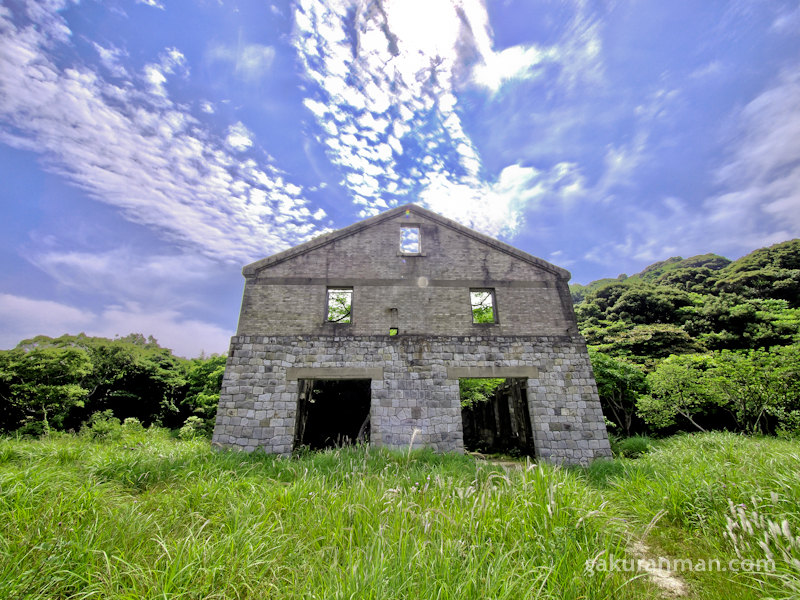 Ikumi pulled up the car by the sea and looked over.
"Not a great deal of time for this place. We need to be back at the airport in a few hours."
"Gottit" I replied. "It's not huge anyway, and it's a public place, so it'll be easy to shoot. I just hope there are no cosplayers blocking our shots!"
I could feel the soft dirt of the track under my feet as I followed her towards the main factory warehouse. Squinting in bright morning sun, I looked up at the looming structure. To its right, a large rectangular area sunken into the earth, most likely used for testing the buoyancy of torpedoes.
The main factory was just an empty shell of what it once was. Now you might even call it picturesque, nestled lovingly amongst the tall grasses surrounding it, but 66 years ago, it must have been a bustling hive blanketed in tension.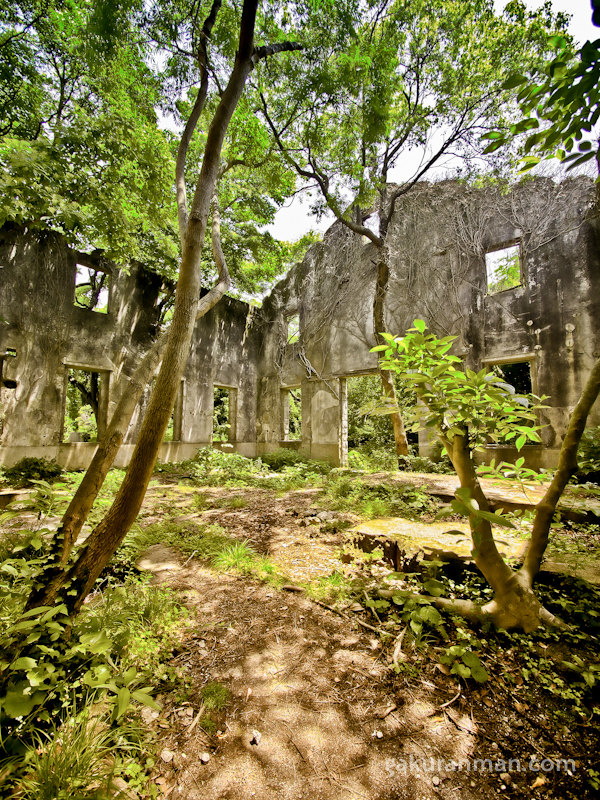 As we walked in, I couldn't help but imagine where different things used to lay. Where was the machinery? Why was a hole cut out that way in the floor? Wherever stuff used to be, now it was gone and the only thing remaining was the sheet of white tiles covering the floor. New trees had sprouted, vines clung to the walls and the ominous hole in the floor was filled with a turbid water, home to dozens of colourful red crabs.
"Look here!" I shouted.
Ikumi turned in surprise, clutching her camera and oversized wide lens.
"Right there, in the pond!" I pointed, grinning childishly. "This place is full of crabs! And huge ones at that!"
Most normal people would have been baffled at my crazed excitement, but a slow smile crept across Ikumi's face as she lowered herself down for a better look.
"Let's catch one!" she chirped.
I was already poking away with a stick, trying to hook one of the big ones from the sludge.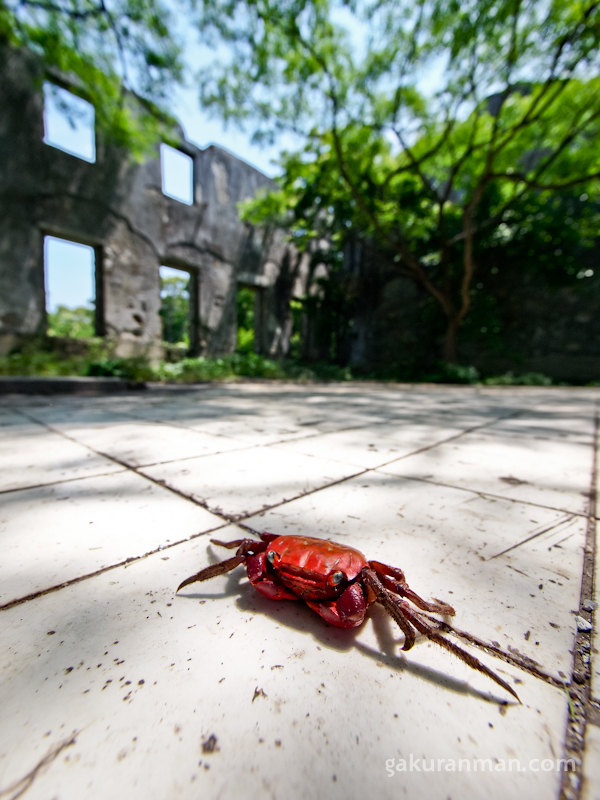 It wasn't easy though. The water was deep enough for the crabs to slip away, but after some effort, I grabbed one.
"Argh! The damn thing tried to pinch me!"
"How the hell are we supposed to catch these things when they can reach under themselves to nip you?"
"Ohhh, you have to catch it at the sides. Their claws don't reach in that direction" Ikumi replied, stifling a laugh.
All thought of the ominous factory had completely vanished by now. 66 years past; all the history and notoriety of this location replaced with a juvenile wonder and a basic course in crab-catching.
After a while, we captured the biggest dude in the pond. He first he wouldn't stay still for a photo, but eventually seemed to tire, allowing us to sit him on top of the camera lens for some interesting shots. Shockingly, however, he started foaming at the mouth! I've never seen crabs produce bubbles like this and at the time I wondered if he weren't angry or if it was a kind of defence mechanism.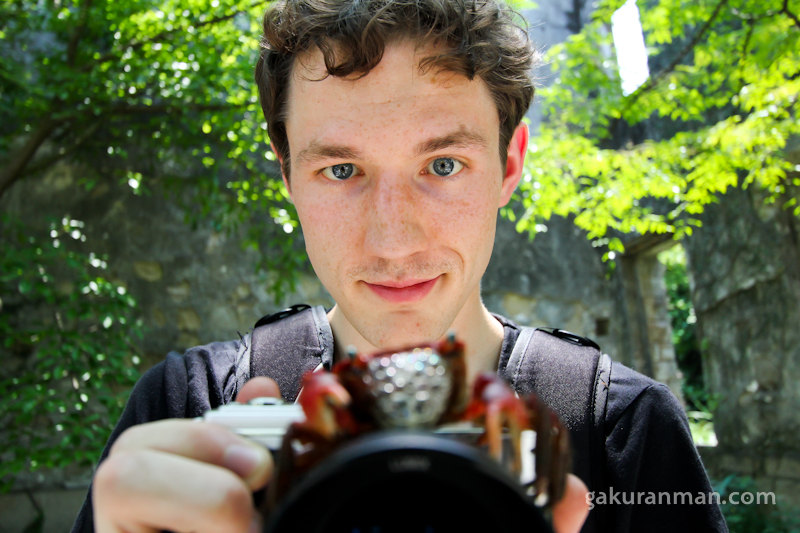 It turns out that actually, it is, sort of. Crabs blow bubbles when they are dehydrated in order to aerate their gills and keep them moist. We'd kept this little critter out the water for so long that he'd begun to heat up and suffocate! Geese, now I feel really bad. He seems like a warrior though – the right claw was snapped, perhaps from a fight! (Ikumi shot the great photo of me and my E-P1 above! She'll have her own website up soon, so I'll update this with a link when that happens :) ).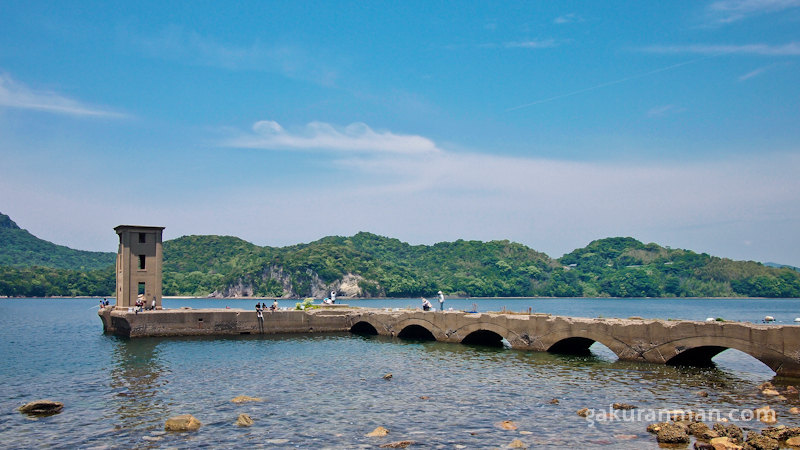 After shooting, we placed him back in the pond to cool off. A whole hour had passed and we were quickly approaching our time limit. Hopping back outside the main factory, I continued down the dusty path alone while Ikumi took photographs in a different area.
One of the main towers used to launch torpedoes was positioned at the end of a walkway a little out at sea. The second tower has been destroyed over the years. Today it was full of people enjoying the beautiful weather – old guys fishing, kids splashing about in the sea and couples sitting and relaxing. I wondered if they appreciated the significance of the site and snapped a quick photo. They weren't happy about being in shots, so I moved on to the final structure.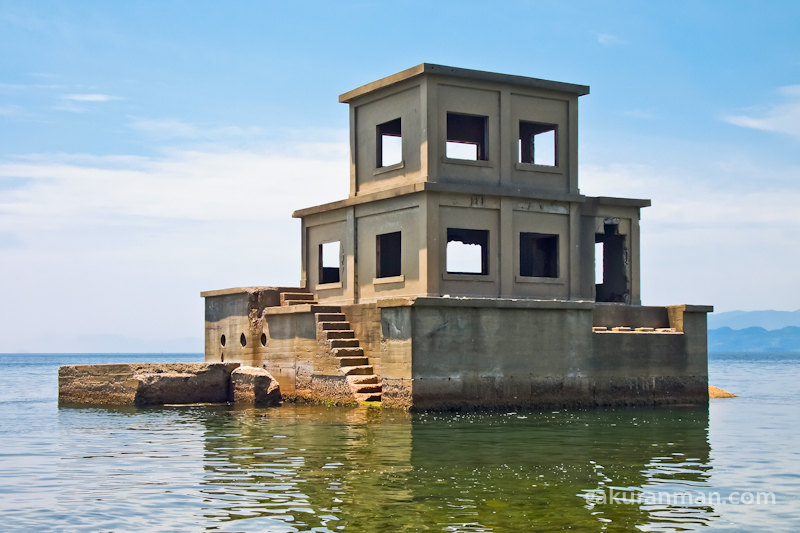 This is the lookout post, resting alone in the water. The concrete path connecting it has since crumbled and eroded away and it sits, quite majestically, against the backdrop of a clear horizon under a dusky sunlight filtering down. The light was wonderful for photographing this structure, but I imagine it would look great in any situation. It seems to have an aura about it. Something a little sacred.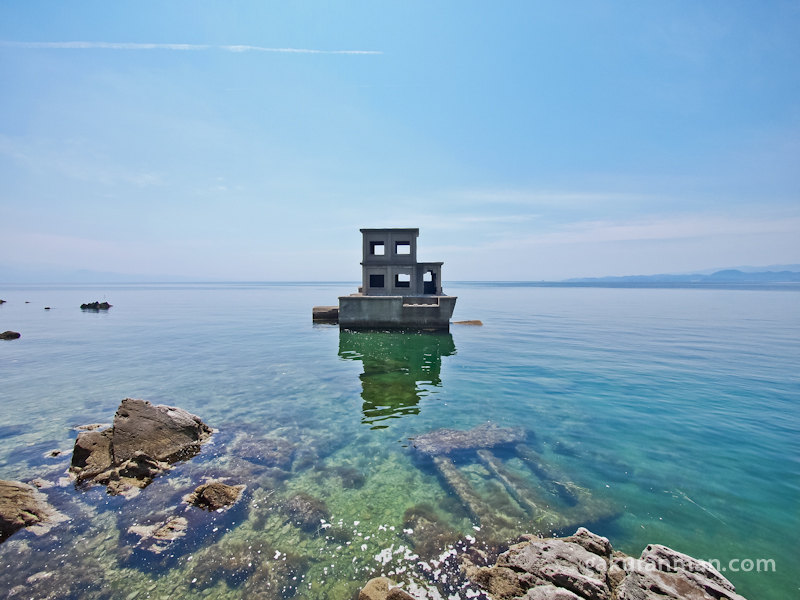 Here's an artistic shot I attempted below. I deliberately shot the structure out of focus to enhance the shapes of the windows against the sky and tweaked the settings after making it black and white. It gives quite an eerie impression of the place, I think. Much closer to the dark past it conceals.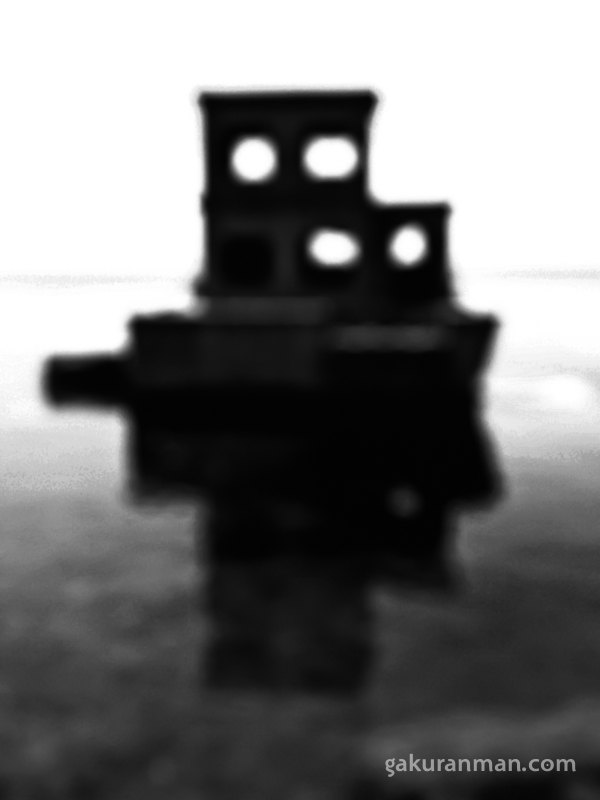 Just before getting back in the car to head back to the airport, Ikumi and I called back into the factory for a final shot or two. It had been a fun day and great weather, but time to leave Nagasaki and go home. Unbeknownst to me at the time, way up on the hill above the 3 structures was a torpedo watchtower overlooking the area. There's nothing of interest inside, apparently, but it kind of completes the set. I'd like to come back in Winter to see this place covered in snow and maybe even swim out to that lonely lookout post.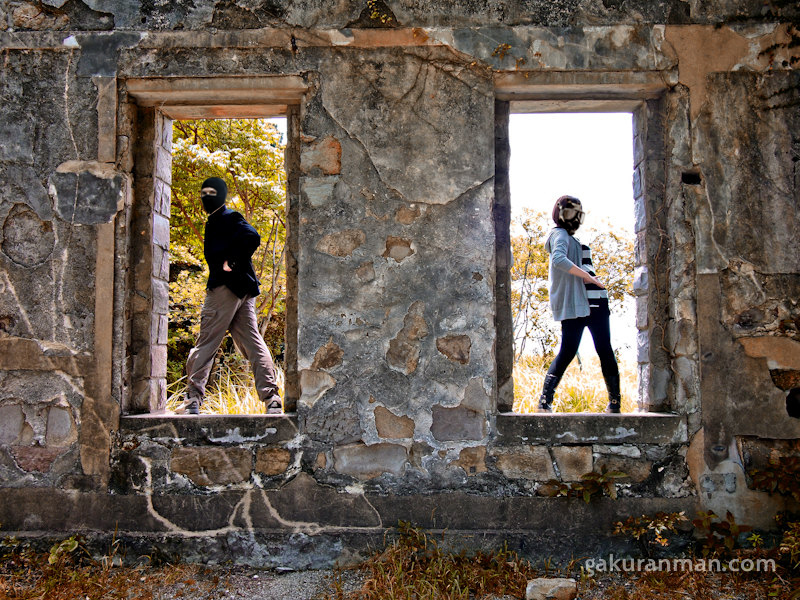 Well, just two more haikyo to go in the Nagasaki set! I can't believe it's been nearly 4 months since we went there! Next up though, I want to interrupt it with a re-visit to the fascinating Secret Doctor's Shack. I made a couple of shocking new discoveries! Keep an eye out for that soon :).