Finally after two years, several false starts and a blank homepage, I've dug myself out the time to properly customise and set up WordPress on my web space. I used WPDesigner's (aka Small Potato) 'Peaceful Rush' theme and then threw myself into the thick of it, tweaking the code and redesigning the entire layout. A big thank you to him for an easy-to-work-with template and great design sense to get me started.

Also, if any of you have refreshed the site several times, you may have noticed that my header image changes. I thought it would be a nice touch and keep things fresh. How about it? Distracting or Refreshing? Credit goes to Dan Benjamin for his Randomizer php script!
I hope the site design isn't too overpowering. I wanted to incorporate some of my fascination with bioluminescence into the design, but not darken the site too much by using a black layout, hence the gradient to light blue. I also examined many other WordPress sites to incorporate a footer into the design. I suppose it may be difficult to fully appreciate just how complicated it is to design a site using CSS and have it all fit together and work properly. I certainly increased my knowledge incredibly by solving all the problems that leapt out at me along the way. Though I don't for a second suppose it's over, I am glad to have overcome most of the problems. Web designers and coders are certainly a hardy bunch! I also imported all my old Livejournal posts, so expect some large gaps in the dates right now.
Finally, a note about the images on the site. The blue ring that I also replicated for my favicon is actually a jellyfish! It's a photograph taken from more or less underneath the jellyfish displaying its bioluminescence at some unfathomable depth in the ocean. Perhaps this picture will help enlighten the matter. Click on the picture to see a cool expanded version added by the 'Lightbox' plugin: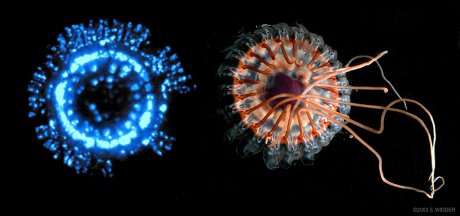 Image copyright: HBOI, E. Widder
E. Widder, I should say, is a fantastic scientist pushing the boundaries in Deep Sea research and Bioluminescence. If it wasn't for her, I wouldn't have the inspiration for this site and deeper fascination with the unknown in the depths. I came across many of her images while browsing around for information on bioluminescence a couple of years ago for a module I was taking in the Colour Chemistry department. Perhaps I'll upload that article I wrote sometime in the future…