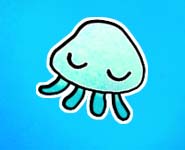 I don't quite know what hit me, but I was suddenly overwhlemed with the urge to re-design my website a couple of days ago. I've been busy with Photoshop and enduring headaches over niggling coding issues, but finally it's done. It's just as well too, as I haven't the time to be making websites, what with JLPT1 less than two months away and plenty of essays to do!
Still, I figured I'd make the best of the inspiration and just do it! I had visions of cartoon jellyfish, waves and the deep abyss. I wanted to tweak the colours, but not stray away from the bioluminescent image. I also wanted to keep the work I'd done on the site until now, like the JLPT vocab widget and language buttons, so the core of the site hasn't changed too much.

I did have one tough decision to make though. You may have noticed already – the rotating banner images are gone. As much as I liked them and the fresh air they breathed into the site, I felt they didn't really fit with the design very well. I'll probably still make some though, when I have the time. Who knows, they may even make a return in a future re-design!
So, thoughts? I hand-drew the jellyfish and scanned it in. I vectorised the waves in photoshop, using blending modes to create some interesting effects and changed the colours of the main frames. On the technical side of things, I decided to go for a fully liquid layout (minimum width of about 800 pixels) to try to accommodate different browser sizes. The only problem is that the site relies on big images, so it might be a litte slow to load on the first visit. Also, check out the footer! It was a last-minute kinda thing, but I rather like it. I had to have my symbolic luminescing jellyfish on the site somewhere! ^_^