Last week I took you through the bowels of a water-ridden, decomposing onsen hotel haikyo in the heart of the Japanese countryside. The ample time we had made it possible to try out some long exposure light photography. So here's the artistic side of the hotel, as well as some background to the ghost story.

As for the following photos, be sure to click on them to see a better resolution! If you are using an RSS reader, come over to the website.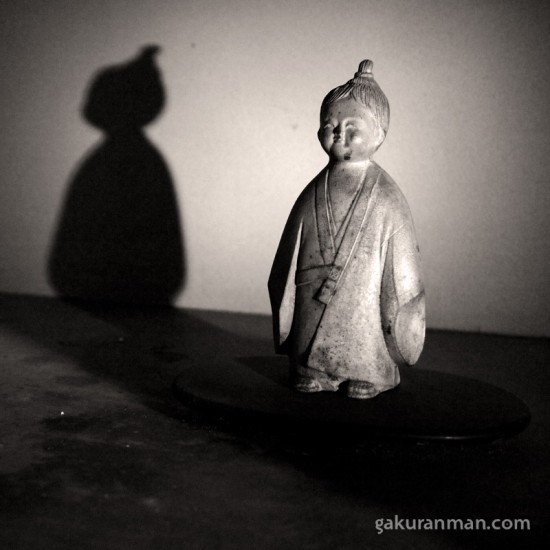 As I mentioned in the previous post, a majority of the rooms were impressively tidy and usable, save for a bit of dust and suspicious droppings all over the hotel floors. Two or three of the rooms also had identical Buddhist statues in them, which were rather unnerving to say the least. I was fascinated by the shadow my torchlight cast on the wall by the above figure, but after spending a good 5 minutes experimenting with the light, I was pretty creeped out. So much so, in fact, that I offered up a little prayer to the statue before leaving.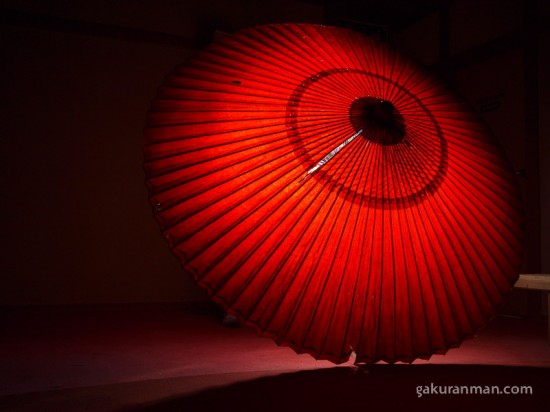 Plenty of less-creepy but equally curious objects lay randomly about the place. Having seen artistic shots of beautiful Japanese umbrellas before, I was eager to try my hand at it. The above shot is a 30 second-1 minute OOC (out of camera) E-P1 Jpeg exposure. I had my fellow explorer Lee stand and move several torches around behind the umbrella to illuminate it. I couldn't have done it without his amazing patience – thanks Lee!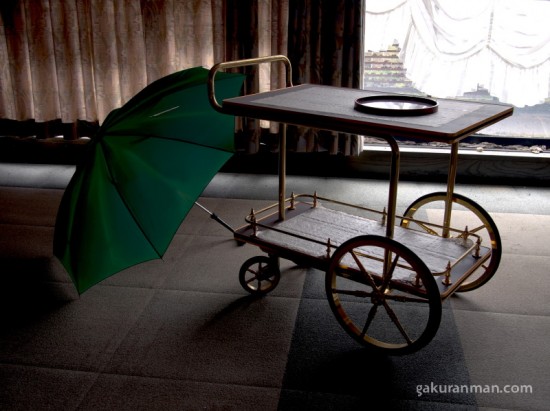 An interesting old serving cart sat at rest in the upper floor dining area, bleached by natural light. The above picture is an attempt at HDR, combining 5 exposures of +2 to -2 together.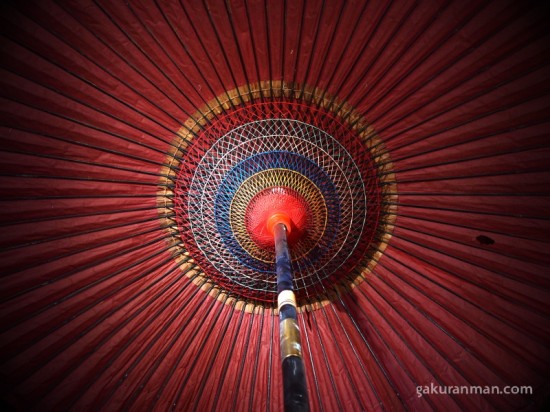 Here's that huge umbrella again, taken from the inside and tweaked to improve exposure and colour saturation. Also added the vignetting you can see in the corners.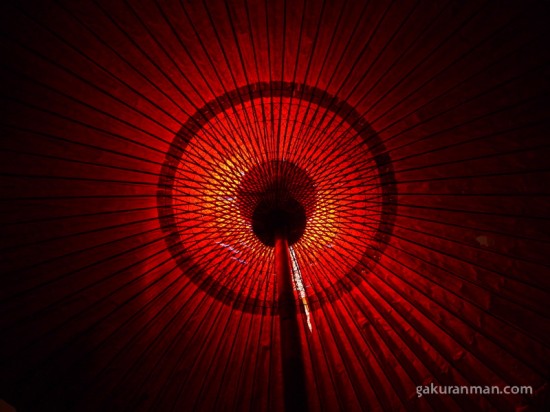 And again with the illumination. Out of camera E-P1 Jpeg – no post processing.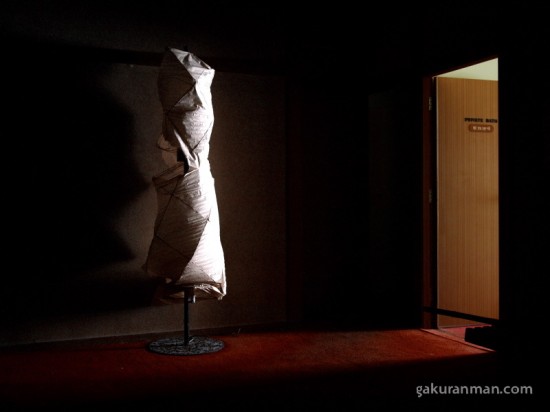 Also nearby was the spooky lamp that startled me the first time I stepped foot in this ruin. I was on my own and had wandered down to the end of the second floor corridor. Upon turning, I was faced with the ripped paper lamp you see above. I've edited this 1-minute exposure for dramatic effect to emphasise the shadows cast behind the lamp. It was much, much gloomier than this when I came across it in the dark – more like this: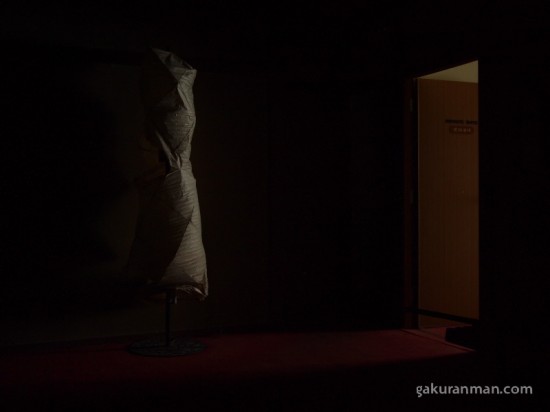 In the dimly-lit corridor without even that door open to illuminate it, I couldn't be sure what it was for a few seconds and my heart leapt in fear.
Which leads me conveniently onto the ghost story. I found mention of it on other sites, but I take that sort of stuff with a pinch of salt usually. But this time it seems like there may be some truth to it. I was contacted by a fellow Youtuber who forwarded me to an old Geocities website that had mention of a dead body found at this hotel. It's disconcertingly precise, adding to its legitimacy…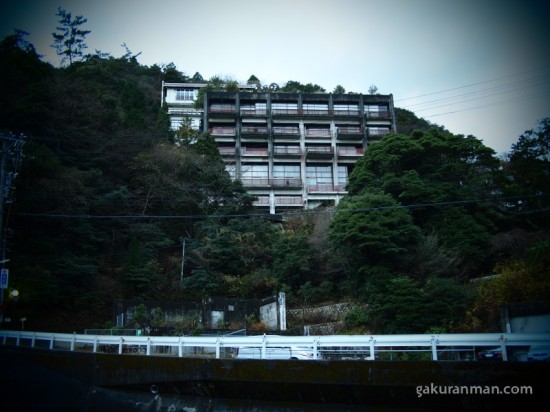 Apparently a man in his 50s, slightly balding on his forehead and about 165cm tall was found dead on September 19th, 1998 in a 2nd floor room at the back of the South Western side of the hotel. He was wearing a light-blue jumper, a white shirt and deep-blue trousers when he was found and also had a wristwatch and 23 yen about his person. Curiously, he was also carrying a Malaysian coin… This was after the hotel had been closed for some time (I found several calendars and newspapers dating 1995 in the hotel) and it was estimated that around 2-3 months had passed between time of death and the time of discovery. The body was cremated the following day and the police are awaiting contact from any relatives.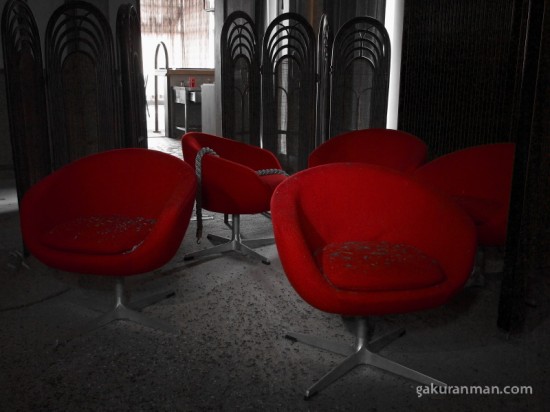 I'm not really sure what to say. Seeing as I explored every room I found in the hotel, I almost certainly went in the South-Westerly room… Whether or not he haunts the hotel is another matter entirely. I for one hope the man in this sad story is resting in peace now.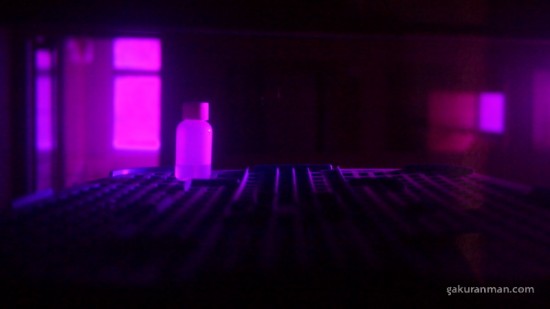 To round things up and finish on a somewhat lighter note, here's a shot taken through some plastic purple glass in the ladies' onsen changing room. I cropped it slightly, but otherwise the colours are as-is from the camera. I wonder what was in that little bottle…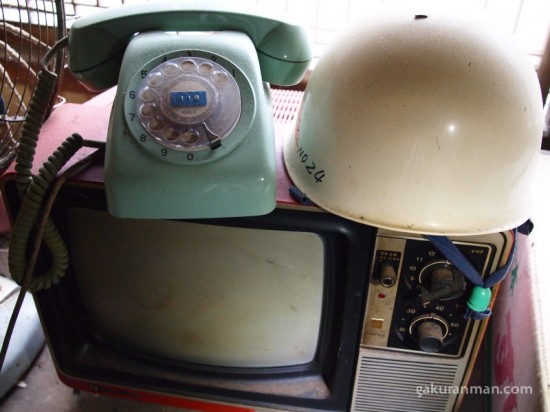 And finally, here's a picture of one of the dusty old televisions lying about the hotel staff quarters that I promised to post. Pretty old if you ask me. Anyone know just how old though?
Let me know your thoughts and which pictures you liked best. Those photographically inclined – lend me your criticism!
**********
Notes:
Highlights: Spooky paper lamp startling me in the dark, unnerving Buddhist statues and colourful long exposure photography in the corridor.
**********
Please bear in mind that going to visit ruins is dangerous and in many cases illegal. I take no responsibility for your actions and their consequences. Also, I will not answer requests for information on locations, their names or advice for entering the places I write about for the simple reason that it leads to many of them getting vandalised and sealed up completely. Thanks for understanding.