Known as 'Heavenly light mushrooms', these bioluminescent fungi are not our usual shade of sapphire blue found often found in the deep sea, but an eerie emerald green colour. Just in time for Christmas then. They are Japan's Mycena lux-coeli mushrooms, found in the Southern Wakayama prefecture.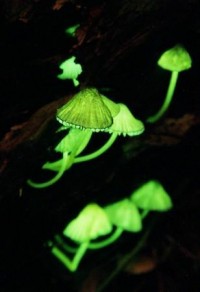 Apparently the mushrooms only sprout for a few days in the rainy season, growing from fallen logs that are rotting on the forest floor. (The Japan Times)
Pink Tentacle also wrote about them some time ago. Reading from the a now unavailable Mainichi Shimbun article, he gives us some valuable background information:
The Mycena lux-coeli mushrooms, known locally as shii no tomobishi-dake (literally, "chinquapin glow mushrooms"), sprout from fallen chinquapin trees. As they grow, a chemical reaction involving luciferin (a light-emitting pigment contained within the mushrooms) occurs, causing them to glow a ghostly green.
Image from: Hachijo Kinoko Kenkyukai
This is the same reaction that occurs in many other bioluminescent organisms. An enzyme known as luciferese comes into contact with oxygen (it oxidises), and releases the energy as light – the green glowing that we can see in the mushrooms. Such is the dazzling effect of these mysterious mushrooms in the dark of the forest canopy that they were originally known to locals as 'pigeon fire':
In daylight, the 1- to 2-cm-wide mushrooms resemble Japan's well-known brown enoki mushrooms, and for a long time they were thought to exist only on tiny Hachijo-jima Island 300 km south of Tokyo, where they were known to locals as hato-no-hi, which translates as "pigeon fire" — as they were scientifically named in 1954.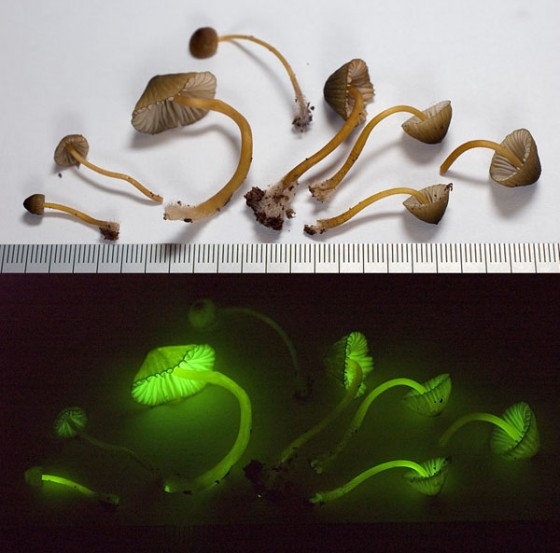 Apparently during the humid summer months when people in Japan are enduring the annual blast of heavy rainfall, tours are led by volunteers such as Shigeru Nishigaito around the small, leafy island of Mesameyama in Ugui, Wakayama. I was unlucky that I was in Japan just after the rainy season this summer, but I hope I get the chance to go and wander around the forests myself sometime in the future. I'd definitely need a high-ISO camera and a tripod to capture these fungi though!
Have you ever seen glowing mushrooms or vegetation where you live?
And Merry Christmas all!