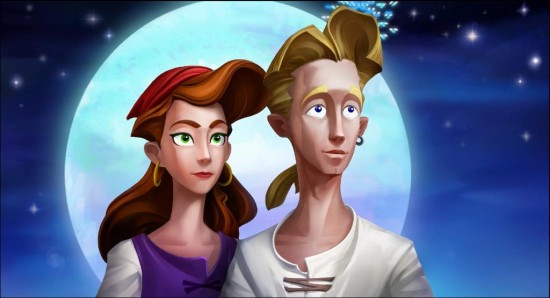 The Secret of Monkey Island, that classic adventure game with Guythrush Geekhood Guybrush Threepwood is about to return in full, glorious High Definition! A complete overhaul of the 1990s masterpiece. And that's just the beginning – a *new* Monkey Island game – The Tales of Monkey Island – is also set to land this summer!

Gaming fan Dave from The Ramen Blues tweeted me about the breaking news from E3. A posting on Kotaku.com spurred me onto a ruthless rampage in search of every morsel of information I could find about this incredible announcement, digging up videos and screenshots for both the remake of the Secret of Monkey Island and the new Tales of Monkey Island series.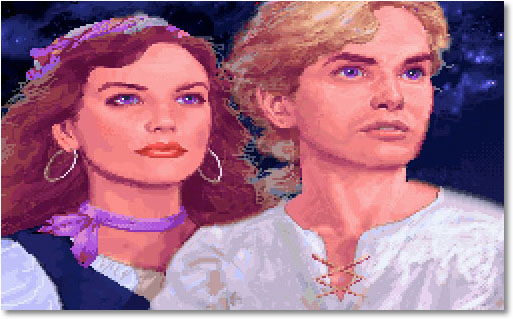 (Above: The original scene from the Secret of Monkey Island)
I've been a fan of Monkey Island for the longest time, playing the game when I was a wee lad on the Amiga. I didn't know what root beer was, nor why a monkey would wear a negligee, but I did know I loved every bit of the game. The ghost pirate Lechuck, the beautiful governor Elaine Marley and of course, our dashing yet wet-behind-the-ears protagonist, Guybrush Threepwood.
In the remake of Secret of Monkey Island, you can expect high-quality, lavishly re-painted backgrounds, complete voice acting (with Dominic Armato returning as Guybrush!), a re-recorded soundtrack as well as a built in cheats systems to help players with the harder puzzles and even a special button that lets you slip seamlessly back and forth between the original version of the game and the new remake. This is clearly a game that is built for fans by fans and I'm overjoyed that it's finally coming back to give a whole new generation of gamers to excitement and humour that Monkey Island is famous for! Check out the video below and the Lucasarts Monkey Island website for more info!
(Source: Facebook videos)
Also, here's a demo and discussion about the Special Edition of Monkey Island on Gamespot.
As for the new Monkey Island game, the 'Tales of Monkey Island', it is being released by TellTale Games, the same company behind the recent Sam and Max series. Tales of Monkey Island is set to be released in episodic format, beginning July 7th, and will span 5 months. If you get over there and pre-order the whole series now, you even get a special bonus material, artwork and access to a members-only section of the website! It's set to be released on PC and WiiWare, so I'll have to look at getting parallels for Mac, but I'm hoping that they'll announce that they have a Mac version ready in the near future…
So, are you a Monkey Fanboy or Fangirl yourself?
Some more stuff:
Monkey Island goodies on sale from Lucasarts
Screenshots of Monkey Island from Joystiq
Download super-high quality Monkey Island original box artwork that you can print as posters! Lucasarts Forums
Also, more poster-quality images can be found on the TellTale Forums