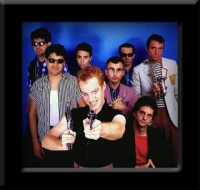 Ever heard of Oingo Boingo? Those who knew me during secondary school probably will have, as I used to delight at quizzing them on the band few outside the U.S have heard of. Especially those music fanatics who knew all manner of niche bands and prided themselves on the plethora of musical titbits they had stashed away in their heads. Oh yes, I had fun.

I'm in no position to accurately categorise Oingo Boingo within musical genres, but most people tend to tag them under 'New Age' and 'Punk'. Perhaps a little-known fact is that Danny Elfman was the lead singer and headed the band. If the name rings a bell, it's because you've probably seen his name in the credits for various film soundtracks. He often works with Tim Burton and has scored such wonders as 'Edward Scissorhands' and 'The Nightmare Before Christmas', and even more recently for 'Spiderman' and 'The Simpsons Movie'.
Oingo Boingo's early work in the 1980s included a lot of jazzy sounds, horns and quirky lyrics, one example being their song entitled 'Little Girls' whose ominous words include 'I love little girls they make me feel so good'. Many of their songs contain such tongue-in-cheek pokes at political, religious and other sensitive issues. They were also well known for their extremely high-energy Halloween concerts and officially disbanded with a great bang in 1995 with their final Halloween concert. In my opinion that final live recording remains among their best music, blending their early jazz elements and unusual lyrics with some fantastic modern rock styles!
But enough with the history. You can learn more about the band by visiting the sites listed at the bottom of this post. And anyone with time on their hands can read over an old post I dug up today about my introduction to the band way back in Christmas 2001.
**********
I'm stuck for what songs to recommend from their repertoire as they had several very different styles over the course of their career and I don't want to scare anyone off by listing too many.
Try 'Dead Man's Party' for size first – it's the live version from their final Halloween concert but originally a popular 80's hit of theirs. It has both rock and jazz elements and a nice bouncy tune.
Download Oingo Boingo – Dead Man's Party (Live)
If you liked that, try sampling one of their more eccentric songs, the aforementioned 'Little Girls' in its original incarnation. Not for the faint hearted!
Download Oingo Boingo – Little Girls
How about one of their much darker songs from when the band had once re-formed as 'Boingo'? I particularly like 'Spider'. It's quite melodic and long, a sign of Elfman's growing interest in film scores, but still much shorter than the longest song on the album, 'Change', which was 15 minutes long!
Download Oingo Boingo – Spider
Here's a much gentler, easy-listening tune about life's up and downs. It's somewhat unusual for Oingo Boingo, but it's relaxing to listen to and has uplifting and positive lyrics. Check out 'We Close Our Eyes', especially if you found the earlier songs too much to bear!
Download Oingo Boingo – We Close Our Eyes
I have to throw in one of Oingo Boingo's more exciting and suggestive songs. Again, from their 80's collection, so be prepared for oddity. Elfman's voice is off the scale in some parts, and I can't help but laugh at some of the lyrics in this song. Try 'Nasty Habits' out for size for a tongue-in-cheek exploration of 'all those naughty little things that we don't discuss publicly'.
Download Oingo Boingo – Nasty Habits
Finally, one of my favourite songs and one from their final Halloween concert. Listen to 'Just Another Day (Live)' for a pumped up rock version of this hit. The twang of the guitars and Elfman's passionate howls get me charged up every time.
Download Oingo Boingo – Just Another Day (Live)
**********
More information on Oingo Boingo:
Oingo Boingo Wikipedia article
Boingo.org – a long-running fan site with lyrics and other articles.
Dead Man's Party – an Oingo Boingo tribute band.