Oh yes! Finally we get information about the highly anticipated Olympus micro 4/3 camera offering. All the benefits of a DSLR camera encased within the pocket-sized goodness of a compact body. It looks like this summer may turn out to be extremely expensive…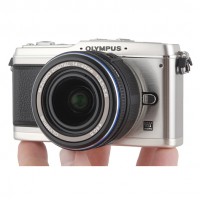 A quick explanation of why this camera matters: In short it matters because it does away with all the bulk of Digital SLR cameras, but keeps the image quality, functionality and (hopefully) performance. It's slightly larger than the highly popular Lumix LX3, but it has a sensor equivalent to a DSLR camera and retains interchangeable lenses. How does it do this? By removing the optical viewfinder on top of the camera, the mirror inside the camera and the DSLR-style AF (autofocus) unit. (The camera does have autofocus – it just does it in a different way to current DSLRs). Check out the image below for a better understanding of the differences: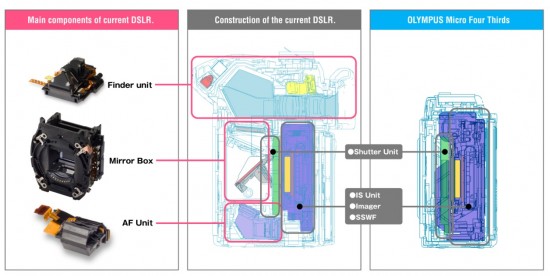 Why call it the 'PEN'? Because it is based on the classic PEN series of Olympus cameras back in the 1950s. The design and classic feel of this camera are all paying homage to the classic look and feel of that series.
So how it is comparable to a DSLR in quality? Basically, because it has a DSLR-sized sensor and pro-level features to use. Here's Myfourthirds with a superb explanation on sensor sizes and why this camera has the ability to shoot in low light without the grain and poor performance that virtually all consumer point and shoots cameras suffer from:
A Four Thirds sensor is 5.6 times larger in area than the largest of digital P&S camera sensors. At the same time, the Four Thirds sensor is greater than 1/3 the size of a 35mm sensor used in cameras starting at $2699 USD. This means the top P&S camera has a pixel density of about 34MP/cm2 (Canon G10) and the top DSLR has a pixel density of about 2.9MP/cm2 (Sony A900). Less is more for our purposes because what allows photographers to capture a top quality image is the quality of a pixel. Squeezing 34MP/cm2 means less light and less data for the sensor to capture. On the other hand, the size of the pixels capturing light at 2.9MP/cm2 are much larger leading to a much cleaner image. In conclusion, the pixel density on the Olympus E-P1 equals 5.1MP/cm2 meaning you'll get all the quality and quantity of pixels you'll likely ever need to achieve your photographic goals. The only people exempt from this statement are professionals who make a living with photography – who we ironically expect to write articles in the coming months stating they will be using it as a carry-around or street photography camera.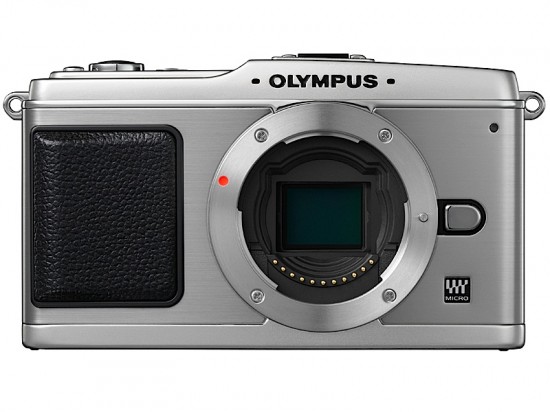 So, is this really DSLR quality in a compact camera? In a word – yes. Whether or not it can deliver SLR level functionality is another matter that will become apparent over the next few weeks as the camera gets reviewed. I hope and hope that it does – it would be such a shame to have come this far it it can't deliver in performance as it does on paper. Note that there is a hotshoe flash available (no shoddy flash built into the camera) and also a hotshoe OVF viewfinder available separately, in case you are a traditionalist at heart and love to look through one :).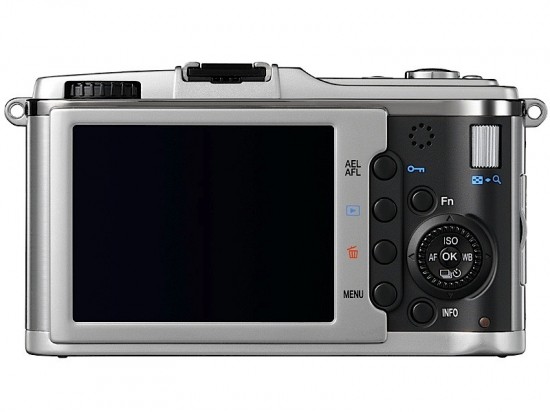 Here's a brief technical specification. If you want any more information, just follow the links at the bottom of this page to photography sites that explain it all in detail. Engadget (also where the top image is from) summarises it as follows:
We're looking at an image stabilized (sensor-shift) 12.3 megapixel Live MOS sensor with TruePic V image processing, ISO 100-6400 sensitivity, a 3-inch LCD, 20 shooting modes (5 exposure, i-Auto, and 14 automatic scenes), an SDHC slot, and HDMI TV-out for playback of 720p (1280×720 pixel) recorded video at 30fps. The 14-42 lens kit retracts into the barrel when not in use and Olympus' Supersonic Wave Filter helps keep dust under control when swapping-out the lens for Micro Four Thirds, Four Thirds, or OM lenses.
And finally, what about the release date and price? According to the Japanese Olympus website, it's set for the 3rd July! Price is likely to be around $800 including kit lens, according to several sources I've seen. Righty, who's gonna be buying me one as a graduation present? :D
Other sources: