Omoshiro Zakka (オモシロ雑貨) means something like 'Interesting Miscellaneous Goods' in Japanese and is the title of this new section on Gakuranman.com. This week's weird and wonderful invention is the humble soy sauce dispenser, with a Star Wars twist! R2D2 comes to the rescue for all your flavouring needs.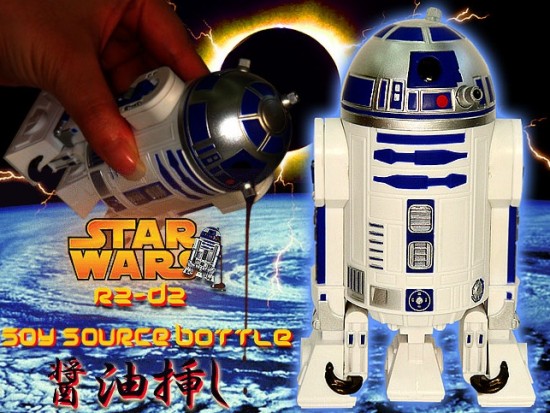 Inspired by Shibuya246's weekly 'Conbini Mondays', I intend to post a different lifestyle product from Japan (or if not from Japan, then with some reference to Japan) every Wednesday to brighten up your day when you get those mid-week lows. Because, let's face it, while Mondays can be rotten, being stuck smack-bang in the the middle of Wednesday is just plain perplexing. You're not really sure whether to be content that the week is half over or grumpy that the days to Friday drag on. Oh the dilemma.
So with that in mind, let's get right down to this week's quirky creation! Apparently some brainiac decided it would be fun to rip the gizzards out of little R2 and fill him with the salty brown liquid you'll find in all sushi parlours!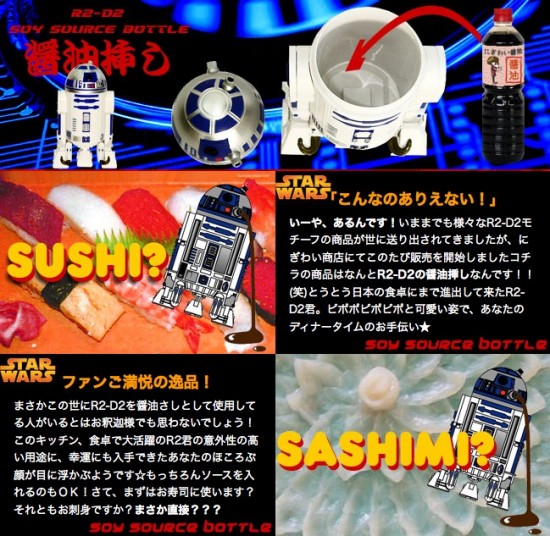 Below – "Fun with R2 at dinner time!"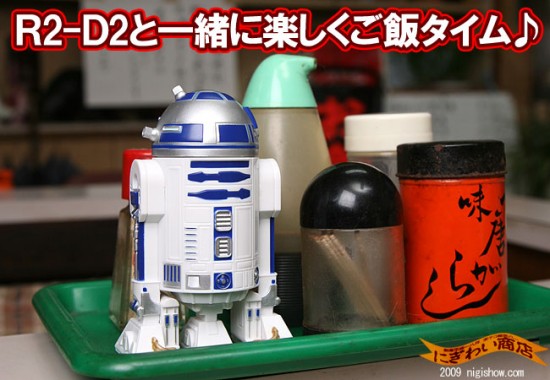 Here's a nice old man indulging in some nostalgic geekdom while bringing out the flavour in his fish: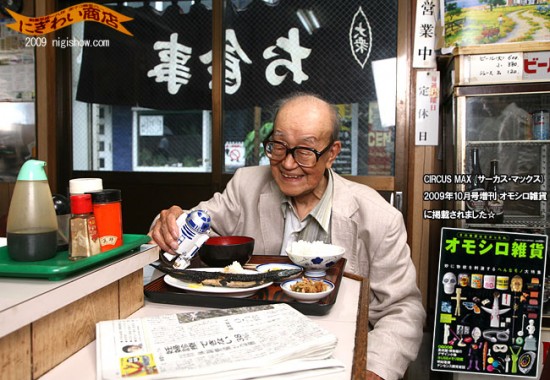 And just in case you weren't completely convinced of the quality, here's that again close-up. Just look at that pouring action!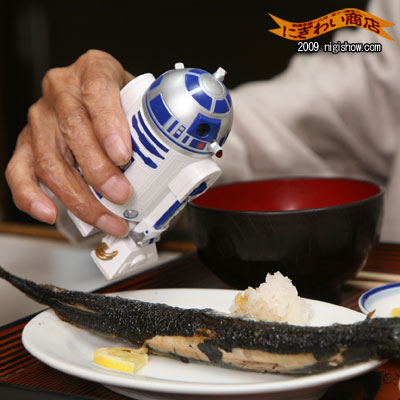 Source: Rakuten
P.S. 'Omoshiro Zakka' is actually not 'proper' Japanese. The word 'interesting' in Japanese when spelt correctly is 面白い – omoshiroi, with an i. But in spoken Japanese for added emphasis, one can drop the i and even add a small ッ. Something like this:
オモシロッ! – Cool!/Interesting!
I didn't just start prematurely going senile or anything. Okay then. Glad that's sorted out.