The way the media reports on radiation these days, you might be forgiven for thinking the whole of Japan has fallen foul to life-threatening amounts of toxic materials. The most recent scare was a high reading taken in the Setagaya district of Tokyo, prompting more discussion on radiation hotspots and fallout from the Fukushima disaster 7 months ago.
Central Tokyo, over 200km from the Fukushima Daiichi nuclear power plant, has seen elevated levels of background radiation and Japan has had numerous problems with contaminated food exports from Fukushima and the surrounding areas. There are also dangerous hotspots that have built up even in locations outside the exclusion zone, primarily due to contaminated rainwater collecting in crevices. But while there are still many problems and concerns, ambient background radiation and the shock reports of hotspots being discovered are not nearly as headline-worthy as they may seem to be.
There is definite reason to be concerned about the long term effects the fallout will have on the northern region of Japan, its economy and particularly agricultural exports. Whether actually contaminated or not, the minds of the people have been irradiated with report after worrying report of food that is unsafe to eat. It will take a long time, and serious government measures, to properly reassure the Japanese public and the wider world that exports from the region are safe again. The cleanup and reconstruction efforts will take years, perhaps even decades, to complete and the worst affected areas immediately around the plant may remain no-go zones for a long time to come.
It's also not easy to determine just how accurate the information we receive is. There are numerous sources in a constant battle, each with their own invested interests and takes on the situation. The mainstream media need headlines and shock stories to sell papers and hook readers. The scientists need fully verified, concrete facts to reassure the public and calculate the exact risks. And even among those best informed about radioactivity and the substances being detected, there are disagreements about how much information the public needs to be told and just how much radiation is a 'safe' level, if indeed any level of radiation can be called safe at all. Be aware of that when reading any information you find. The thoughts of one scientist are not conclusive proof of anything. That goes tenfold for the thoughts of one journalist or the mass media.
The Setagaya Incident
---
So, what about this "extraordinarily high" amount of radiation detected in Setagaya? It was recorded at a hotspot measuring 3.35uSv/h at one point near a house ajoining a road, measured 1m off the ground. The government calculations based on spending 8 hours day outdoors and 16 hours a day indoors at that location for one year would give you a radiation dose of 17.6mSv. That's certainly much higher than the specified limit of 1mSv/year set by the Japanese government.
But let's just think about that. That's about the equivalent of a couple of CT scans and a few international flights. You'd also have to be pretty reclusive to remain in that location for an entire year to absorb that amount. Furthermore, it's a single location in one neighbourhood – not a measure of the ambient dose in the surrounding environment.
It turns out that the high level of radiation measured that had nothing to do with fallout from the Fukushima nuclear power plant, but was actually due to what is thought to be radium 226 (used in cancer treatment and fluorescent paint) found inside some old bottles. The bottles contained the powder measuring 600uSv/h and were found hidden inside a wooden box underneath the floor of a house no longer lived in. Pretty curious stuff if you ask me! I've come across very old bottles containing mysterious powders and substances before in old haikyo medical clinics while exploring, so it makes me wonder how many other undetected hotspots there may be that will now be discovered by concerned individuals with personal radiation detectors.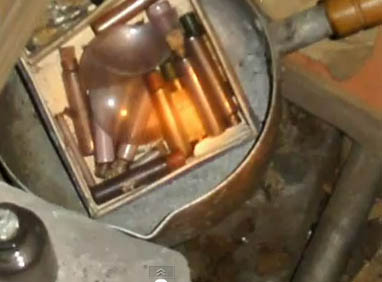 But even now that we know it's probably unrelated to the Fukushima incident, let's step back and examine the high reading that was given in the media anyway. Comparing the 17.6mSv annual dose from the spot outside the house that to current background levels of radiation being reported around Tokyo then: Shinjuku on 14th October shows 0.055uSv/h (pretty representative of Tokyo in general, although there are levels higher up to about 0.1uSv/h) which would result in a perfectly normal 0.48mSv of radiation in a year if the amount remained constant and one remained outside at all times. A huge difference to the hotspot and a very important point to note when hearing these shock stories in order to keep things in perspective.
In Fukushima, the majority of places even relatively close to the plant are about 0.25uSv/h (that's 0.00025mSv/h). Assuming the worse case scenario of remaining outside in constant exposure for 1 year, we'd absorb 2.19mSv. Still less than the natural background radiation in other places like India, China and Brazil. Ramsar, Iran shows an average of 10uSv/h (87.6mSv/year), for example.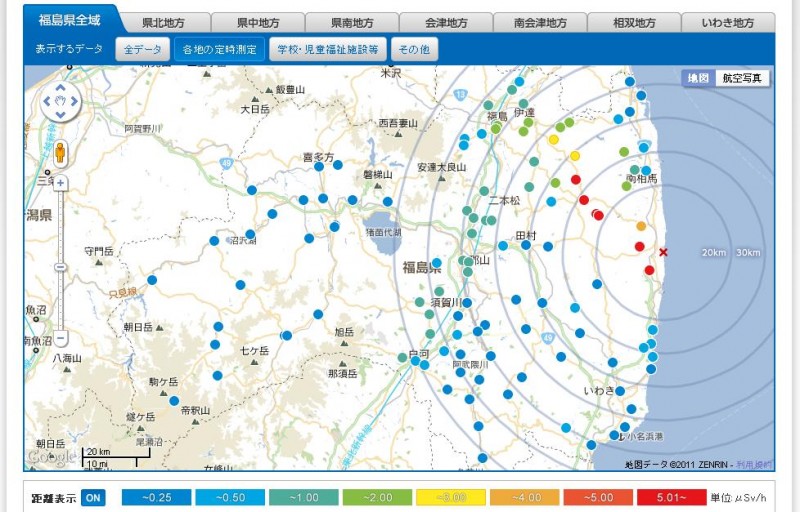 The average amount of natural background radiation around the world is 2.4mSv per year. The limit deemed acceptable by the Japanese government for exposure to non-natural radiation per year is 1mSv (excluding that for medical purposes). For example, a CT scan will give you about 6.9mSv and a return flight from Tokyo to New York about 0.2mSv. There are also naturally occuring places such as hot springs giving higher-than-normal doses of radiation.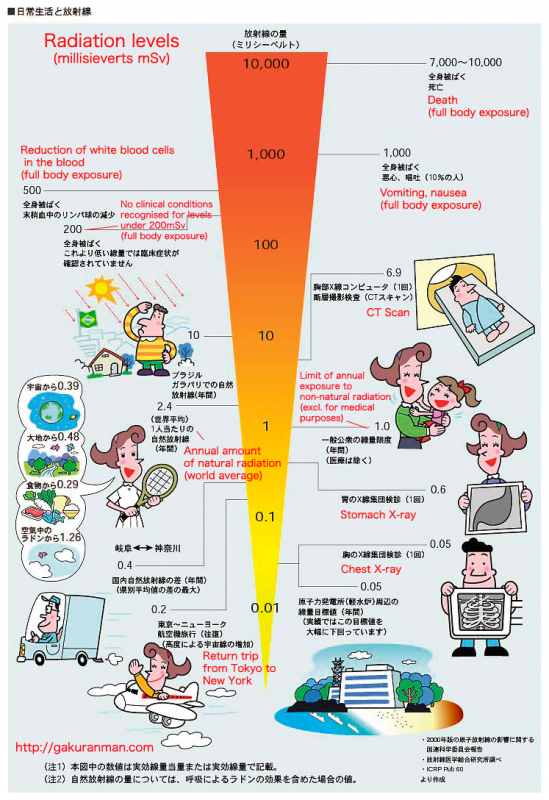 The problem is that the elevated background radiation around Fukushima is not all natural anymore. It will undoubtedly also include elevated background levels of radioactive elements not usually present in those amounts and risks being absorbed by the local population in ways not usual (such as growing food in contaminated soil). The true scope of such matters are quite beyond my limited knowledge of the subject but, from what I gather, there is no definitive consensus among the larger scientific community on the effects of elevated levels of ambient radiation:
However, at low doses of radiation, there is still considerable uncertainty about the overall effects. It is presumed that exposure to radiation, even at the levels of natural background, may involve some additional risk of cancer. However, this has yet to be established. To determine precisely the risk at low doses by epidemiology would mean observing millions of people at higher and lower dose levels. Such an analysis would be complicated by the absence of a control group which had not been exposed to any radiation. In addition, there are thousands of substances in our everyday life besides radiation that can also cause cancer, including tobacco smoke, ultraviolet light, asbestos, some chemical dyes, fungal toxins in food, viruses, and even heat. Only in exceptional cases is it possible to identify conclusively the cause of a particular cancer.

…

With all the knowledge so far collected on effects of radiation, there is still no definite conclusion as to whether exposure due to natural background carries a health risk, even though it has been demonstrated for exposure at a level a few times higher.
http://www.iaea.org/Publications/Factsheets/English/radlife.html#harmful
So what are we as citizens supposed to do? Clearly avoiding exposure to additional or elevated background radiation is advisable and it is important to clean up hotspots and the environment. Consumption of radioactively contaminated products is another topic entirely and carries arguably greater risks due to the radioactive source being much closer to the vital organs once consumed. The government has set regulations for acceptable limits on food and have given orders to check radiation levels, but it is still not clear to me just how to judge the situation yet and there are concerns that the levels set by the government are still too high to be considered safe. More reading on my part is required to further understand the situation, but if any readers have helpful, factual links, I would appreciate them.
There's lots more information in Japanese including answers to questions at a Q&A session that was held by the Japan Atomic Energy Agency (JAEA) here or here for posterity if you have time to read.