The day was drawing to a close and my haikyo partner and I could already hear the noisy mating gerrops of frogs. But one last thing had caught our eye. A shadowy hole cut into the upper regions of the cliff beckoned us in the fading light. A cave, perhaps..?
"It's nothing, surely." teased my partner. "Come on, it's already dusk and we have an hour's walk back to the station. No time for climbing up that cliff."
"Yeah, I know, I know. But, I read something about an old shrine hidden away somewhere in this place. We didn't see anything like that down below, so maybe it's up there." I urged. "Just one little look, okay? Then we'll head back".
"Hmm… Okay. Let's be quick."
The two of us scrambled upwards, the loose gravel sliding beneath our feet and sending cascades of rock tumbling down the mountainside. This really was no time to be looking for shrines. We'd already spent the entire day photographing the other areas of nearby haikyo and were thirsty and craving sugar. But something, just something about that cave-like crevice…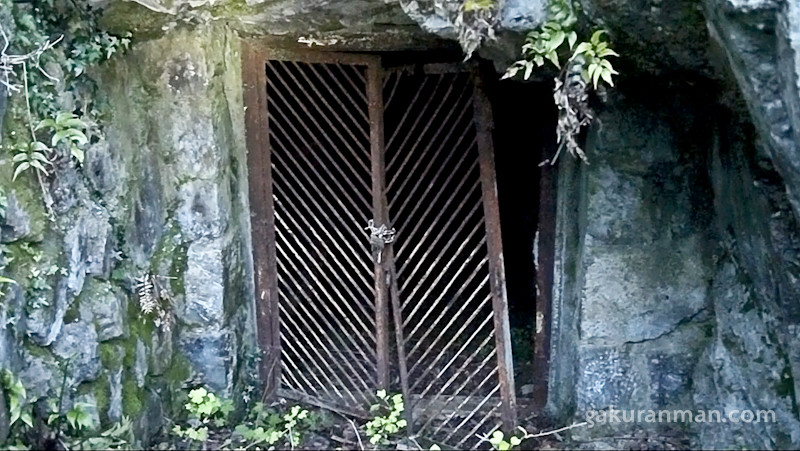 The crevice turned out to be nothing more than a shadow cast by a rock, but very close by we spotted a rusty old iron gate. One of the hinges was corroded and the gate easily came away at the side. The mouth of a tunnel carved roughly into the limestone rock stretched before us.
Sweeeet…. That Indiana Jones feeling surged up in our chests.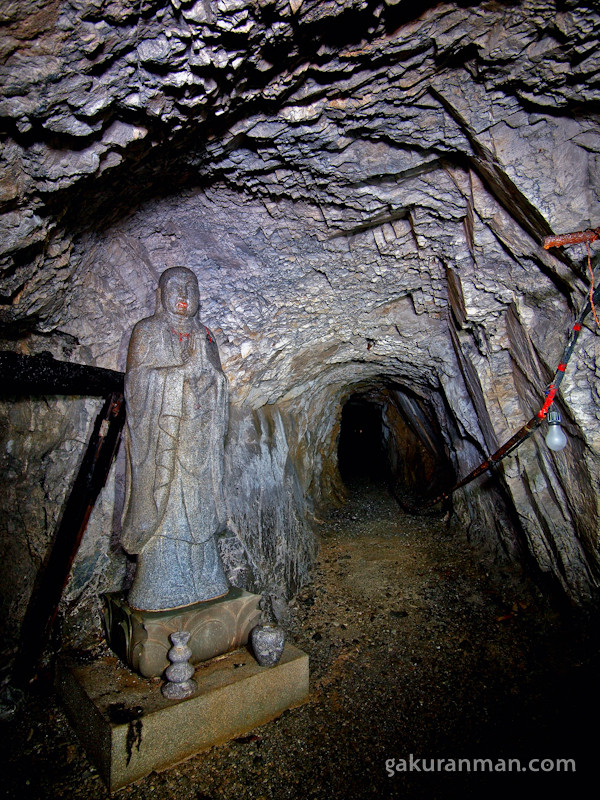 The tunnel went on for around 30 metres or so, I reckon. A cool, somewhat odorous cavern. As we tottered nervously inside, we spun our torches around us, scanning the walls. A dozen or so nasty Japanese spider cave crickets trembled above our heads, fuming at having been disturbed.
"Yuck. If one of those critters drops on my head I swear I'll damn well crush every last one." I grumbled. My voice echoed a little down the cavern.
As we pressed on, we passed a towering Buddhist statue with a disturbing set of blood-red lips. Somebody's idea of a prank? At least it looks like we found the shrine.
Ducking under a rusty iron rail running along the ceiling, we continued down the hall. It occurred to my partner that this might be the perfect place for a bear to be living and he felt the need to fill me in on this just as we were about to step round into the main chamber.
"Right, just in case, be ready to run like shit. But the gate was closed, so I doubt anything is in here…" I murmured.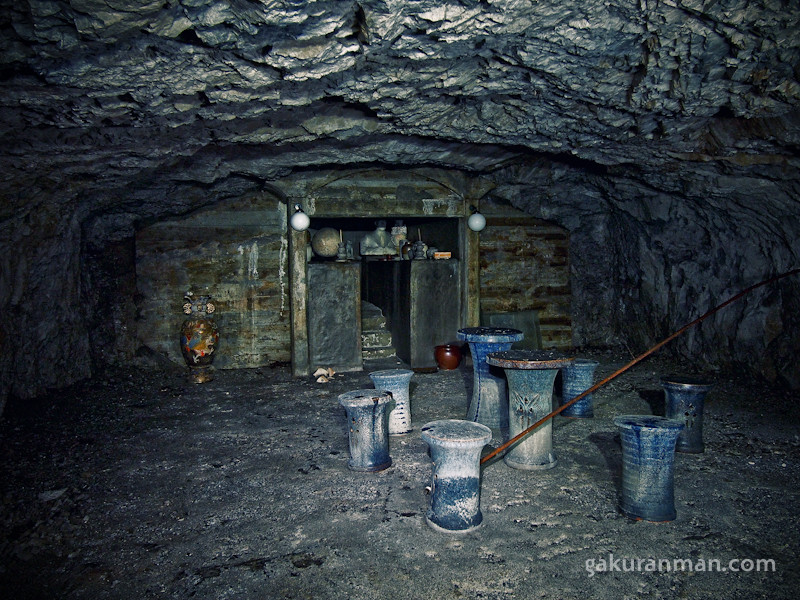 Sure enough, the place was empty, save for a few more disgusting spid-ickets attached to the ceiling.
In this room, we could stand up comfortably. A stone table with chairs was in front of us and beyond that what looked to be an altar in the darkness. I couldn't help but feel like we'd stumbled across an ancient tomb.
Could it belong to a cult of some sort..?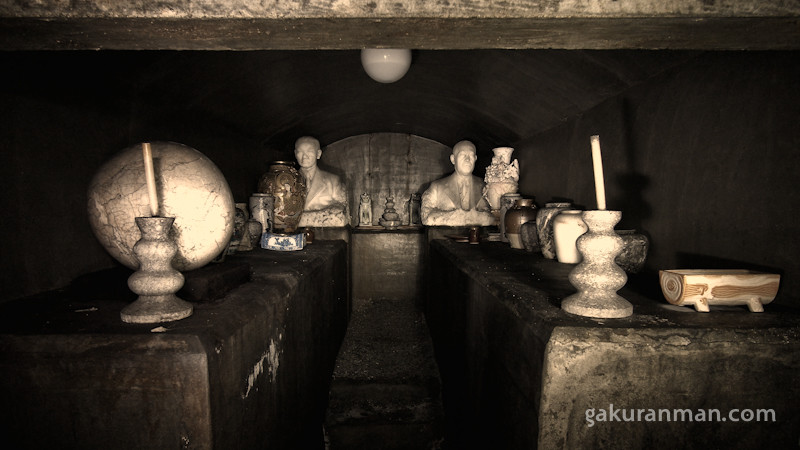 Approaching the altar, two ghostly heads appeared. Marble, I thought, and most likely carved in the image of some bigwigs. A stunning vase with gold-looking rims and a feisty dragon sculpted onto its side gleamed next to the statue. I quivered with excitement as I ran my fingers lightly over its handle. I couldn't believe our luck!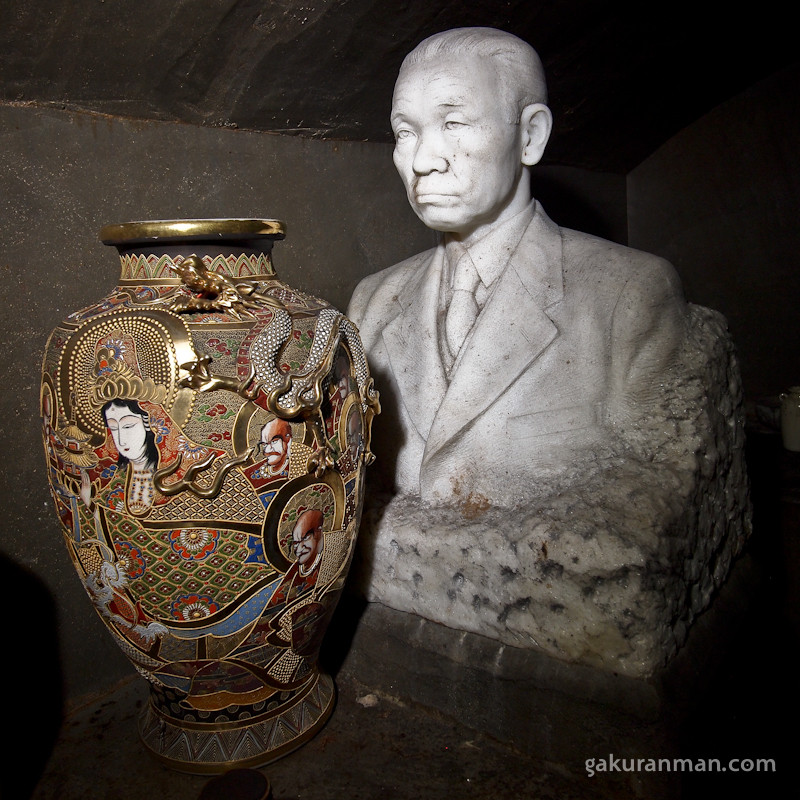 We made our way down the centre isle and bowed slightly at the altar in front of us. I'm not terribly religious, but something about being around Japanese shrines and temples makes me strangely aware of other beings. We were just about to snap the last of our pictures and leave when I spotted the hole in the wall. Just big enough for a slim adult male to slip through on all fours.
"No… No it couldn't be…"
I grinned.
"What's this man? Let me just shine my torch through to the other side."
As I did so, more vases glinted back at me.
"No way!! There's more stuff back here!"
"What?" my partner shot back. "Where?"
"Right here. Hold on, I'm gonna crawl through and have a look."
I squeezed through the narrow opening on the damp gravel and came out in a tiny alcove. There wasn't enough room to stand up completely, but as I did so I saw a set of stone shelves littered with old vases and Buddhist ornaments before me.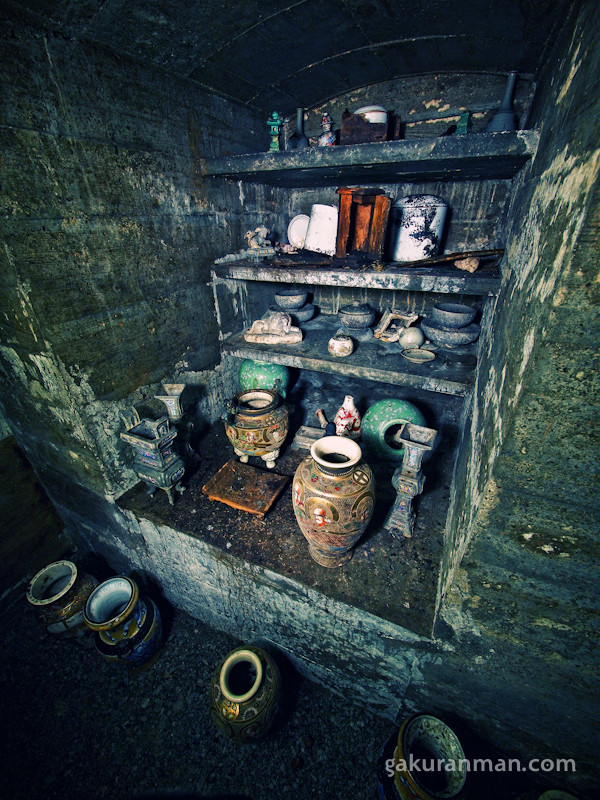 Evidently the place had electricity at one point, as there was a dusty light bulb hanging just behind my head. My guess is the priest would crawl through here into this storage closet to get the necessary tools to perform the ceremony. Perhaps the small opening is so as to force the person who enters to bow in respect?
I mused about the possibility and heard a scratching behind me. My partner was sliding through the hole and came out staring in disbelief.
"Amazing! Just look at all this stuff. Even another one of those huge ornamental vases!"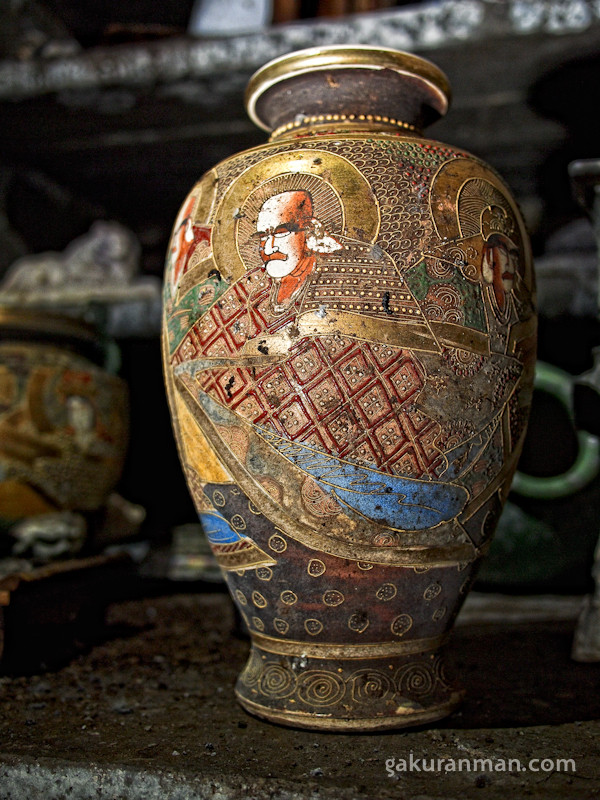 Most of the stuff was quite dirty and some of it broken, I noticed. Perhaps in an earthquake?
The thought hit me hard.
Damn… What if we have an earthquake while still in this cave..?
I didn't need to dawdle much after that. We snapped our final few photos and made to leave the secret shrine behind. The light at the end of the tunnel was very dim now and the evening sky was already losing its lusty blue tint as night approached. We had quite a scramble getting out of the surrounding area in the darkness, getting lost in the brambles several times and being scared witless by a rabbit that darted out. Definitely an exploration to remember though, and by far one that will merit a return visit.