Japan is littered with abandoned mines, factories and other industrial spots, but my haikyo travels to date had not led me to a place quite as grand as this. The White Stone Mine is a sprawling ruin of wood and metal packed to the brim with history.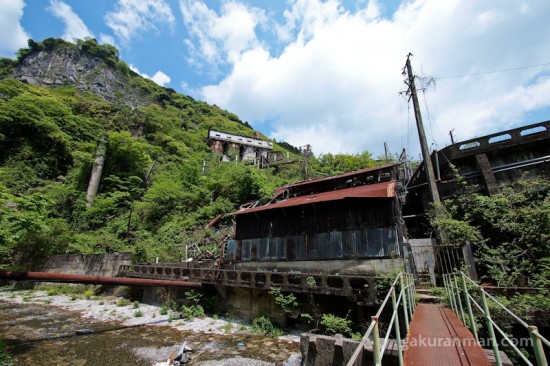 **********
It was quite a while on the train from Nagoya. Erich and I gotten up at the crack of dawn to take the first of several rides out in the vast Japanese countryside, the carriages gradually emptying of people the further away we got from civilisation. After a few hours we pulled into a sleepy little countryside station at the end of the track. This was as far as local transport could take us towards our destination.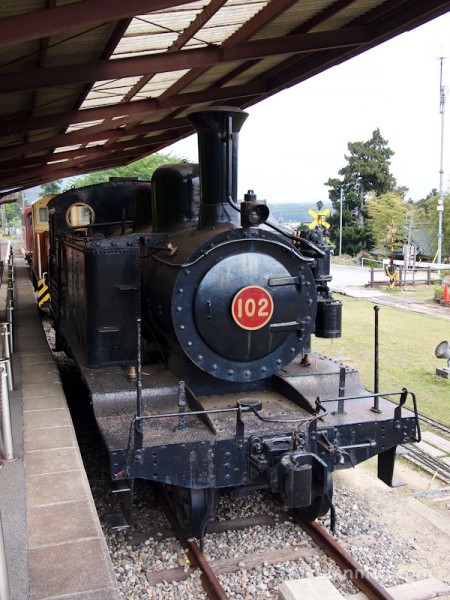 To our surprise though, the little station was well maintained and had a few boastworthy points itself. A smart old steam train was permanently resting on an unused line and some locals were busy playing with their model replicas nearby. A young family enjoyed photographing their daughter sitting on the back of one such replica.
But as quaint as the countryside station was, Erich and I had a more important mission. The mine was a good hour's walk from the station and if it was anything as vast as the legends tell, it was going to take us the whole day to explore it. Reading a Google map off the back of my camera screen that I had snapped the night before, we strode off.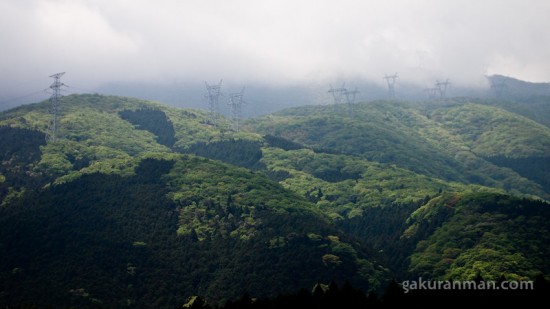 The morning cloud cover gradually began to give way to bursts of sunshine and blue skies looked promising. We arrived as expected, that familiar quiver of excitement of ruins exploration in our chests as we caught the first glimpse of the telling red roofs of the mine.
But as me made our way down the concrete path, our hearts sunk a little. Groups of old residents were gathered right in front of us filling numerous plastic bottles from a natural spring water source. I feared the worse. They'd probably make us leave if they knew we were headed for the old mine…
Luckily however, they didn't seem to even notice us. It soon became apparent after entering the mine complex that this place wasn't strictly guarded. Not 10 minutes had passed when we spotted another group making their way inside. Dressed in grey overalls, we imagined they might be government workers coming to check for safety, but it turned out they were there to play paintball. Not exactly safe for us cameramen to be wandering around then…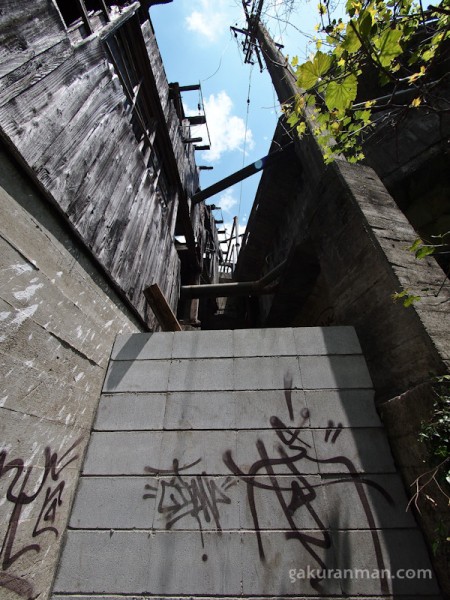 The White Stone Mine ranks in the top 5 Japanese ruins in the book 'Nippon no Haikyo' and it's easy to see why. Once we'd gotten over the initial snap-happy photographing frenzy that comes having had successfully infiltrated a haikyo, we realised just how supremely massive the place was. It stretched left and right, up and down. Huge wooden structures and rusted corrugated iron plates. Dark underground corridors and heavy mine cart tracks set into the earth.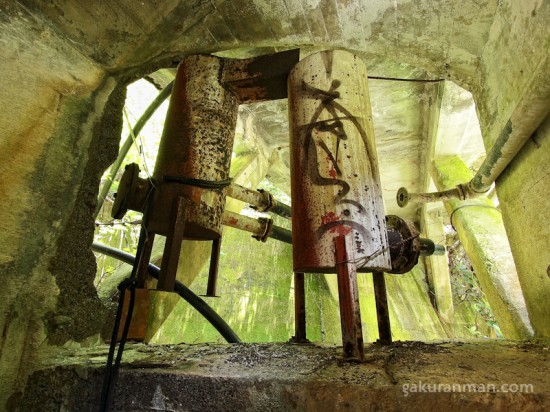 It would be a great injustice for me to try and squeeze everything that we came across in this single post, so I've decided to split over several entries. This time I'm focussing on the colours of the mine. We had amazing light on the day which really brought out the reds and greens around us.
But the place isn't called 'white stone' for nothing. The fabled white stone that was mined here was still cast around, painting an oddly stark picture. Dipping under a low opening in the wall of the giant wooden structure, Erich and I left the emerald greens and rusty reds of outside and found ourselves fading into a still white.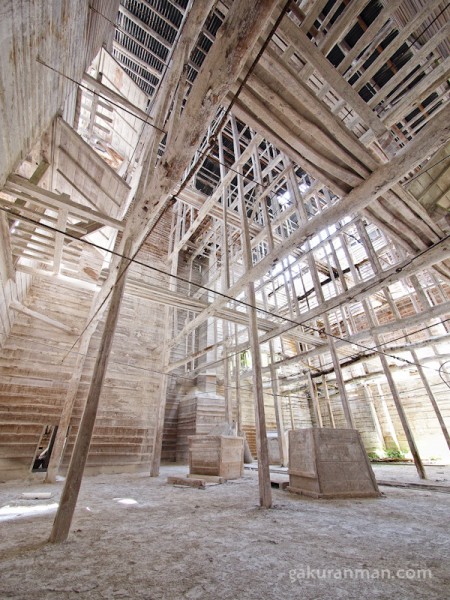 The entire storehouse was covered in a layer of dust. An overturned mine cart lay resting in one corner and in another, a patch of green moss trying desperately to avoid being consumed by the chalky white limestone.
The mine here has been closed for just over 40 years now. Opening in 1921, it finally shut-down in 1969 after receiving substantial damage from a typhoon, labour-saving cuts and the rise of machinery. According to Nippon no Haikyo, it was Japan's first chemical plant, manufacturing substances such as calcium carbonate for the chemical industry.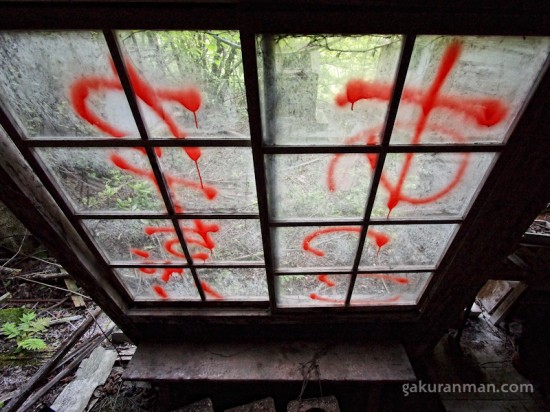 Pushing on, we came across old huts for the on-site workers and more storehouses with long wooden boxes piled high. More groups too, including a few cosplayers, a band and other photographers. Not too much graffiti, but one striking example lurking in the shadows of an old hut caught my eye. There were a few cans of congealed oil lying inside.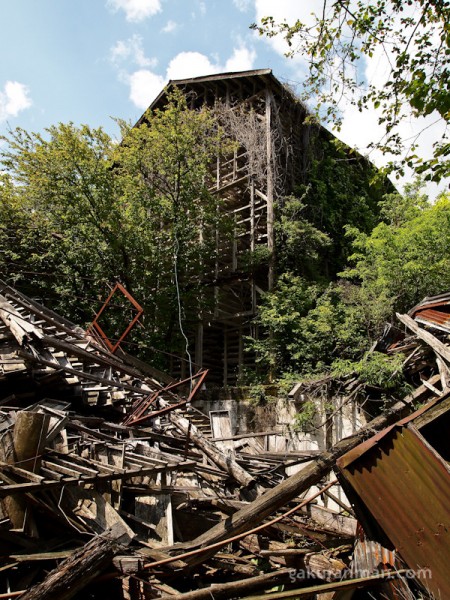 Many of the structures were in complete shambles. They were either collapsed to the ground or learning in very dangerous ways and it put us on edge while walking through them. Several of the second floor walkways were missing and a disconnected set of stairs reached up to the sky. My recent article about haikyo safety tips kept popping into my head and I found myself wondering whether or not the damage had been done in a storm or if some unlucky explorer had plunged down with the wreckage…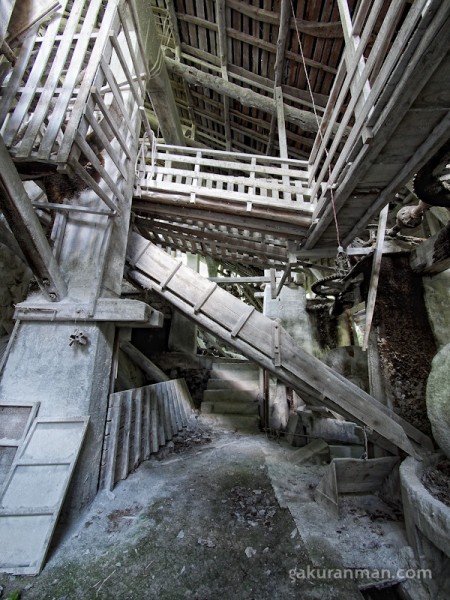 More areas dusted white appeared as we climbed further up the mountain towards the mine shafts. But perhaps most striking was the singed metal structures poking of the the greenery. We entered a concrete warehouse and found a set of rusty stairs to climb up to the second floor and then onto the roof.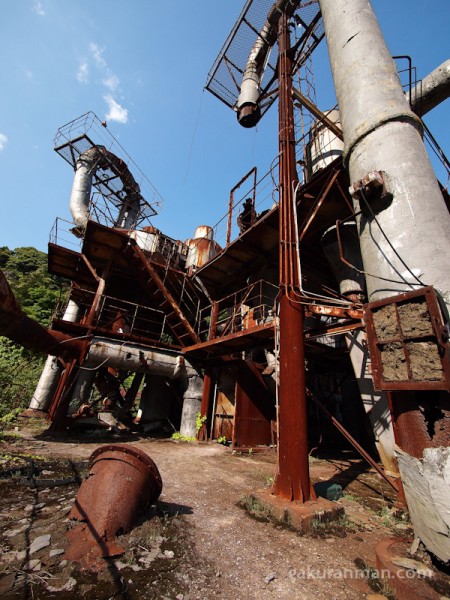 We could see the entire site from this spot, but we still weren't at the very top. The stairs from here though looked much riskier. Large parts of the floor had rusted away completely and weren't sure how much of the metal actually remained intact inside the stairs. Nevertheless, we managed to walk carefully along the welded sections and aimed higher. There was one final structure, a ladder reaching vertically to the top of some lookout post, but we decided against climbing that.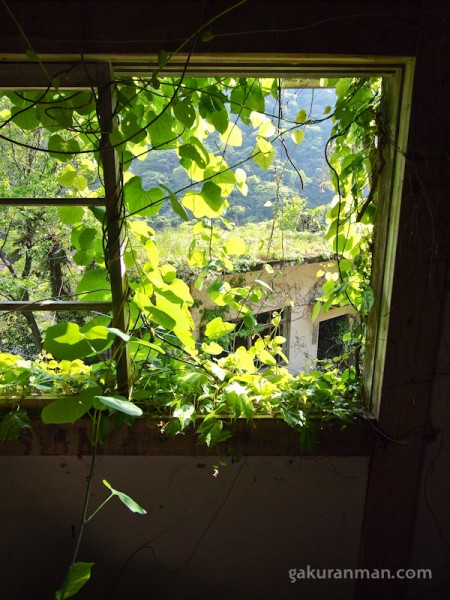 A few old warehouses proved especially challenging. Large sections of the wooden floor had caved in, but that darned sense of curiosity made us tip-toe inside. Again, following the nails and walking along the supporting beams, we treaded very carefully along the second floor of one such building. Every little creak of the floorboards and shifting of dust made us stop, but the sights inside were fascinating. Nature was reclaiming an open window and a collection of old magazines and tools lay across a desk. Some rather explicit lad's mags were scattered around the floor too, probably from some more recent explorers. It seems to be one of those things you'll always find in haikyo, along with lonely chairs and disconnected telephones.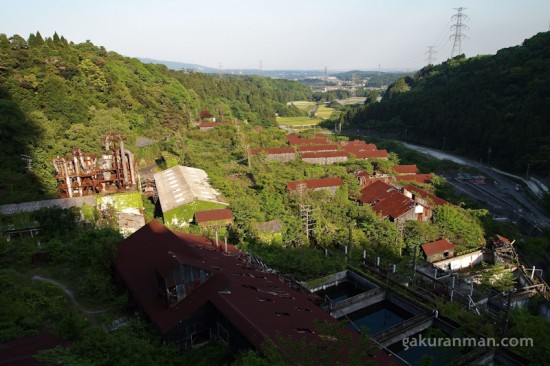 The view from the top of the mine town was amazing. The towering mountain behind us unfortunately cast a rather large shadow, but hopefully this final picture gives some sense of the scale of the place. It was pitch black before we left the ruins and the local frogs were blaring a mating chorus out as we got lost in the dark. I've got lots of video footage of that to put together in a future post :).
Still to come – all those lost artefacts I mentioned, like mine carts, old bottles with chemicals and an old pair of socks. I'll also be taking you through different sections of the mine town in black and white. So be sure to keep an eye out for part two by subscribing or following me on Twitter!