This week's Omoshiro Zakka (Interesting Item) is the sea anemone named 'Harry' (seemingly named after its designer). A fun-filled desk item that allows you to stick just about *anything* into its tentacles. I recommend accessories, though…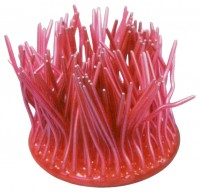 As you can see from the image below, Harry (or Harry Jr. – I'm not quite sure) is doing a fantastic job of clutching your daily items. From mobile phones to pens, lighters and what even looks to be an ear picker. Yes, Harry can hold just about anything.
The tentacles have some sort of wire stiffening them, but the plastic exterior covering makes them somewhat soft and malleable (I'm loving trying to use design-based technical words today :p). A suction cup (吸盤) and screws on the base allow you to stick this lil' fella just about anywhere – on the wall, a mirror, a computer or maybe even your forehead. The world is your oyster, or sea anemone in this case.
Designed by Harry/Harry Jr. and sold at Garakuda Boueki in Shibuya for 3150 yen. Beautiful.