This week's Interesting Items from Japan (Omoshiro Zakka) are Star Wars chopsticks. Use the Power of the Force to fight your way through a bowl of rice or slice your salted fishy meal cleanly in two. Be you Jedi or Sith, rest assured that the Empire has you covered.

Is it me, or has Darth Vader switched sides and lost a heck of a lot of metallic body in that above picture..?
Anyway, as you can see from our superb model's performance below, each luminescent* chopstick is held clasped closely together in one hand. We recommend the right hand, unless you happen to have lost it in a Father-Son duel.
*Chopsticks are not actually luminescent. Nor do they omit awesome lightsaber humming sounds or cut off Ewok legs.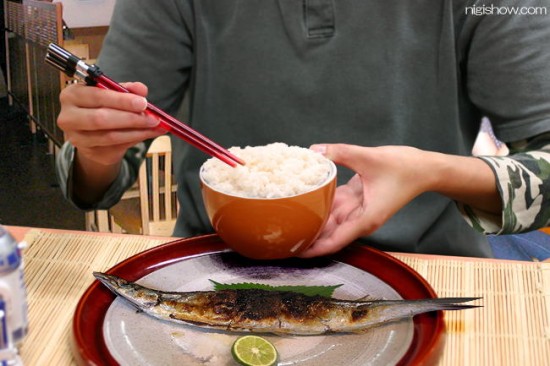 Below, the fetching tweetbot R2-D2 shows us the product range. Yoda green to Maul red. And if you fancy prancing around as a Skywalker, we have a blue just for you.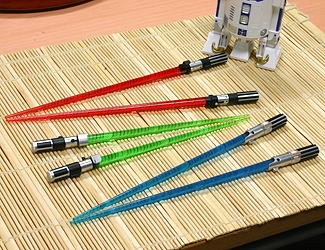 The lightsaber chopsticks have been slightly distorted to fit the traditional Japanese chopstick size of 20-23cm. Apparently, not only can you increase your nutritional intake by using these special chopsticks, you can also boost your Midi-chlorian count. Evidently no Jedi should be without them! Last, but certainly not least, the chopsticks have cleared the Food Hygiene Law, so you can chomp and munch with peace of mind. Nice.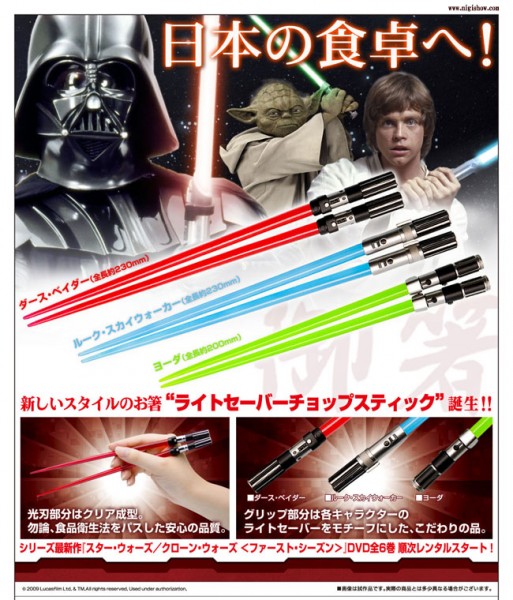 They are a steal at around 900 yen, or however much you reckon your Jedi bargining skills can bring the price down to.
Source: Rakuten.