So, as a note-taking session for my exam (today!), I decided to very briefly summarise the positions of major political parties concerned with the textbook revisions in Japan. I'm looking at things from an academic perspective to help clarify where the parties stand, so it is not meant to be uncontroversial.

You may have your own opinions – so I encourage you to write them in a comment below! Let's go:
Background
Here's the Wikipedia introduction for reference which sums it up well:
The Japanese history textbook controversies are about government-approved history textbooks used in the secondary education (junior high schools and high schools) of Japan. The controversies primarily concern what some international observers perceive to be a systematic distortion of the historical record propagated in the Japanese educational system, which seeks to whitewash the wrongdoings of Imperial Japan during WWII.

Also at issue is the constitutionality of the governmentally-approved textbook depictions of World War II, Japanese war crimes, and Japanese imperialism during the first half of the 20th century. The history textbook controversies have been an issue of deep concern both domestically and internationally, particularly in states which were victims of Imperial Japan's atrocities.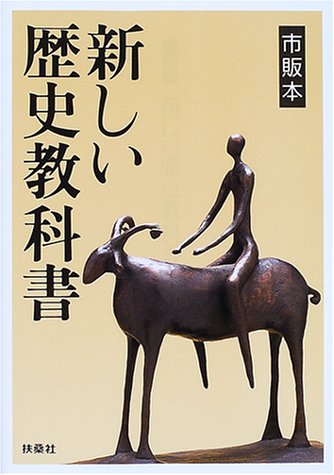 Above is one of the new textbooks published by Fushosha and written by the members of Tsukurukai.
Revisionist Lefties and Liberal Rightists
---
In each section, entries nearer the top very loosely symbolise a 'stronger' or more stout supporter of that set of beliefs. For example, Tsukurukai is at the top of Right-wing, so they are the most Right-wing in the list of people and organisations (in my humble opinion). It is not fixed however – it is only a very, very rough guide.
Left-wing
---
Ienaga Saburo – Historian and textbook writer. Fought against and sued the government in the 1950s because the Ministry of Education tried to censor the descriptions in his textbook of Japan's atrocities during wartime events. The MoE removed the content on the basis that it was 'factually incorrect' in its depiction of Japanese war crimes.
Tawara Yoshifumi – Wrote responses to the revised textbooks released by Tsukurukai. One of which was entitled 'Abunai Kyokasho NO! – Say NO to dangerous textbooks!)
Japan Teacher's Union – Opposed the Ministry of Education watering down definitions of wartime events in textbooks. JTU much weaker now.
Takahashi Testsuya – Criticised 'Kokoro no Noto' (Notebook of the Heart). Kokoro no Noto was a small book released in some schools in Fukuoka that essentially taught students what it was to be a good Japanese person, such as singing the National Anthem and respecting the National Flag. Students would be graded on their level of respect for such things.
Hata Ikuko – Historian
Asahi Shimbun (newspaper)
Democratic Party of Japan – Current main opposition party to the LDP in Japanese politics.
Ozawa Ichiro – Current leader of the DPJ
Neutral
---
Liberal Democratic Party – Current party in power in Japanese politics. Led currently by Taro Aso.
Shinzo Abe – Former Japanese Prime Minister
Mainichi Shimbun, Yomiuri Shimbun and Nihon Keizai Shimbun (all newspapers)
Right-wing
---
Tsukurukai – 'The Japanese Society for History Textbook Reform'. Started by Fujioka. The central organisation spearheading the textbook reforms because of their beliefs that Japanese school history textbooks do not give an accurate view of history because the Japanese are depicted as 'criminals that are continuously apologising'. They aim to give a more 'balanced' portrayal of history (hence the 'Liberal') in the title.
Kobayashi Yoshinori – Writer of Sensoron, a 'historical' manga about various wars over time. Has gained much controversy over what people say is an unbalanced picture of history. Formally a member of Tsukurukai.
Nishio Kanji – Original leader of Tsukurukai and official author of the revised textbooks.
Ministry of Education – Position tends to vary from Neutral to Right-wing. The MoE has been criticised for rejecting textbooks that depict Imperial Japan in a negative light. In short, it seems as though they wish to play down the wartime atrocities Japan committed.
Sankei Shimbun (newspaper), Fusosha (publisher), Fuji Sankei (Fuji TV) and NHK (TV). Generally held to be sympathetic to Tsukurukai.
Ishihara Shintaro – Current governor of Tokyo
Taro Aso – Current Japanese Prime Minister