Learning the Japanese language can be very fulfilling, but there is no doubt that it is challenging. With self-study and learning Japanese online for free becoming more and more popular, it can be tough for the beginning student to find good quality resources.
Over on Gakuranman.com's sister site, Gakuu (short review here), I've put together an ever-growing list of (mostly free) websites and books that can be used to learn the language. You can access and bookmark it right here:
A brief explanation then. It's divided up into convenient sections and marked with a traffic-light code to clearly show resources for different levels of student.

Beginners can start with the green links to learn hiragana and katakana, as well as basic grammar and help for how to learn Japanese. Intermediate students can stretch their legs with amber resources, such as reading and listening exercises. Finally, I've also collected together a handy list of websites and dictionaries for advanced learners and translators, marked in red, to save you some time searching for them. For example, in the screenshot below: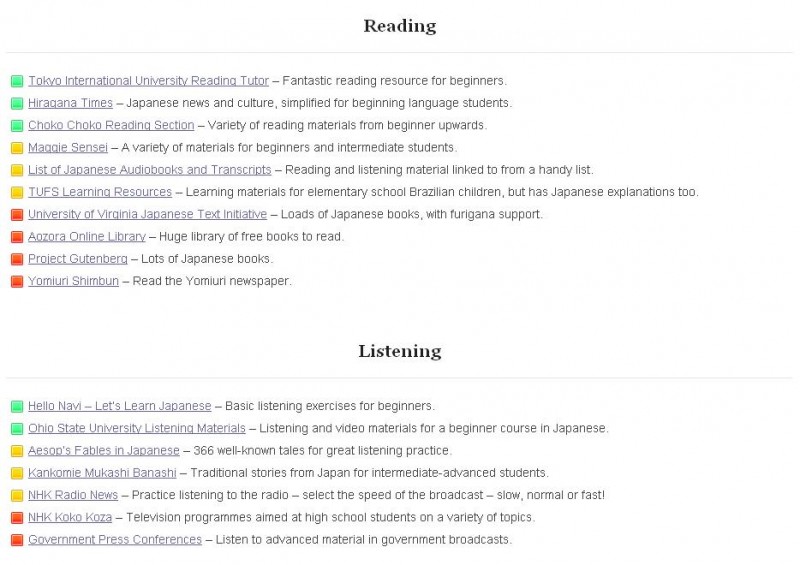 There is also a growing list of links to other resource sites, so you can use it as a starting point on your quest for free tools and websites to learn Japanese. The ultimate aim is to create a go-to list containing the best of the best! A reference for any Japanese learner and a collection of links to enable motivated students to continue their study of the language in their own time and at their own pace.
If you have any suggestions for additions to the list or cool sites for how to learn Japanese, please leave a comment! If they are free, that's even better!
What are your favourite websites for learning Japanese?