Cats and Rabbits holding a forbidden love? That's the general theme of this popular flash animation from the Korean site SamBakZa.net. The cute anime-style cartoon is rather charming to watch, and best off all manages to communicate its message without any dialogue!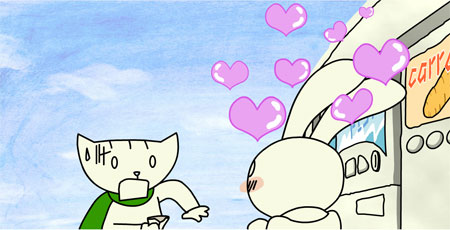 I first came across this little gem a few years ago. I have a habit of collecting amusing or interesting videos I come across on the Internet, and this was one of the first I saved to my hard drive. The animation tells the story of a society composed of only cats and rabbits. In this society interspecies love is a taboo, yet this doesn't stop our smitten young bunny 'Doki' letting her feelings run amok when she spots the majime* figure of the cat 'Nabi'.
Aside from the obvious assertions the animation is making about love breaking down cultural barriers, what I thought was engaging was how the entire story is told without the need for words. This seems to suggest that the concepts involved are understandable across cultures purely on the basis of imagery alone. I think that's what captured my attention most when I first saw this, much like when I first watched Hayao Miyazaki's Ghibli classic 'My Neighbour Totoro' in Japanese while on my gap year. Even though at the time my Japanese ability was exceptionally poor, I was able to fully understand the story without the need for knowledge of the Japanese language. It seems to me that that is a mark of masterful storytelling.
In both 'Totoro' and 'There She Is!!!', the characters are simple and cute, the animation is well done, and the message they carry is one of those tingly ones that warms your heart. It's hard to deny that despite being such simple films, they capture something much more meaningful and common to us all. Do you not find yourself reminiscing about childhood innocence and experience a trickling of goodwill after watching them?
Okay, well even if you don't, 'There She Is!!!' has kick-ass music to listen to and deserves mention purely on that basis. And Totoro has the soot sprites (まっくろくろすけ)! Incidentally I used them in my latest header image (keep refreshing until you see it!).
The theme tune in 'There She Is!!!' is by 'The Witches' and the theme tune in 'Cake Dance' is done by 'Bulldog Mansion', both Korean bands. I liked them so much I uploaded them for those scouring the net in search. If you like the songs, please support the bands by buying the CD too!
Download the theme from There She Is!!!
Download the theme from Cake Dance
*(Majime (真面目) – the untranslatable Japanese word that has a general sense of diligence, honesty and seriousness, usually used when describing someone's personality. I suppose in this sense I chose it because it implies the cat, Nabi, seems rather upstanding and careful. He seems to exude dependableness and strength of character ^_^;.)