Free Japanese resources are plentiful on the internet, but have you ever wondered if you are getting the most out of them? While studying Japanese and working as a translator I've found a lot of great tools. So here's Gakuranman's top 5 picks for the best online dictionaries for Japanese-English translation!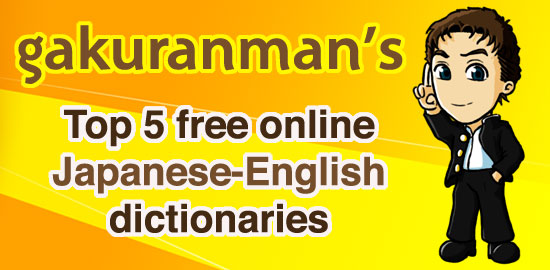 We'll be working top to bottom, best to merely 'good' (because there are no bad dictionaries in this list, in my opinion!) And for those of you who prefer to listen rather than read, I will also compile a video to accompany this post in due time :). Bear in mind also that this article is focussing on dictionary-style tools to help you speed up your learning Japanese. If you want all-round study tools like grammar guides and flash-card systems, see the bottom of this post for more great links! Let's get cracking!
What can I say about ALC – Eijiro on the Web? As a dictionary it is top-notch, but you'd expect it to be for being at the top of my list! It's a dictionary service made by translators for translators and as such, it features a fountain full of superb sentences using your unknown word in context. As a one-button search tool and with the page entirely in Japanese it can at first be deceptive, but take the plunge and you will be rewarded with real Japanese example sentences and a dictionary that can even handle some medical and business terms!
Notable features: The one-stop single input field for both English and Japanese and high level of translations provided. Stick any word (or occasionally compound kanji words) into the field and watch a plethora of useful example sentences pour out below, all taken from real life sources such as newspaper articles.
Also highly useful are the furigana and double function. Double-click should be automatically enabled so that you can simply double click on any kanji word you don't know and ALC will look it up for you to save you time copy and pasting. Also, if you click on the 機能 (functions) button near the top of the page, you can turn on the furigana option (it's the first option) so that the words you search for in English have the reading written next to them!
Recommended for: Advanced learners of Japanese / Translators
The perennial online dictionary for Japanese-English translation. It has been around for what seems like forever and has formed the basis for many other online Jp-Eng dictionaries (such as the popular jisho.org) as well as several pieces of software! The interface is very crude, but don't let that fool you into thinking that it's 'just another dictionary' – search the web and you'll find Jim Breen praise the world around!
Notable features: The 'Translate Words' box. It's just about the only feature of this dictionary that I use, but there's a big, big reason for it. It's also the reason I chose the original Jim Breen website over the more user-friendly Jisho.org. Put simply, it allows you to copy and paste long pages of Japanese text into the field and it spits it out all in order with the translations to each word (and some phrases) listed. If you've ever pulled your hair out copying and pasting single words into online translators before, this is this tool for you!
Recommended for: People who want to translate long passages of Japanese text quickly. Jisho.org recommended for everyone else, especially Beginner-learners because of the English interface!
Oh, and if you're wondering why I didn't suggest you use one of those online page translators like Babelfish or Google Translate, it's because they are terrible for everything except getting the gist of a page. My advice for anyone who wants proper translations is to learn Japanese grammar and then piece together the sentences based on the context and individual word translations you get from dictionaries like WWWJDIC. (Incidentally, if you must use an online page translator, use Yahoo's Japanese translation page – not Babelfish. My boss (a native Japanese speaker) and I tested the major online translators and found Yahoo's Japanese Honyaku service to be the most accurate).
At number 3 in my list comes Yahoo! Dictionary. I used to use this before discovering ALC and it played a very important role in helping me to pass the Japanese Language Proficiency Test level 1. It provided me with useful example sentences to add to my SRS program.
I'm sure some of you studying Japanese will be doing so yourselves already, but for those of you who aren't, SRS means 'Spaced Repetition System'. Basically, you immerse yourself in the language by creating a database of real Japanese sentences and review them every day. The software you use will keep track of your progress and automatically feed you the words and sentences you get wrong most often, thereby reinforcing your knowledge of them. Through constant exposure, you naturally pick up the words, grammar and sentence in context. (For SRS software, I recommend Anki).
Notable features: So the feature that drew me to Yahoo! Dictionary was the sentences. Specifically, if you use the Japanese-English dictionary (和英), you will often get a nice short list containing the word you were searching for, followed by a few example sentences. The sentences, I found, were usually just right in their difficulty level and good for intermediate-advanced learners of Japanese to use in SRS programs. The Yahoo! dictionary also shines in that it has a very simple interface and allows you to look up synonyms (類語) for Japanese words and also choose the Japanese-only dictionary (国語). Just don't expect miracles with long compound kanji. Even 地球温暖化 (global warming) was too much for the Japanese-English dictionary.
Recommended for: Intermediate-Advanced learners of Japanese for gathering sentences for SRS.
Rikaichan is a wonderful little add-on for Firefox which enables you to view both the reading and English translation of virtually any kanji or kanji compound that you come across on the internet. You won't be able to use it for extremely long or complicated words, but if you're struggling to remember the meaning of a kanji, the readings for it or just want to get a general gist of the sentences on the page you are looking at, you'd be hard pressed to find a better solution. Quick note: If you need a detailed view of a kanji, hold down the shift key.
Notable features: The ease of installation and use and the deep power harnessed in such a simple plugin. There are also language add-ons for German, French and Russian! Although I'm not a Rikaichan user much myself (I prefer to copy and paste my translations into WWWJDIC and work from there with ALC), being able to hover over words in your casual surfing is a great help and takes a lot of the pain away that comes with trying to read Japanese online.
Unfortunately, if you aren't careful you may come to reply on this little plugin a little too much and end up forgetting the readings of words. It is my experience that the more I have a dictionary beside me (whether it be electronic or paperback), the less I think about the readings of words and the more likely I am to become lazy. For that reason, I only recommend Rikaichan to Japanese learners who are just starting out and for situations when you don't want to study or just wish to browse complicated websites.
Recommended for: Beginner-Intermediate learners of Japanese or casual net surfers.
To round up my list, I've rather cheekily chosen a very special type of dictionary. That is: Ikijibiki (生き字引). It essentially means a living/walking dictionary referring to none other than – a person! Yes, my final recommendation for a free online Japanese-English dictionary is to ask people themselves.
There are positively dozens of services out there that allow you to connect with other learners and native speakers. The most obvious ones of later that spring to mind are Twitter, Facebook and Mixi. You can often find groups especially created around the topic you are interested in, and if you play ball and help others, people will often be glad to help you when you have language questions. Case-in-point: I asked my Twitter followers which Japanese dictionaries they preferred and I got over 20 replies – thank you all! You will of course have to spend the time building up relationships, but I often find having a native speaker on hand is the ultimate way to get clear and usually correct answers to many tricky problems that cannot be solved with automated dictionaries.
Notable features: For human insight and awareness and understanding of context. You just can't beat a human dictionary, unless of course you are asking very specific and technical questions of which they have no knowledge. For virtually anything else, the replies of a native speaker are usually going to be more insightful and useful than a dictionary. The downside is that nobody likes to be treated like a walking book for language knowledge, so make sure you only use native speakers sparingly and return the favour in other ways!
Recommended for: Everyone! But especially translators who need help with idiomatic phrases and for learners who want to interact with native speakers more.
Obaachan picture from Utsumi Chiharu
If you're feeling a little put-out by my last suggestion, take a look at these other dictionaries that didn't quite make the cut this time. That's is not to say they aren't good tools – they most likely are – but that I haven't yet dug up a compelling reason to use them over other dictionaries. If you think I'm making a grave mistake, please tell me in the comments!
Yamasa – A fantastic little dictionary site that shines for its kanji stroke-order pictures that draw themselves in real time!
Sanseido
Glova
Google Goo Dictionary
Kotobank
POPjisyo
Wikipedia
**********
In addition to all those mouth-watering choices, I have a few more suggestions for expanding your toolkit.

My fishy friend over at Tofugu compiled an excellent list of general Japanese Language learning resources. Check them out for ultimate Japanese ownage.

Maggiesensei is a brand new site with lots of great Japanese titbits and lessons as well as comedic dog-themed pictures. Pioneered by Gimmeabreakman of Youtube fame, Maggie's lessons are all extensive and completely free!

Finally, if you're interested in getting more practical experience in Japanese and are itching to improve your listening and spoken Japanese, then you would do well to check out edufire. There's simply no substitute for learning with a native teacher and many of them at edufire offer classes for free! Check out the learn japanese class listings pages to find out what's going on. I occasionally teach Japanese classes over there myself!
Alrighty then! To finish up, tell me what your favourite Japanese resource is and why!