The day was already off to a bad start. I awoke feeling much more refreshed than usual in the manga cafe. Something was definitely off. Reaching for my phone, I checked the time: 7.30am. Bollocks… I'd overslept and missed my train to take me the river Oboke for rafting.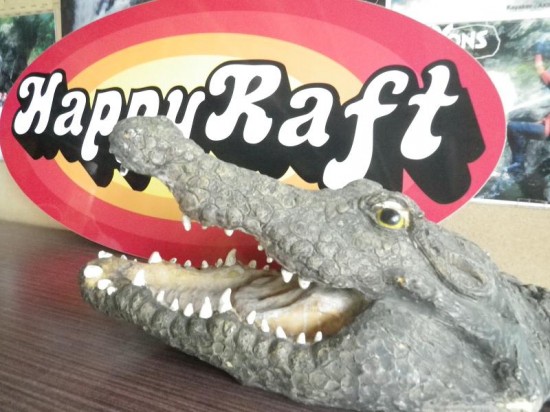 But all was not lost. A quick phonecall to explain the situation and the friendly staff at Happyraft figured out a solution for me. I would get the next train and arrive just in time for the Half-Day course. Then, after lunch, I could join the second half of the Full-Day course. Sounded good to me! I thanked them for the flexibility and hurried to catch the next train to Oboke – the heart of wilderness in Shikoku.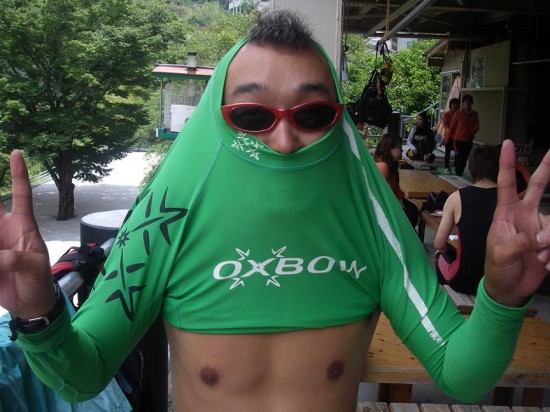 But somebody from above definitely wasn't smiling on me this morning. In my haste getting off the train to meet the member of staff who had come to pick me up from the station I left my tripod on the upper rack to have a trip of its own to Kochi. This didn't bode well, I thought. I really need that tripod for my haikyo photoshoot tomorrow…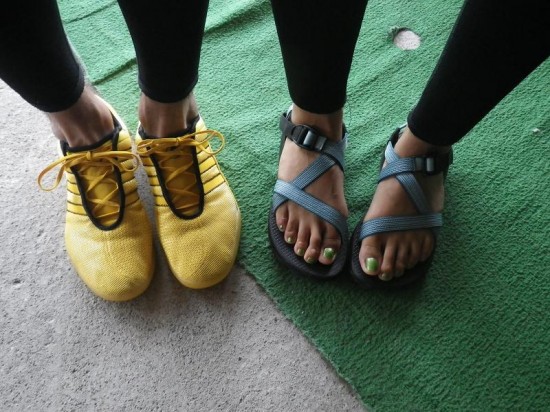 For now though, that was put to the back of my mind. I slipped into the wetsuit and shoes loaned to me and joined the rest of my morning team.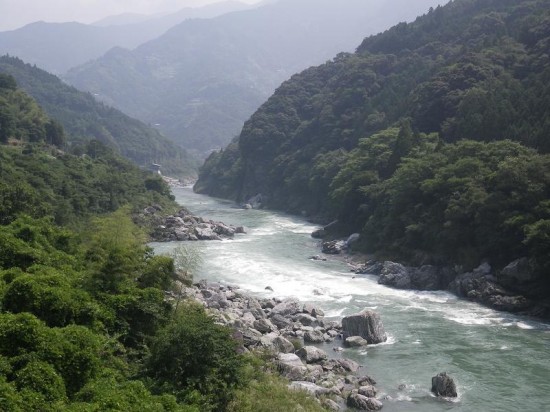 The Oboke river, swollen from the heavy rainfall the day before, surged much harder and higher than usual. It was going to be a fun day for sure!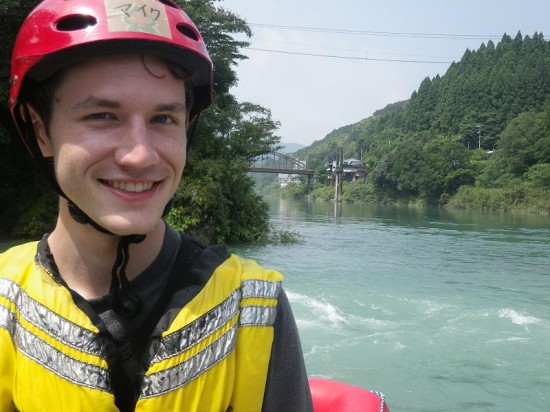 Me grinning like an idiot before the day's rafting. It isn't called Happyraft for nothing – they make you smile!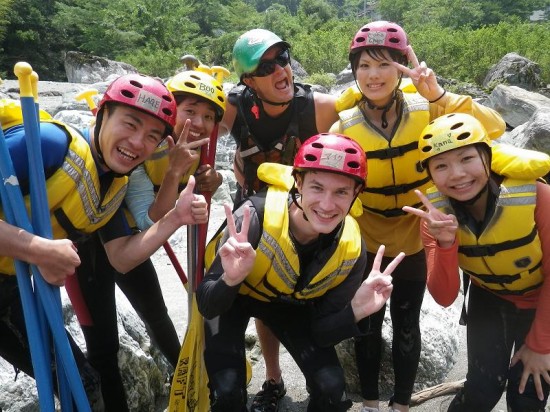 The team was a sprightly bunch consisting of 3 girls, 2 boys and a few rafting guides. The girl named 'Boo' had been several times before and keeps coming back for more!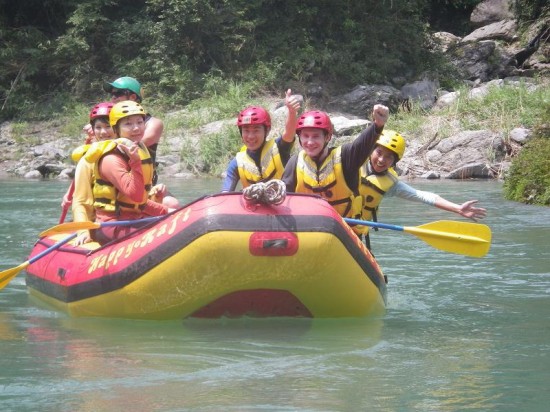 Off we go!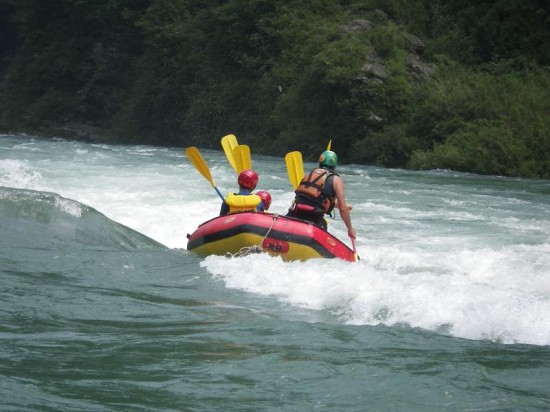 I was expecting more of a steeper route than the one we took, but apparently that is the Koboke River and the water was too high for us to take it today. Perhaps next time eh?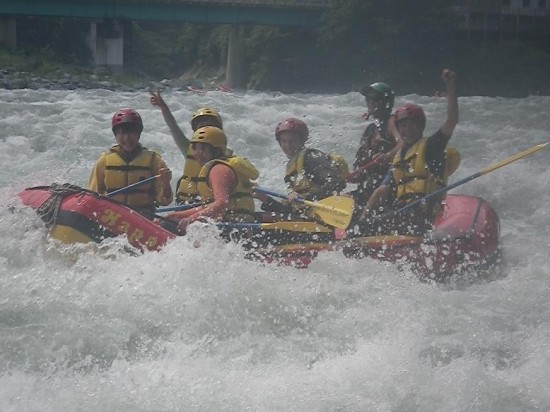 Still, there was no shortage of fearsome waves and rapids. Truly good fun – and we didn't capsize even once! Well, except for this moment: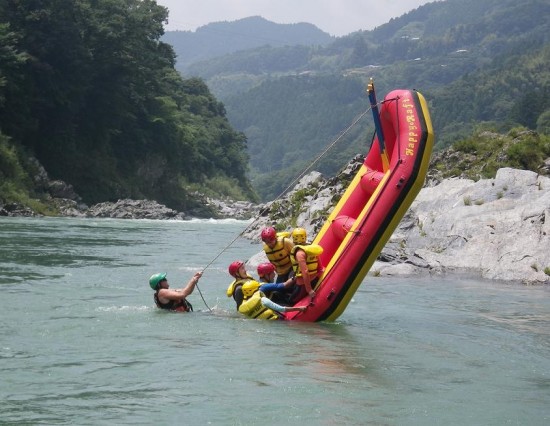 We kept the 'wheelie' going for a good 10 seconds of so, but I think our guide wanted to get us wetter :p.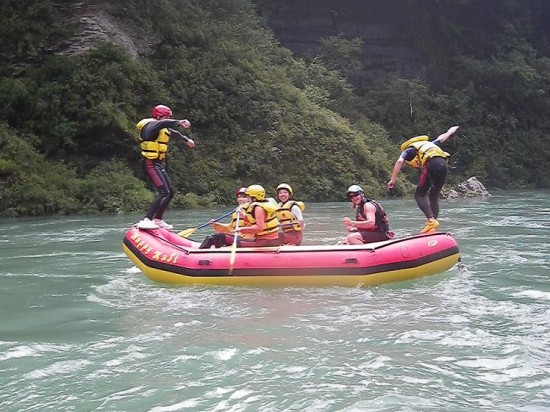 Here you can see me (left) facing off against the other guy on the boat, Hage. Our team members would spin the boat around and we'd see how long we could stay standing. I won (just)!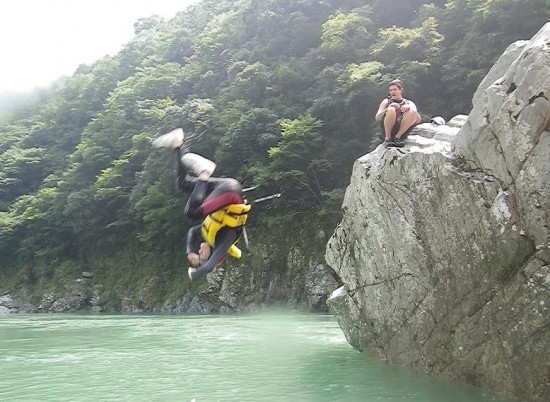 And the day wouldn't be complete without some rock jumping. Here's my terrible backflip.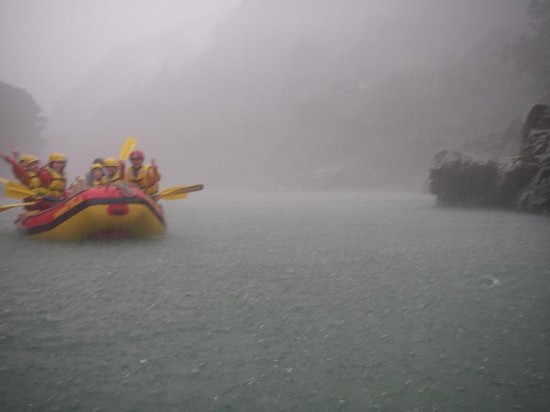 After a hearty lunch of sandwiches, fruit and biscuits, I joined a new team for the rest of the day. The weather quickly turned though and a fresh load of heavy rain poured down upon us. Pretty nice when you're wearing a wetsuit, actually. It almost made the whole rafting experience feel a little more dangerous and realistic.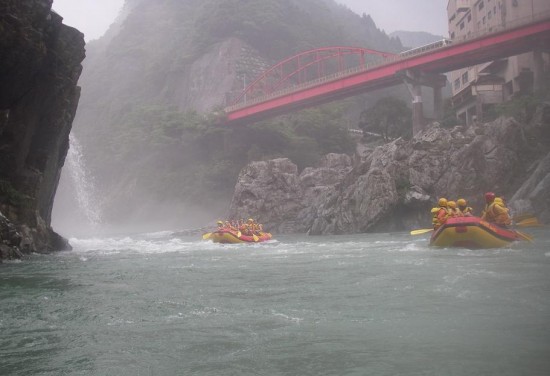 Very atmospheric too. Would love to come back here and go hiking sometime! I had a few trains to catch though, all the way to Kobe, so I left around 4pm. I had asked a member of staff to call the train station about my tripod earlier that morning. This being Japan, there was a very good chance that I would get it back, but perhaps not today. It seems I was in luck though – he had managed to arrange for it to be put on the same train heading back to Takamatsu and I picked it up from a friendly member of staff once back. I love Japan at times like these.
I didn't waste much time getting to a manga cafe in Kobe. My chain of choice too – Media Cafe Popeye. Slightly more expensive than your average place, but usually better quality. I'm now sitting in a flat mat-type room listening to some curious noises from a couple's cubicle behind. Those soft moans and whispers…are they doing what I think they are..? Still, it's time to sleep. Up early for ruins exploration and haikyo tomorrow!