Our journey was drawing to a close, but we still had to pass through a mass grave known as the Crossroads of the Dead. Here, one must crawl atop the crackling, yellowed bones of millions of deceased Parisians to advance. It's certainly not a place for the squeamish…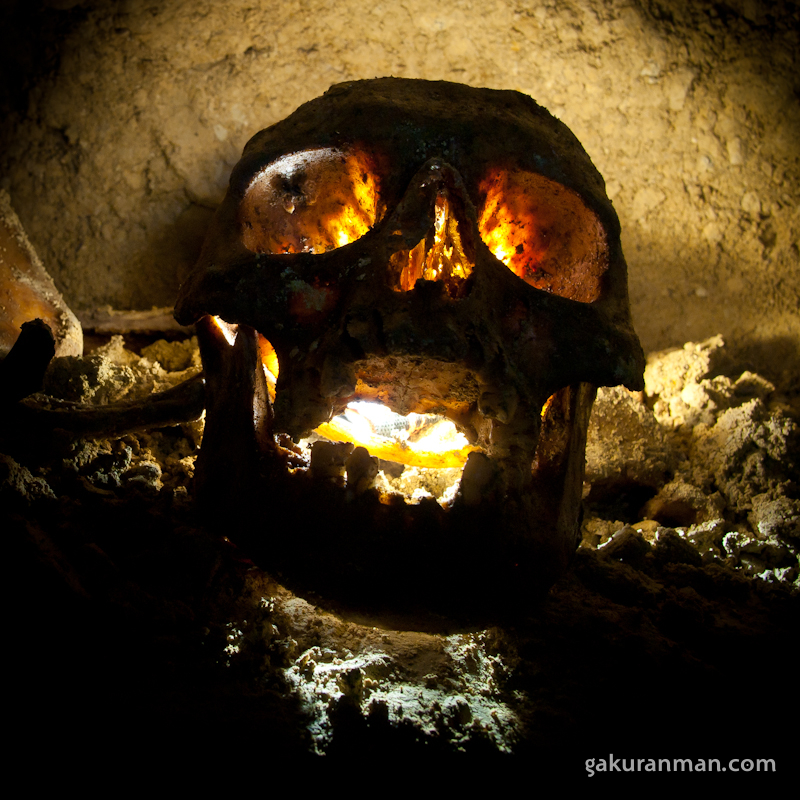 This is the Empire of Death
---
We'd scrambled through tiny holes and passageways full of water on our way from La Plage and explored the remains of an old Nazi war bunker, but the best was still to come. A long walk from the grave of Philibert Aspairt, we finally near our destination. Tomasz pulls out his trusty map and checks a couple of things to make sure we're on the right track. It's crucial he does so; we're all exhausted from trudging around underground all day and a wrong turn now could mean hours of extra walking.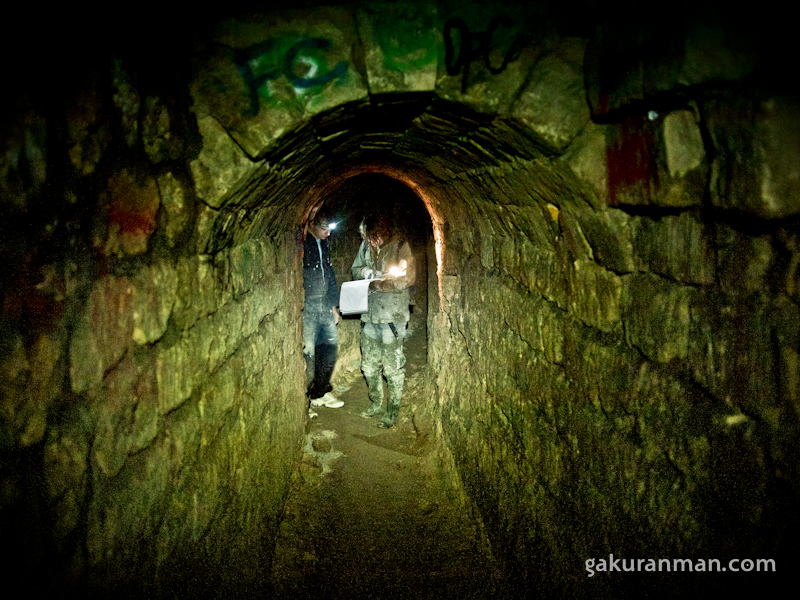 Finally, Tomasz tramps off confidently south and we all follow. I'm surprised at just how warm I've been down here. I had expected the same chilling temperatures that the freezing winter months cast upon Paris above, but with a brisk walking pace I find myself plenty comfortable in just a long-sleeved t-shirt. The lack of any bulky coat is especially useful down here as there is often the need to squeeze through chatières and other narrow holes.
One such crevice leads the way inside Le Carrefour Des Morts – the Crossroads of the Dead – a circular tomb modelled from the roundabout on the surface above it. The bones here are from the nearby Montparnasse cemetery. Once through the hole, the unwitting visitor faces a merry-go-round of yellowing, rotten femurs and cracked craniums. The only way forward is to crawl on your hands and knees, taking in tunnel after tunnel piled high with the bones of those long since passed.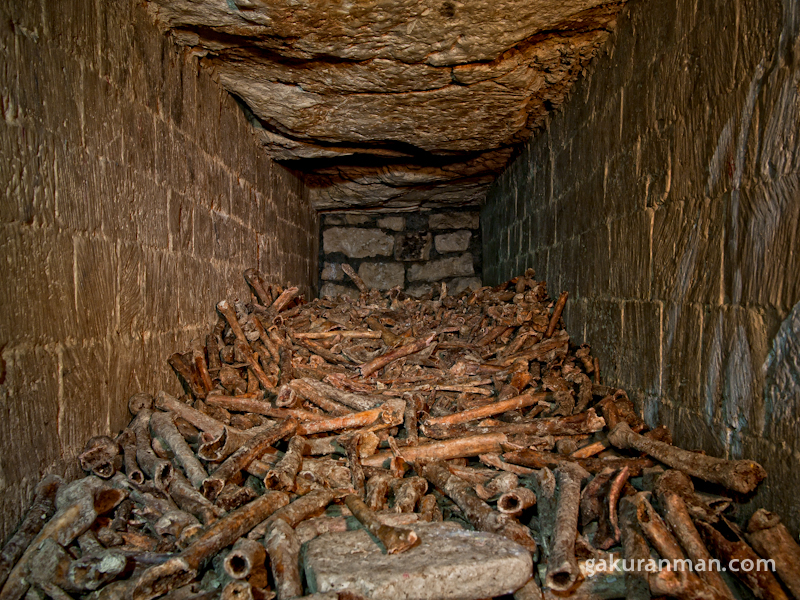 Rather surprisingly, there is hardly any smell at all. I try not to think about the people who once lived whose numerous bodies crackle and splinter under my feet. There are no full skeletons here – the limbs having been separated in order to save space in the mass graves. Occasionally I see what looks to be a skull, but turns out to be merely a polished cranium missing its lower parts. I wonder just how deep these bone piles sink…
Tomasz explains that there used to be many more bones in this area. In fact, he's rather surprised that the amount has fallen so much. Perhaps they've been clearing out this area? Or some less respectful Cataphiles have been taking home souvenirs? A trophy skull as a memento of the visit..? While I can see the morbid attraction, the decaying bones are hardly things I'd like to take home. A little like wood, they retain a slight spongy quality, but are mostly covered in a layer of grime I'd rather forget I even touched. I set up the tripod for a quick shot of the group. I'm the only one smiling in the first shot – force of habit I guess – so we shoot another to set a more solemn mood.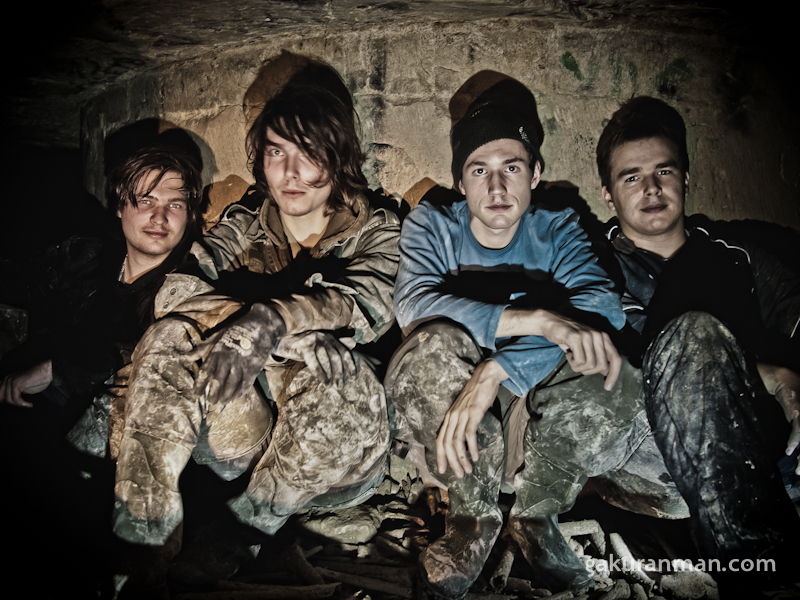 (Left to right: Rafael, Tomasz, me and Adrien)
I'm determined to see some real skulls though, so we exit the tomb and look for an entrance to the lower levels of the Catacombs. Tomasz points to a skull mark on the map; he thinks there might be more ossuaries down below. Sure enough, we soon find another maze of tunnels, piled even higher with bones than the Crossroads above. I suppose fewer explorers ever come down this deep…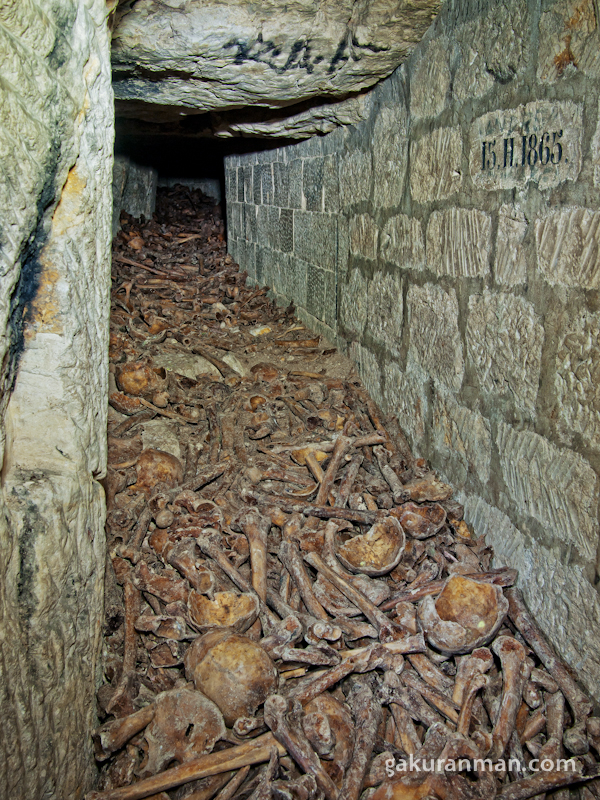 An inscription on the wall tells us how aged the bones are – nearly 150 years old. Just around the corner, we make another startling discovery – a skull altar likely crafted by some previous adventurers.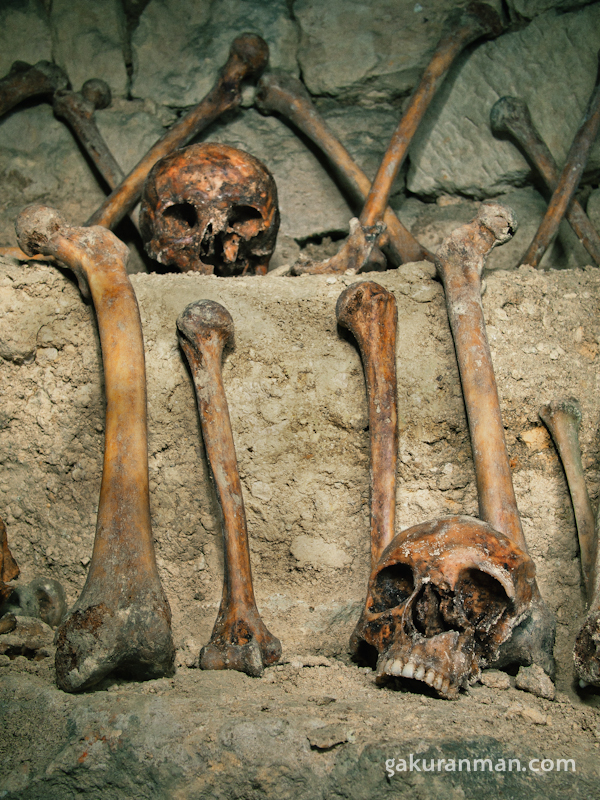 Part of me breathes a sign of relief; as fascinating as exploring the tunnels has been, I wouldn't have felt the journey complete without finding some real skulls. I'd been worried that the swarms of Cataphiles who frequent these tunnels would have hidden all the interesting items. After all, this isn't the rosy official Catacombs experience for tourists – here we are inside a mass grave looking at bones that have slumbered here for decades. But saying that – those teeth are in remarkable condition!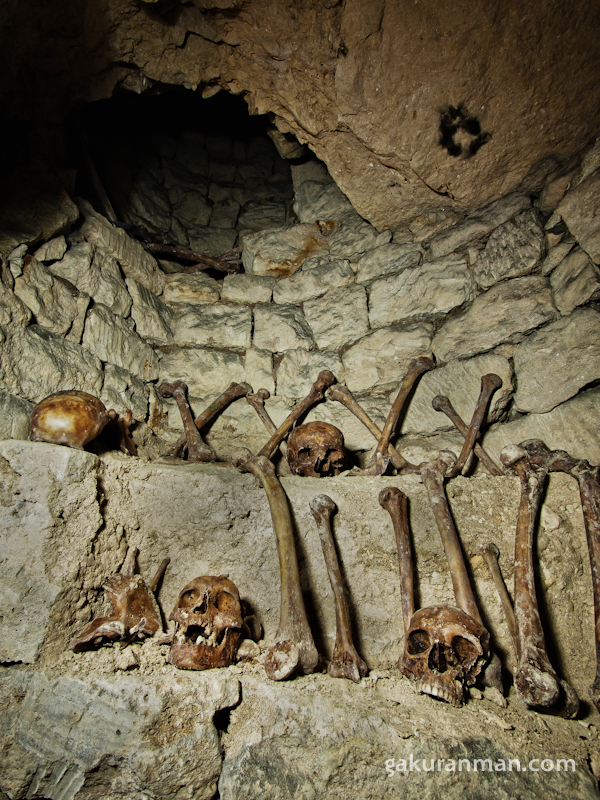 A hole leading up into the ceiling pulls me towards it. I'm curious and climb up to have a closer look. Seems to be blocked off, but perhaps at one point it offered access between the upper and lower levels.
I wonder who the skulls belonged to. Men? Women? Children perhaps? How did they die and when? Did they ever imagine that some 150 years later their bones would be disturbed..?
I shiver. I'd been caught up in the exploration and discovery so much that I hadn't really considered the situation. I'm suddenly awash with guilty feelings that make me feel far dirtier than all the mud covering me. These were real people… Isn't this wrong that I should be here..?
The Banga and the Castle
---
After keeping Tomasz and the guys waiting for long enough while I snapped my pictures, we return to the upper level and press on. A couple more locations to visit before heading to the exit. The first is the dreaded Banga – a passageway flooded so high it reaches waist height. In order to get through safely we must straddle the walls either side and shift ourselves along slowly. My camera swings violently around my neck as I slip a little and regain my balance. My boots are only thigh-high, so a wrong step here would be unpleasant indeed.
I notice some interesting fossils embedded into the ceiling along our route from the Crossroads. I wonder what kind of animals these were..? Or perhaps they are not animals but plants, or even some other sediment that got pressurised..?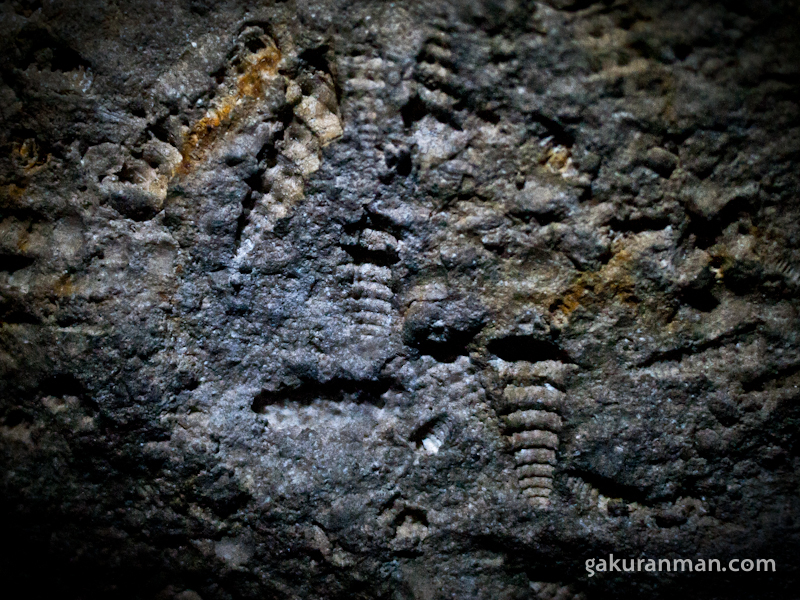 We finally reach our destination of Le Chateau (the Castle), a magnificent sculpture resting down in its own chamber. Along the years, visitors have brought trinkets with which to adorn its walls – action figures from generations long gone and the empty metal cases from old, used candles. We light a few new ones and sit down to take our final break. Adrien is completely soaked from wading through the Banga in his trainers. Steam rises from his socks as he attempts to dry off.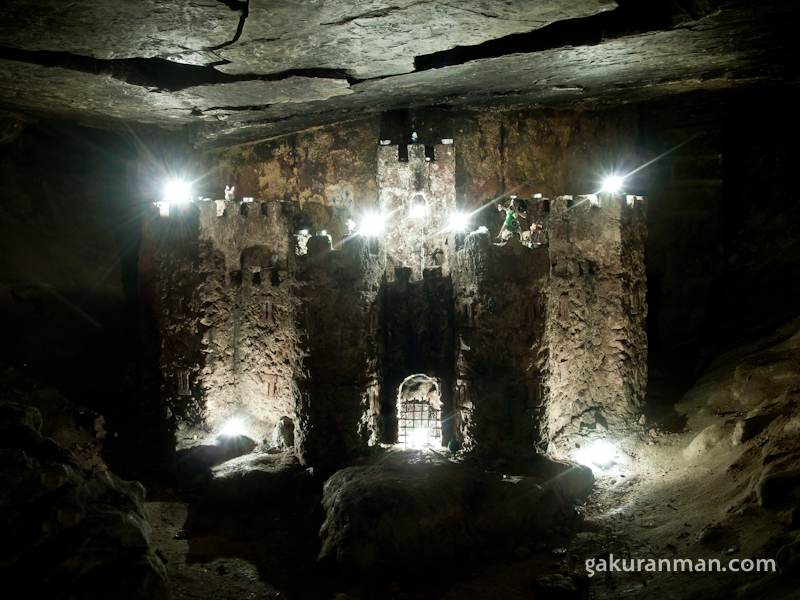 After toasting with some beer and wolfing down a few more chocolate biscuits, we make towards our exit. Unfortunately for Adrien, this means braving the Banga again. Oh well. There's just one more stop on our list, right before we wiggle out of the same exit we entered through. Apparently at one point the route to see this guy was completely blocked off, but fortunately for us, it's open. Behold, Le Passe-Muraille (the man who can walk through walls)!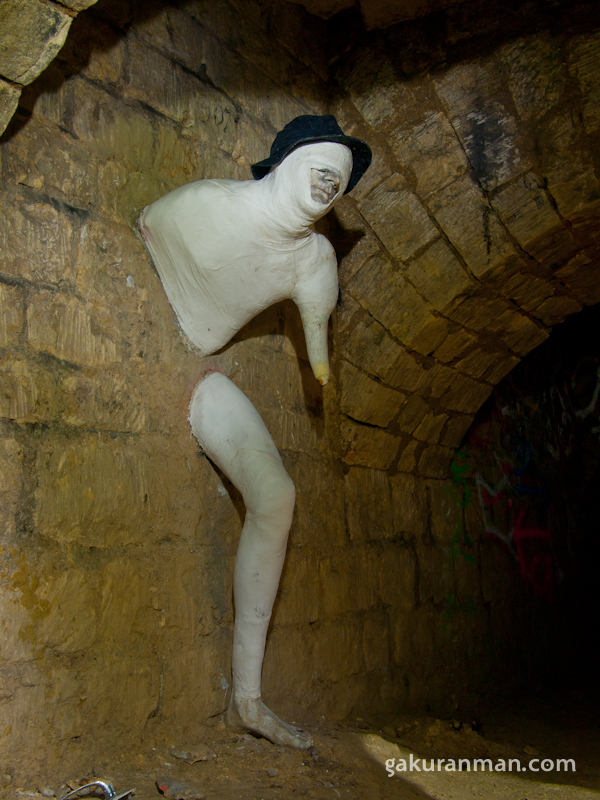 The modern-day fairytale goes something like this: One day a man discovers that he can walk through walls. Empowered, he uses his newfound ability to get his own back on people and for petty theft. Eventually, he also woos a woman's heart with his special talent. But tragedy befalls him when, one day, he becomes stuck in a wall he is passing through.
This isn't the only statue of this man, (perhaps there wasn't only one man!) but our friend also lives here the Catacombs. He's seen better days though – a recent act of vandalism ruined the statue, but Cataphiles patched him up with bandages and a smart hat. He's still quite a sight to stumble across in the dark tunnels, especially if you aren't aware of his location!
**********
It isn't too long before the tunnels turn cold again and we feel the first gusts of fresh, winter air blowing in our faces. It feels great. My legs ache, my clothes are completely filthy and my torch batteries dim, but the four of us emerge victorious from the caverns and tunnels below Paris. It's as if nothing has changed. The streets remain as dark as we left them early in the morning and the disused railway track empty.
We part ways in front of the station and I thank Tomasz and his friends for an amazing day. It couldn't have gone better. I'm greatly indebted to them for guiding and taking care of me in the labyrinth – it was truly a huge and worthwhile experience that I couldn't have done alone. I'm also grateful to Cardinal Awol for all the advice before heading to France.
I'm warmed by the urbex community. Meeting fellow like-minded explorers and sharing new experiences with complete strangers, all linked by a fascination for going places one is not supposed to go and having adventures. A big part of any expedition seems to be the people we meet. I feel like I have a new appreciation for this pursuit. It's not all about finding locations and shooting some great pictures – it's about sharing that experience with somebody.
I wonder what the rest of the Parisian community thinks as Rafael and I head back on the subway. We're covered head to toe in the trademark white Catacombs dirt and sitting in our waders. We exchange small talk in English amongst the background noise of French and sink lower into our seats. It's been a long day. Fantastic, but packed so full of unusual events that my brain doesn't quite know where to begin processing it.
A good night's sleep should help that, I think. Just a few more stops until my hotel…
**********
You can follow me on Twitter and Facebook for updates. Or, you can subscribe to the feed.
A zoom-able map of the Catacombs by Nexus
More information on the Catacombs