What do you find most unusual, crazy or strange about Japan? That was the question I posed to passionate J-bloggers from around the Internet for the Japansoc July Matsuri. So sit back, savour the summer heat and come and join me as we delve into Weird things about Japan!

Just before we get started, let me take the opportunity to point you in the direction of last month's excellent matsuri at Tune in Tokyo, all about saving money in Japan! You can find it here at: Living on a budget in Japan.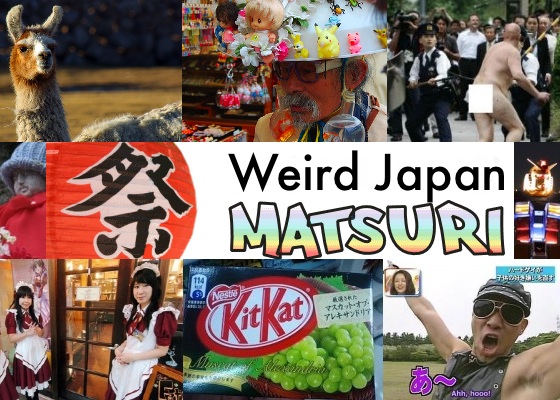 Alrighty then! Time to enjoy digging around in the 30+ entries for this month's matsuri! Before you all run off terrified of the amount of reading to be done – you can relax! Each entry is no more than 200 words long and includes at least one delicious picture for you to sample!
This month's theme, Weird Japan, aims to highlight those quirky and unusual aspects of Japan that many foreigners encounter. Some humbugs may scoff at this and cry out that calling such cultural differences 'weird' or 'crazy' is not appropriate – we are but ignorant foreigners attempting to rationalise Japan under our own cultural umbrella, after all. So let's get one thing straight – cultural differences rock! With that in mind, let's shrug off those preconceptions, smile and appreciate Japan for the colourful and wonderful culture that it is.
**********
Kitto Katsu (きっと勝つ)! The humble Kit-Kat becomes a good luck charm! Tobidasu has mounted up quite a collection of unusual flavours.
When I was a young Japanese student, they never told me learning Japanese would make you sound like a Llama! Joe in Japan warns you to watch out!
A blogger after my own heart. Supreme Nothing reflects on the transcendental nature of beauty and the Japanese understanding of impermanence.
Apparently the Japanese have taken to mexican-waving down foreigners with cries of Irasshaimase! Kana Kanji details.
Japanese Harmonious Discord. Victory Manual waxes nostalgic and philosophically flirts with cultural conundrums.
The Nihon Sun takes on the kawaii contradiction. Is that the priest's pink car so strategically placed under a blossoming cherry tree?
Buddha got a Beanie and Japan got a mismash of religions! Craig's humorous anecdotes.
Where are the breakfast cereals in Japan? J2fi finds them – right next to the Sun Chips of course!
Ever been to a festival? Of course you have! But have you gone naked? Top vlogger Gimmeabreakman takes up the challenge!
Mokudekiru makes a fascinating discovery in Kobe – the Invisible Butt Statue!
Scrubbity-scrub. All heads are levelled on the final day of school in Japan. Not even teachers get off cleaning duty, reports Loco!
Sleepytako provides a tantalising titbit of an insight into underwear models in Japan. Just why is it none of them are Japanese themselves?
What better way to spend your summer than to raise a shiny, black beetle friend? Spam from Japan plays mother.
Edo music jam or crafty pachinko advertisement? For Billy from Tune in Tokyo, Japan is like a visit to the Twilight Zone.
Leather-clad and Hip-Gyrating. Hard Gay still thrusts his way into the minds of viewers, including The Ramen Blues. Foo~~!
Fertility Festivals have so much phallic energy. Just watch who's photographing you when you eat one of those lollipops… Througheyesfromafar reports.
Tofugu manages to sabotage pretty much all the rules I wrote to bring us his 10 craziest things about Japan. But give him a break – it's his first time entering the Japansoc matsuri!
Who doesn't like a bit of drama? Comedy, romance and even doomsday thrillers – you can find it all in the Jdrama universe! But sometimes, things can get rather confusing. Edojin remarks on organigrams.
There's a festival for everything in Japan – including Rain-Stopping Lion Dances! Muza-chan explains all!
Good Lord! Jesus was buried in Japan? One town in Aomori seems to think so! The Soul of Japan digs up the dirt.
Bret Mayer laments the striking disharmony between Japan's Eco-policies and its sweet wrappers.
A gentle sea breeze… And a sudden warming of the nether regions. Make sure you read the label before you use Japanese products, warns Musashinomusings! (I added the picture.)
Perhaps Japan is not so unusual after all? Ruminations on the human condition with a hefty dose of sarcasm from the Man in Abiko.
Sometimes the simple things are the most surprising to us. Why don't all establishments give out hand-towels when you sit down to eat? poses ALT Directory
Where would Japan be without Maid Cafes? Undoubtedly one of the most curious cultural oddities to emerge in recent years. Kanpeki Jan delivers the goods.
Naked Englishmen in Japan? Or the multiculturalism vs. monoculturalism debate, tempts Frugalista. You decide!
Gaming in Japan is huge! And yet Centakume thinks we may be seeing a downward spiral when it comes to online multiplayer gaming… Are the Japanese too shy to show their skillz?
Japan is unbeatable. Why? Because it has a laser-equipped 35,000kg, 18m tall hunk of steaming metal to protect it! We Love Japan screams to Call in the Gundam!
Japan goes to great measures to ensure the safety of its residents. Or is that just the *illusion* of safety..? ponders Jettisoned.net
A good train station is a prepared train station. We have all the sawdust you'll ever need! Loneleeplanet investigates
Making guests feel welcome is an important aspect of any culture, but the Japanese do it so well. Share and share alike! says Kailahana
Dialects are always a good talking point. Japan Newbie explains how variations in accent can be used to comedic effect!
Ahh, hanging out washing to dry. A piece of cake, right? More of a challenge than you'd think in Japan! Sixmats explains all.
War memorabilia and vintage paperweights. Japanese contradictions from The View from Japan. Oh, and Rita Hayworth!
And since I'm feeling full of summer-love or something (and because Heading for Japan found a kick-ass picture), I'll relax the rules to allow this long post about some Japanese cultural quirks.
Alrighty! That brings us to the end of the hot summer matsuri. I hope you enjoyed it! Be sure to keep an eye on Frugalista's blog for the August Matsuri!
In the meantime, I will be busy leaving the UK and moving to a city near Nagoya in Japan to begin working! Should be interesting times ahead, so stay tuned! ^_^