I've been forgetting to add this to the last few entires, but Heather mentioned it in an email just recently and I thought I`d say something. We`ve been going to Maeda-san`s house often since we arrived in Japan and she told us the previous GAP volunteers at the Cheshire Homes, Nicki and Anna, loved a popular Korean drama called `Fuyu no Sonata` (Winter Sonata).

It first aired about two years ago at Christmas and still seems to be as popular even now. I can`t seem to enjoy a shopping trip without seeing Chun-san`s (one of the two main characters) face plastered over some beauty product or chewing gum packet!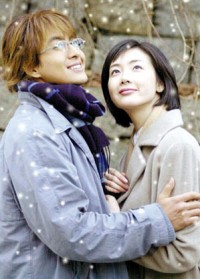 So, for about two months now, we`ve been watching it with Maeda-san (she gives us a real-time translation of the dialogue, so we can enjoy it fairly unspoilt). At an hour an episode (trimmed down, too), and twenty of them, it`s pretty hefty. The basic plot is love been two young people (Chun-san and Yujin) which is halted rather abruptly by Chun-san being killed off in a car accident. (Nothing like killing off one of the two main characters only two episodes in o.O;;). We then re-join Yujin and her classmates in their lives some years later where the past events are dragged up again by the arrival of E-Minion, someone who looks exactly like Chun-san, but isn`t. Well, that`s about as much as I can say without spoiling the plot (unless I`ve already made it sound so tacky that you won`t even consider watching it now anyway :p). I think it`s pretty good; far better than the stuff I`ve seen on English television, but then, I don`t watch a lot of dramas anway.
Keep an eye out for Chun-san`s face or any mention of the drama in the U.K or America. It`s so big over here that I wouldn`t be surprised if it gets English subtitles in the future. I think a more current popular Korean drama here right now is `Utsukushiki Hibi` (Beautiful Days), but I haven`t seen any of it yet.
Mina-san, ja mata.