Learning to drive is an expensive and time-consuming process in most countries, but perhaps especially so for the foreigner living in Japan. Many people visiting Japan will eventually find themselves needing to take a driving test in order to drive here – even if they already hold a valid licence from their home country. The process is not as simple as you may imagine, and it's even more convoluted for people learning to drive from scratch. This article documents my experience undertaking and passing the Japanese driving test.
Most people arriving in Japan will undoubtedly enter with an International Driver's Permit, which is valid for one year from the date on the licence, or one year from your date of entry – the shorter of the two dates. Driving on an expired permit is illegal, and you could face big fines if caught doing so, even if you feign ignorance. In order to continue driving after the first year, you will be required to change your international permit to a Japanese driving licence. Similarly, you cannot drive in Japan at all if you enter without an international permit – you must first obtain a Japanese licence.
However, converting a foreign driver's licence to a Japanese driver's licence can be tricky. The process varies depending on the country from which you originally obtained a licence; people from certain countries like the U.K and France are (as of November 2011) exempt from having to take a test, while others from countries like America and Brazil are required to take one in order to drive here.
But what about those of us who never learned to drive in our home countries? Undoubtedly a much smaller and select group of people, but a harsh reality if you're like me and never felt the need to get a driver's licence while at university. Japan has many unique and beautiful spots that are inaccessible via public transport, and if you live outside of a major city, it can be incredibly inconvenient to get around. Also, what happens if your Japanese driver's licence expires or is revoked? It turns out you'll have to go through the same process as I did, getting your Japanese licence from scratch. Read on to learn all about the long and painful process…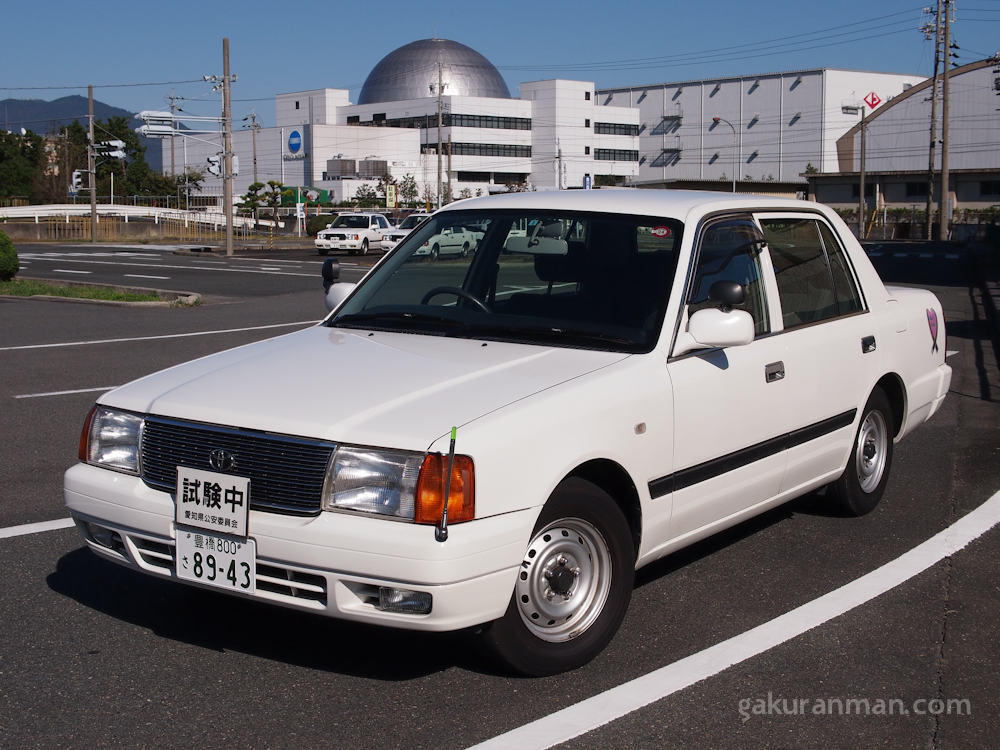 Converting a Foreign Licence – an Overview
---
Most people arriving at this article will probably fall into this category. Fortunately, there's already a good bit of information out there on the internet to help foreigners who are unfortunate enough to come from one of the countries needing to take a test in order to obtain a Japanese driver's licence. First up, let's separate the lucky from the unlucky (Source: Metropolitan Police Department):
No test required:
知識確認、技能確認を免除する国等(23か国・1地域)
アイスランド、アイルランド、イギリス、イタリア、オーストリア、オーストラリア、オランダ、カナダ、韓国、ギリシャ、スイス、スウェーデン、スペイン、チェコ、デンマーク、ドイツ、ニュージーランド、ノルウェー、フィンランド、フランス、ベルギー、ポルトガル、ルクセンブルク、台湾
Countries exempt from needing to take the written and practical driving test:
Iceland, Ireland, United Kingdom, Italy, Austria, Australia, Holland, Canada, Korea, Greece, Switzerland, Sweden, Spain, Czech Republic, Denmark, Germany, New Zealand, Norway, Finland, France, Belgium, Portugal, Luxembourg, Taiwan.
Written and practical test required:
Everyone else.
The Lucky
---
Those lucky people who hail from one of the countries in the above list can convert their foreign driver's licence to a Japanese driver's licence for a small fee and a bit of paperwork. Very little pain involved at all! All you need is:
1) A foreign driver's licence from one of the above countries.
2) Having held that licence while living in the country for over 3 months.
3) A translation of your foreign driver's licence obtained from the Japan Automobile Federation (JAF) for 3000 yen.
4) Various other application paperwork and fees (about 5000 yen).
(Source: Japan Automobile Federation)
There's a lot more information here for people who fall into this category. I needn't go over it all again: Supermelf.com
The Unlucky
---
Those poor folk who come from a country not listed above will, unfortunately, have to take a written and practical driving test in order to prove they can drive safely on the roads of Japan. The process is as follows:
1) A foreign driver's licence not from one of the above countries.
2) Having held that licence while living in the country for over 3 months.
3) A translation of your foreign driver's licence obtained from the Japan Automobile Federation (JAF) for 3000 yen.
4) Taking an aptitude test.
5) Taking a written test about the rules of the road.
6) Taking a practical test within the driving test centre.
7) Various other application paperwork and fees (about 5000 yen).
(Source: Japan Automobile Federation)
In some ways, it's not quite as bad as it looks above. But in other ways, it's lot worse…
The written test is usually just a set of 10 simple true or false questions with a pass mark of 7/10. You can even take it in English in many prefectures. The aptitude test generally only checks vision and colour blindness, but can also include hearing and physical fitness to drive. That's the good news.
The bad news is that the practical test can be a nightmare for some people. Theoretically, a good driver even from one of the countries not listed above should be able to pass – you learned to drive safely, right? In practice, people will have various bad habits from having held a driver's licence for a while already, and what constitutes 'good' driving on the road and in normal traffic is most certainly not what will get you through the practical test. Again, the Supermelf book has a decent summary (source):
The practical test is not so much a test of your driving ability as it is a test of your ability to navigate a set course in the proper manner. Sometimes the skills overlap, sometimes they do not. It tests your ability to control the car, whether it is going fast or slow. It tests your ability to navigate very narrow sections of road. It is a test to show that you are aware of any possible danger at any time, even if it is physically impossible. It is a test to show that you are patient and careful.

Opinions differ on which prefectures have harder tests, the cities or the inaka. Every prefecture will have different levels of strictness about different things. In the end, it usually depends on the proctor, so try to make a good impression. The practical test is taken on a private course. The giant course resembles one at a driving school or at a go-cart park. The turns tend to be marked with small signs indicating "B1" or "D2" or such so the proctor can be specific. You take the test in their vehicle, not your own. The vehicles are full-sized white-plate cars that used to be taxis, so if you are used to a narrow car, be especially cautious. If you drive a manual, you must take the test in a manual. Otherwise, you may take it in either.
There's not a lot more I can add to that, but I can verify it from personal experience. In taking the practical test for my provisional licence, I had to drive around the test centre course, often with another person in the back of the car who was also taking the test. It is the same course that people converting their licence will have to navigate.
I was required to memorise all 3 possible routes in the test centre (I found out which route I would drive half an hour before the test). The examiner will be a member of the National Police Agency (all driving test centres are run by the police). They will sit on the left and check you on various skills, such as navigating an S-curve, a standing hill start and L-crank test. They will give feedback in Japanese (unless you are lucky enough to have someone who has the ability to and is willing to speak English). In my experience taking the test at the centre, the examiners were very strict, but fair.
Since I was learning manual, I also had to be reasonably good with the clutch. I failed instantly my first time in the S-curve for catching my wheel on the curb and falling slightly inside the grass area as I attempted to reverse. I failed my second time because the clutch rattled too much. I finally passed on my third attempt with a bare minimum score – 70 points out of 100. Of course, that was just stage 2 of my long journey learning to drive (see further below).
Again then, there's already a lot of information documented for the unlucky people who fall into this category, including many, many opinions and tips from various people who have gone through the process of converting their licence. I needn't go over it all again: Supermelf.com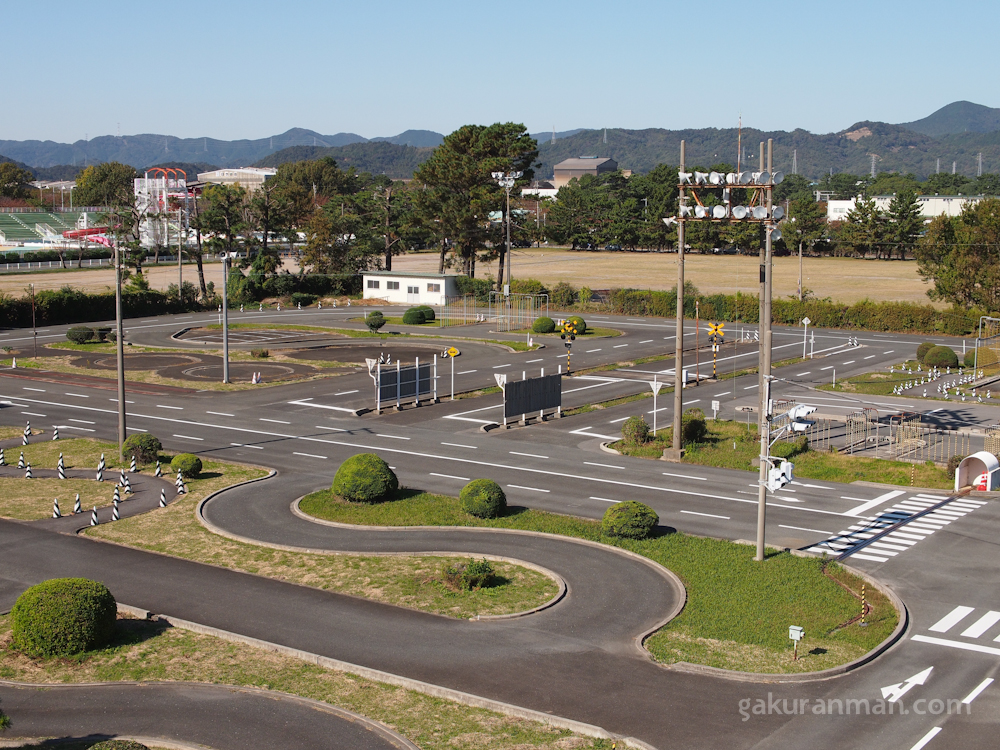 The Real Deal – Learning to Drive in Japan
---
So finally we arrive at the undocumented section. As far as my research has determined, there is precious little information available in English on the internet for the foreigner learning to drive in Japan. What's more, there's even less information about learning to drive without attending a driving school. My aim was to do both – learn to drive, but avoid the extortionate fees associated with all driving schools in Japan. It was a long and laborious process, and certainly not cheap…
First up, let's get the note about driving schools out of the way. More than 90% of Japanese people will attend one of the numerous driving schools littered throughout Japan in order to learn to drive. Attending a driving school is arguably a much better method than the one I chose, primarily because nearly all the fees associated with learning to drive are included in the base payment and the centre really is like a school – the instructors are friendly and are happy to keep working with you until you pass. Schools also offer different options, including evening sessions for those holding down a job and unable to attend in the daytime, and even short, intensive courses that involve you attending a boarding school and learning every day.
That said, most driving schools are over 300,000 yen. The Koyama Driving School, which seems to be one of the few that offer lessons in English offers a course priced at about 400,000 yen. After graduating from a registered school, you will still need to take the final written test (a small fee of a few thousand yen) at one of the prefectural driving centres run by the National Police Agency. After that, you have your Japanese diving licence!
Needless to say, the thought of paying in excess of 300,000 yen ($3,800 at the current exchange rate in November 2011) didn't appeal to me. I decided to skip enrolling in a driving school and instead try what everyone said I couldn't do – learn to drive without attending a driving school.
Learning to Drive Without Attending a Driving School
---
Let's get a few things straight:
1) This is the process that worked for me. The fees paid and time taken could vary greatly depending on your individual situation, and most importantly your natural aptitude for driving. It also involved a fair degree of risk, both legally and in regards to safety.
2) Don't be naive and think you can pass the tests without any driving practice. You are not a natural driver, and even if you have an aptitude for driving, many of the road rules and driving skills you need to demonstrate do not come down to common sense.
3) Don't for a second think that you can get away with learning to drive for free. Or even 'almost free', as I originally fantasised. I had the help of many Japanese friends, including training outside of practice centres and it still cost me a huge chunk of change. Although it was still far cheaper than attending a driving school.
In order to get your full Japanese driver's licence, you'll have to follow a rigid process, passing each step before you can advance to the next. Each step comes with its own small fee to pay and will require that you take time off work on a weekday in order to complete it. Depending on how many other people are backlogged in the system, it may also mean you face weeks or even months of waiting between each step.
The Process
---
So here's what you'll be doing in order to get a Japanese driver's licence from scratch. As I mentioned earlier in the article, this is the same process for people who have had their licence revoked or simply forgotten to renew an existing Japanese driver's licence. Yes, you heard right. Forget to renew and you can kiss 6 months of driving goodbye and look forward to an expensive and infuriating set of tests, all taken at a test centre run by the National Police Agency. Lose your licence due to bad behaviour, and you will usually be banned for a year from driving before you can even begin the 6 month process to obtain a new licence.
1) Take the provisional written test at a test centre.
2) Take the provisional practical test on the test centre course.
Obtain provisional driver's licence!
3) Practice on 5 separate days out on the road with someone who has a full driver's licence.
4) Take the full theory test at a test centre.
5) Take the final practical test out on the road with a test centre examiner.
6) Attend a course in first aid and another final course in driving theory at a driving school.
Obtain full driver's licence!
The Cost
---
Here's a rough breakdown and approximation of the costs involved for me:
Lessons at the local practice centre: 77,000 yen (7000 yen x 11)
Train fees to the practice and test centres: 19,600 yen (980 yen return x 20)
Registration fee for the practice centre: 3,500 yen
Examination fees for the provisional written exam: 6,200 yen (3,100 yen x 2 attempts)
Examination fees for the provisional practical exam: 11,150 yen (1,650 yen first attempt x 1; 4,750 yen extra attempts x 2)
Issuance of provisional licence: 1,200 yen
Examination fee for the final written exam: 2,400 yen
Examination fee for the final practical exam: 18,000 yen (1,000 yen first attempt x 1; 3,400 yen extra attempts x 5)
4hr classroom and practical training fee after passing: 9,800 yen
3hr first aid training after passing: 3,600 yen
Issuance of full licence: 2,100 yen
Lunch fees / petrol costs when driving with friends: 3000 yen (they were extremely generous and wouldn't let me pay most of the time)
Total: 157,550 yen
(You might also include treating friends to an all-you-can-drink party after passing: 20,000 yen)
To compare:
Cost of attending local school: 344,210 yen
Final written exam fee: 2,400 yen
Issuance of full licence: 2,100 yen
Total: 348,710 yen
Money saved: 191,160 yen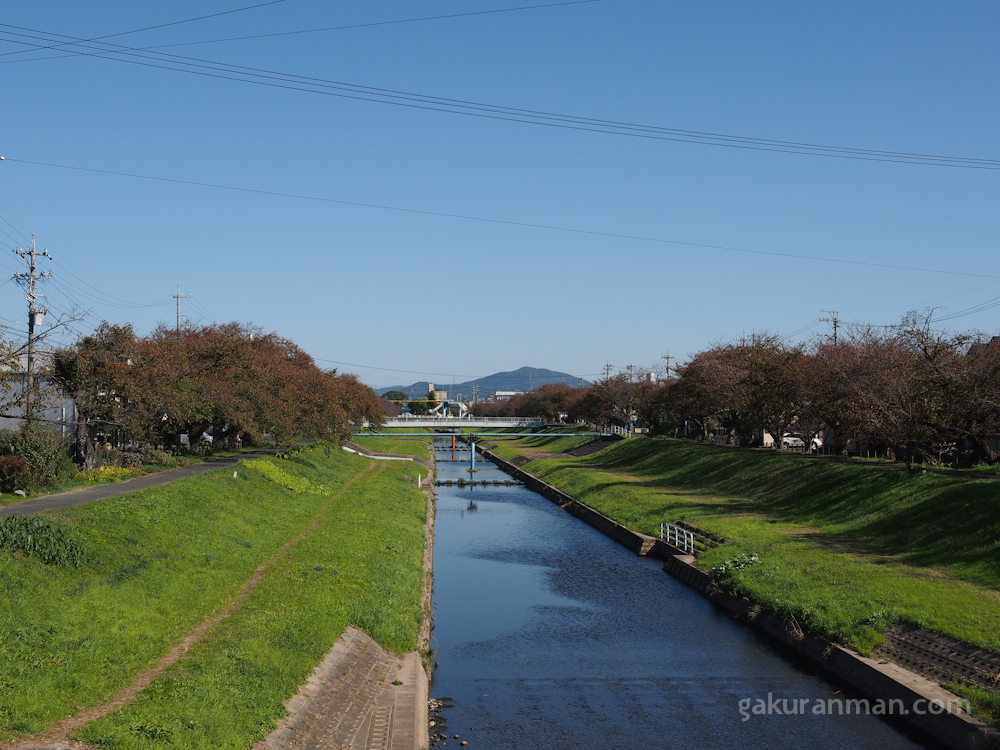 The Provisional Written Test
---
The first step, naturally, is to pass the provisional theory exam, taken at one of the designated test centres run by the National Police Agency. At my test centre in Aichi prefecture, written tests were only held on Monday, Tuesday and Thursday mornings. I had to pay a small fee each time I attempted the test.
I decided to take the test in Japanese, part through the desire to test my ability, and part through hearing that the English translation is a bit dodgy (although I cannot confirm that). I borrowed old textbooks from Japanese friends who had attended a driving school and spent the best part of a few weeks studying in Japanese. As far as I was aware at the time, there weren't any commercially available textbooks written in English for those learning to drive from scratch. Sod's Law then, that I discovered English versions of the main textbooks (about 3000 yen per book) are available to buy from driving schools. You'll need to look for the textbooks entitled "The Master Of Your Driving" by Chubu Nippon Driver School. Probably best to go to the largest school in the area.
There is also a paper-thin summary of the full textbook available from the JAF centres which you can purchase for 1000 yen. This is intended for students who are converting their licence to a Japanese one and need to learn the basic road signs and laws. It does not include anywhere near the level of detail of the full textbook, as I found out to much my disappointment. As such, it is pretty much impossible to pass the test by studying from this little book alone. Seek out the English versions of the main textbooks – they do exist, although I have not been able to find them in bookstores or online.
The provisional test itself is available in English in several of the major prefectures. I passed my provisional theory test in Japanese on the second attempt. It involves 50 questions to be taken in 30 minutes. You need more than 45 correct in order to pass. The test was fairly simple, without many trick questions, but did check important signs and driving knowledge, so it's advisable to study well before attempting it. Note well: The test is not the same as the incredibly easy 10-question test that foreigners converting a licence have to take.
The Provisional Practical Test
---
After passing the written test, the student then books a date to take the practical test in order to gain their provisional driver's licence. This was by far the hardest and most frustrating part of the whole experience for me. Or at least, it was until I graduated to doing the final road test…
I had naively been thinking that I could simply take the test over and over again, improving slowly but eventually passing. The costs weren't that prohibitive (4,750 yen per attempt), and crucially, each attempt cost less than using the nearby practice centre.
What I didn't factor into my thinking however, was the waiting between attempts. Surely it'll just be a week or so? I thought. Not a problem. It turned out that there was a huge backlog of people trying to get their provisional licence. They consisted of mostly Brazilians (Aichi has an extremely large population of Japanese Brazilians, and Brazilians who have come to work, usually in the large automobile factories), a few older Japanese people who had lost their licence for one reason or another, and me.
As I noted before, over 90% of Japanese people attend a driving school rather than taking the tests directly, so it makes perfect sense that most people trying to get their licence at the test centres will be either foreigners, cheapskates or bad/lazy drivers. Talking to the staff at the nearby practice centre, they said they also teach a lot of Brazilians but that, unfortunately, they don't practice nearly enough. Some of them were approaching their 10th attempt on the provisional practical exam…
Because of the large amount of people stuck in the system not getting their provisional licence, generally I had to wait about 3 weeks between my attempts at the practical exam. There was no way I could stick to my original strategy of taking the test over and over again until I passed. It was begrudgingly that I registered at the nearby practice centre to get some extra time driving and speed up the process. At 7,000 yen for 50 minutes, it was very expensive. But it was on the exact same course and in the exact same cars used for the exam. There wasn't a better way to perfect the course in preparation for the practical exam.
Up until then, I had been practising in car parks with the help of friends. A little time driving a manual light truck, and time practising basic driving skills in a small automatic car. This was a risky thing to be doing – driving in car parks is still driving in a public space. Although realistically no police are going to be checking or coming down hard on people for driving around a (nearly empty) car park, I was on the wrong side of the law. A friend of mine had told me a story of an international friend of hers had driven just 100m or so down a countryside road, had been caught by the police and severely punished for driving without a licence. I made sure my Japanese friends knew the risks before helping me out in car parks though, and some of them were happy to do so. That said, anyone attempting it should do so at their own risk – I in no way advocate it!
So, with my 10 or so hours of experience in car parks, I figured taking the provisional practical test would be okay. I was prepared to fail a few times and finally pass. Once I had my provisional licence, I figured, I could practice legally to my heart's content on the road with friends. Until then, practice outside the centre was a risky business…
My first time using the practice centre revealed to me the extent of my inexperience. Several stalls, catching the curb, improper use of the clutch, unable to reach 40km/h on the straight stretch of road, unable to do a hill start with confidence. The list goes on. Even after 10 or so hours practice outside schools, it was clear a couple of paid practice sessions weren't going to be enough to get me up to speed. That said, I did improve a lot after the first few tries, and by my 4th practice session I was navigating the course without making any serious mistakes.
I failed on my first attempt at passing the practical test. I caught the front wheel turning into the S-curve, riding up on the curb. This would not be a fail in itself, but as I shifted into reverse, my wheel slipped down into the out-of-bounds grassy area. I managed to get out and complete the S-curve, but the examiner told me to return to the start. They didn't even let me finish the course for practice. Instant fail.
The second attempt was better. I successfully completed the course without mistakes in the L-crank or S-curve. I did a fairly good hill start and didn't miss indicating anywhere. But my performance was deemed to be unsatisfactory. I needed to drive further left when turning left corners, shift up to 3rd and 4th gear more often rather than staying in 2nd, rest my foot on the floor when not using the clutch and most of all, I needed to get used to the feel of the clutch. My examiner said that there was far too much rattling caused by being in the wrong gear, or not shifting between gears smoothly enough. The difficulties of driving manual cars were apparent…
After a few more practice sessions, I had my third try. This time I did the course with almost no rattling clutch and successfully shifted up and down when needed. Even though I finished without any serious mistakes, my examiner was still very critical, and pointed out that I seemed extremely nervous. As I left the car to wait for my results, she called me back to remind me to take my belongings with me, still sitting in the back of the car. Crap.
But I managed to pass, finally. 70 points out of 100 – the bare minimum for passing the provisional practical test. But a pass was a pass! I could finally get some decent training in without paying the crazy fees at the practice centre!
Road Training
---
After being issued my new paper licence with a 6-month limit, the member of staff at the centre explained to me the next step. I needed to go out on the road at least 5 times with someone who had held a full driver's licence for over 3 years. Of course, the car needed to be manual too.
Another conundrum. Nearly every car on the road in Japan is automatic. Everybody drives automatic, except a few select people with a passion for manual cars, or those who drive specialist vehicles, such as light trucks for transporting goods. This meant that I would have a tough time trying to find a friend who owned a manual car, let alone let me drive it. I phoned several rental companies and none had manual cars to rent – the closest they had was a light truck. Quite a different feeling to the regular 1400cc manual car used at the test centre. It wouldn't be great for practising in. Plus, it would require the person with me to hold a manual licence in order to rent it. Many of my friends were only qualified to drive automatic cars…
But I found my saviour. It was none other than my section boss! He had recently bought a lightweight 660cc manual car – even at the resistance of his family – because he enjoyed driving using a clutch. He was also willing to let me drive it and sign off my form so I could take the next stage of the driving test. Great!
Oddly enough, in order to take the final written exam, the student must first have their mentor complete the form stating they have driven on the road on 5 different days. I have no idea why this had to be in place before taking the written test, but I saw it as another thing dragging out an already long process. I would eventually practice on more than 5 different days in preparation for my final practical exam, but the written exam was a 90-question mammoth of a test, and I wasn't confident I could pass it first time. Also, there was little chance my boss could take me out on 5 consecutive days to practice. We decided to fill in the form in advance of our practice sessions – something which I had asked one of the police officers about at the test centre on a prior occasion. The officer had said, with a small nod, that of course they hardly ever check to make sure the practice has been done in advance…
The Final Written Test
---
So it was that I marched back into the test centre a week later with my completed road training form and applied to take the final written exam. There would be plenty of time for more road practice, even after I passed my written exam.
The final theory test was very tough. Again, a true or false format, it consisted of 90 1-point questions and 5 questions worth 2 points, to be taken in 50 minutes. The 5 questions each had three parts. Each one included an illustration of a situation on the road, and the student must answer all 3 parts per question to be awarded the full 2 marks. Getting one part wrong means you get the entire question wrong. This means that there are 105 boxes to check on the whole paper to total 100 marks. The passmark is 90/100.
In my preparation for the written exams, I found what turned out to be an incredibly useful website. It's a huge site with hundreds of mock questions and categories for each level of the written test that lets you practice for free! There is a paid section required if you use the site too much in one day, but I never hit the limit. The format generally consists of a set of questions and a time limit to answer them in. After submitting your answers, it marks them and provides beautifully detailed explanations about every aspect of each question, including additional information related to the question and questions submitted by other Japanese users. Here's the site:
It's no exaggeration to say that this website is the main reason I was able to pass the written tests. Without the frustrating experience of learning how the questions try to trick you, and refreshing specific numbers and situations in my head over and over again, I would have undoubtedly failed several times. You get a feel for how the questions are structured, the tiny differences in the language used and a feel for how quickly you need to be reading and answering. Like the provisional written test, the final exam is also available in English in some prefectures, but I have no idea of the quality of the translation. Because of the complex nature of the questions and amount of trick situations, I have doubts as to whether the English translation will adequately capture the right nuances in language that enable the student to determine whether a question is right or wrong. And of course, there is no English website with example questions to practice from, meaning you'll have a tougher time learning the trick questions if you're studying in English.
Again then, I opted to take the test in Japanese. It made the most sense, since all the expressions I had been studying were in Japanese, and all the trick questions I had memorised were in Japanese. I managed to finish the test just within the 50 minutes, but had no time to go back over the answers to questions I was less-than sure about.
It felt long and I was quite tired after finishing it. 10 questions per page, each with 2-3 lines of Japanese text for the question. Some questions were as long as 5 lines with some frustratingly complex situations I had to re-read in order to visualise. But I managed it on my first try, scraping in with 91/100. Hell yeah!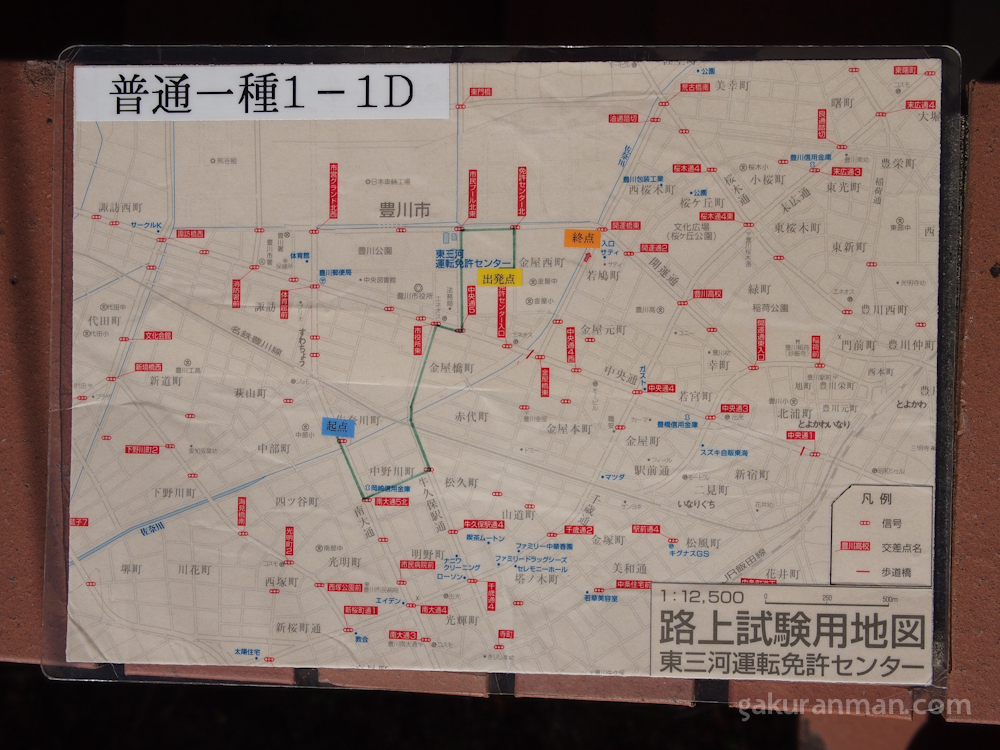 The Final Practical Test
---
I booked in my final practical test the same day as passing the written test. It would consist of 2 sections: the first, a road test that would require me to memorise 6 possible routes and drive one on the day, and the second, a brief reverse parking test on the test course itself. With a few weeks to go, I padded out my schedule with various driving sessions with my boss and other friends on the road. We would on occasion head to the test site itself to drive the same route used in the final exam. It was no easy feat with the crappy black and white map they provided me with, and especially so because practice was mostly limited to night-time sessions…
I also decided to go back in for a couple more daylight driving sessions at the practice centre. This would prove important for learning the course, as well as getting a feel for using the 1400cc normal taxi-style car on the road. Quite a different feeling to the 660cc light car my boss drove. I slowly began to iron out my right turns and get a better idea of when to indicate (at the time I was doing so far, far too early).
Finally then, the test day rolled around…
I arrived well on time, even taking a stroll through a nearby shrine and chatting with a guide about the history of the place before reaching the test centre. After signing in, I was told the course I would be driving that day – D course – and also the parking course I would need to complete – A course. I was the only person opting to take manual on the day, and a couple of other Brazilian girls were to take the automatic test. Since they couldn't do both at the same time, the examiner asked me to wait outside at the test centre until they returned.
"Out here?" I asked. "In the cold?"
"It isn't that cold though, right?" He replied.
70 minutes later, another examiner became free and took me for my test. Slapping my numb hands from the cold, I turned the key in the ignition.
I'd practised D course before, albeit less than the other courses, but it wasn't a particularly difficult route. The examiner also told me that if I wasn't sure of the turns, I could confirm them while driving. This made me feel a little better about the situation, and I set off comfortably.
It wasn't long though before things went horribly wrong. Travelling just inside the 40k/h speed limit down a stretch of road, suddenly an old man tottered out from behind a corner and stood waiting to walk at the pedestrian crossing. There were no lights for this crossing, which meant that I was obligated to stop. Although I knew this at the time, given the speed I was going and small distance between me and the crossing, I figured it would be safer to pass rather than break suddenly. Of course, that immediately pretty much failed me. What if said old man decided to run out in front of me? But equally, I thought, what if breaking suddenly was also seen as unsafe?
I guess the lesson learnt is to drive more slowly, even though we'd been told driving too slowly would also lose us points. Sigh.
The major point I failed on though was failing to notice an oncoming car when making a right turn a short while afterwards. This I can only acknowledge and hang my head for. My attention was making sure no pedestrians were crossing on the other side of the road before turning, and I didn't double check the oncoming traffic before turning. It was a lesson well learnt, but an instant fail as the instructor had to break the car.
Roll on attempt two.
It was around the time of my second attempt in November that I wrote up the majority of this post, thinking that I would pass on my next couple of tries. As I had learnt from the provisional licence practical test however, the test centre was prone to getting backlogged, meaning I ended up waiting several weeks between each attempt. Tests 2 and 3 went by with fails. I was irritated, but resigned. On one occasion, a Japanese guy who had been driving for 7 years also failed with me, so I was quite sure it wasn't any form of discrimination that was causing me to fail. I guess I just needed more practice.
And so I did. Imploring my boss to let me use his car on weekday nights to drive around the city, and on some occasions all the way to the test centre so I could practice the actual routes used in the exam. I couldn't have asked for a more patient mentor and friend, and I am especially indebted to him for continuing to let me use his car even after I managed to scrape the bottom of it on a curb. It was horrifically embarrassing at the time, but fortunately no damage was done.
January came and so did my next attempts. Each time I felt like I was driving well, but I would always slip up on something. One time I hesitated upon seeing a large truck stopped in the road flashing its hazard lamps. The instructor told me to cross over the centre line and pass it if I could, which I was able to do without a problem, but the hesitation (among other small things) was a big minus. On a different occasion I followed the car in front, crossing over the zebra lines restricting right turns. In normal traffic, this would be perfectly acceptable, but because it was an exam, it was a very bad move and I was penalised heavily for it. Sigh.
On my 5th attempt, I was fairly confident and everything was going well until I almost missed a turn on the set course, causing the instructor to tell me off and become irritated. After that I managed to stall the car at the level crossing (a first for me in many months) and to compound matters, I pressed the wrong button to close the window afterwards, resulting in a situation that looked like I was panicking because windows were opening and closing all around the car. Needless to say, it was a fail, but I put it down to mostly bad luck. There were also other small things, such as not hugging the left line enough when making left turns, which they kept nagging me about. All good practice though, as I kept saying to console myself. I was getting extremely worried however, that my provisional licence would expire before I could pass the test. It's only valid for 6 months (mine until April), and with several weeks between sessions, there was a very real danger that I might only get another 2 or 3 tries before time ran out. And if time ran out – guess what – you start everything again, from scratch. No. Failing again was not an option at all.
Finally on my 6th attempt I was able to pass. It was early February at this time, and I cursed my luck because I got given course C – the one course I had gotten completely lost on when practising at night months before. I had an hour before the exam itself, so I walked the 2 kilometres towards the course in order to see parts of the road. I contemplated 'borrowing' a bicycle temporarily, but no such opportunities presented themselves, so I had to time myself carefully walking there and back so as not to be late. Fortunately though, my preparation in checking some of the road beforehand helped, and I sailed through the exam without any mistakes. I was fairly sure that I had passed this time, because the instructor basically only commented on one small thing (my gripping the handle too tightly on turns) and also asked me if I had felt nervous. Funnily enough, I also got asked if I was nervous the time I passed the provisional exam. Perhaps this is an indication..?
But, it was finally over. I got my provisional licence stamped with completion on 9th February. One older Japanese instructor patted me on the back, grinning behind his surgical mask used to prevent colds:
"It took you a while, eh?" he said.
"Just a little while" I smiled. "Thank you again for your help".
The guy at the reception desk motioned me over and explained to me how to go about completing the course. That's right – while the worst was indeed over, I still wasn't getting my licence that easily!
Training Sessions & Finishing Up
---
In order to actually get my licence issued, I still needed to go and complete two training courses at a driving school. These courses are mandatory and consist of one 4-hour session called 'shutoku-ji koshu' (取得時講習) and one 3-hour session called 'okyu kyugo sochi koshu' (応急救護措置講習). The 4-hour training is a final check of your driving. You go out on the road with an instructor at the driving school and they record your driving. Afterwards, you look at it together and talk about the points you missed or need to improve. You also watch a DVD about driving on the motorway before going out to do a test drive on the motorway itself. The 3-hour training is first aid training – basic CPR and emergency response. Nothing too difficult in either course, and the atmosphere is a lot more friendly and laid back than at the test centres run by the National Police Agency. I was told you cannot fail these training sessions, although I suppose if you drove dangerously they could deny you the certificate showing you had completed the training.
In order to book these sessions, I had to telephone driving schools and ask when they were offering the training. I shouldn't have been surprised, but it turns out I was in for another long wait. The earliest many schools had was April and some didn't offer the training until May – another 2 month's wait! I ended up telephoning over 50 different schools asking in Japanese about the training. The earliest school I could find offering the training about early March – 3 weeks away – but only on 2 separate days. 2 more days I needed to take off work in order to attend the classes… It would have to do. I booked the sessions and went down to my city hall in order to buy monetary stamps ready to pay for the course (regular cash was not acceptable).
I received certificates of completion after attending both training sessions. They were surprisingly fun to go to, actually. Full of young Japanese teenagers and friendly staff buzzing around. It really was like being back at school, right down to a lunch lady selling bento and snacks, and the school bell chiming between sessions. Students carried around textbooks and folders full of progress sheets and red stamps marking their completion. I even made a friend on the 2 days I had my training and it got me to asking myself – was the pain I had gone through to save money really worth it?
I'd saved about 200,000 yen – around 2/3 of the actual cost it would be to attend a school. But getting a driver's licence by attending a school could be done in the evenings without having to take much time off work, with friendly instructors and in a safe environment. I would get to know other students and we would go through the trials together. I did ask how long students usually take to complete the driving course at a school too. Apparently it's several months, so not a great deal shorter than it took me to complete it myself, which was 7 months. I guess it really comes down to what you value more in this situation – time or money. Given the choice again, I would still have chosen to save the money, because I learnt a lot following this indirect process and had to overcome a lot of hardships that have definitely shaped me as a person and pushed my Japanese skills. But after it all, I just don't think I can recommend the same approach to other foreigners wanting to learn to drive in Japan. Just pay the money and attend a school. It's far, far too much trouble to go through the indirect approach as I did, unless you particularly like challenges!
As the final step in the whole process, I had to take my certificates of completion back to the test centre, along with my personal seal (inkan) and pay 2100 yen to get my licence issued. As usual, this had to be done on a weekday morning. I got up, had a shower, popped my contact lenses in and headed out on the train for one last time to the test centre. One of the female police officers there recognised me and offered her congratulations on finally passing as I processed the paperwork. Most of the staff there seemed to know me by that point… A group of 5 or 6 of us were then led upstairs to have our photograph taken, and then our licences were created. At impeccable speed too, I might add, considering how darn long the whole process had taken thus far!
I walked outside to feel the warm spring air, clutching the new licence in my hand. It had a lime green stripe, signalling to the world that I was a new driver. Penalties are particularly strict in the first year after getting the driver's licence, and by law I must put beginner's marks on the car when I drive. I thought back to one year earlier: It had been February 2011 when I first started seriously thinking about getting my licence. I practised a few times with friends, but never got seriously underway until August when I passed the provisional theory test. Here I was, 7 months later on the 8th March, finally just happy to be done with the whole thing. It turned out to be a bloody expensive piece of paper to get!
But, I suppose the real lessons I learned from repeatedly failing and the knowledge I gained from the intensive Japanese study are worth much more. Plus, having experienced this painful process, I am now absolutely resolute in that I will not let anything come between me and my Japanese driver's licence! This is the exact process you must go through to get back a licence that has been revoked due to too many points or illegal activity. It's also the same process you must go through if you forget to simply renew your licence before it expires after several years, as one poor Japanese guy was telling me as he took his test… It's blindingly clear to me now – never, ever lose the Japanese driver's licence. Ever!
And on that note, there's just one thing left to do now – take my friends out for drinks to celebrate! :D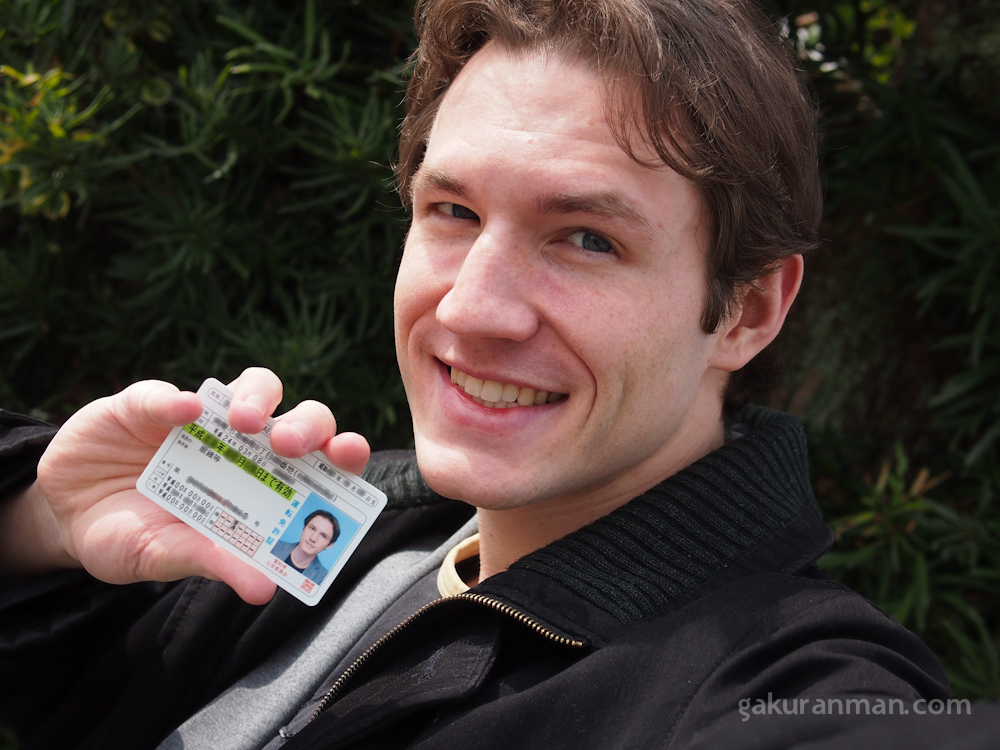 Special Mentions
---
Ota-hancho, my boss, for his tireless efforts driving me back and forth to the test site when practising for my final practical exam. Also for having courage to let me take his light 660cc manual car that was only a few months old out on the road. Without it I would not have been able to practice using the clutch, which was crucial in saving me money from having to attend the practice centre. (Nearly all cars used by normal people in Japan are automatic, save for light trucks).
Fukada-san, a colleague who I attend badminton with. He let me practice driving his large automatic car in car parks and on the road after getting my provisional licence.
Kurahashi-san, for letting me drive his light manual truck in car parks during the early stages, including taking me to a countryside road to practice hill starts using the clutch.
Koumei, for lending me his old (annotated) textbook and letting me practice in his small automatic car in car parks during the early stages.
Manami, for lending me her pristine textbooks and warning me how tough the process of learning to drive was.
Mayumi, for constant support and studying with me while I was preparing to take the written exams.
And a huge thanks to everyone else who helped and chatted with me along the way, including all the awesome people who supported me on Google + and Twitter :).