Last month my house mate and I got roped into performing some Para Para for a friend of ours, Mia Chen. She is doing a PhD with a focus on Cosplay (Costume Play – dressing up as a character) and one of her pieces involves the style of dance known in Japan as 'Para Para'.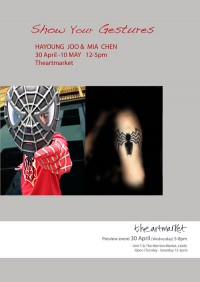 My house mate and I were somewhat horrified at the thought of doing Para Para, namely because it's often associated with obsessive girls who dance to the theme songs of various anime. It's not quite your cool, modern tap or swing dancing, for sure…
Nevertheless, we decided it might be fun and took a look at the dance she wanted us to learn: Mark Foster's Spiderman, also known in Japan by the outrageous performance from DJ Ozma. We browsed Youtbe for a while hunting for a good video to learn the moves from, but most we poor and apathetic attempts at this high-energy dance. But we found one guy kitted out in a Spiderman mask who performed the dance clearly and so we set ourselves up for the day with the speakers up full volume and learned from his wisdom. He had flair, style and made the dance look cool. But there was still something lacking… We needed something to really heat this dance up. This is Spiderman after all – a guy who shoots webs, walks around in spandex and kisses girls upside down. It wouldn't do to destroy his image by prancing around in a cute fashion.
And then we found it. DJ Ozma's take on the song. A whole bunch of shiny, oiled-up Japanese guys clad in tight pants and a giant spider masking their modesty. This is what we were looking for. This was Spider! The missing component? It was all in the crotch! All that red and black, the webs and gymnastics. Of course, Spider is about sex! We had our inspiration and set out with a passion to take conventional Para Para to the next level.
We wouldn't go as far as to strip down to our underwear and oil ourselves up, but we had the most crucial thing to making the dance good – the Spider attitude. Topped with trilby hats for good measure, we were having a pretty damn good time! Take a look at one of our practice attempts below! (I'm on the left).
**********
I thought that would be the end of our embarrassing endeavours, but no! Come opening day of Mia's exhibition, we were to perform live in front of a small audience. It's one thing to thrust your crotch to the thumping beat of a tune on camera, but doing it live is something else o.O;;. Fortunately I had to try and sync with the other two people there that day who were performing the same dance, so I didn't have to thrust my crotch in as daring a manner as it could have been, but it was good fun nonetheless. I donned my gakuran (the Japanese equivalent of a blazer worn in school) and red spiderman t-shirt and did some real Para Para. After all, Para Para evolved to be done live on the streets like it is in Akihabara! I wonder if I should get a pitch there this summer and do some more live performances… :P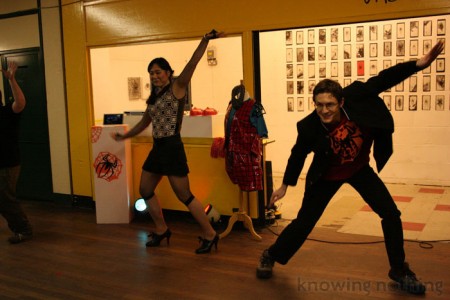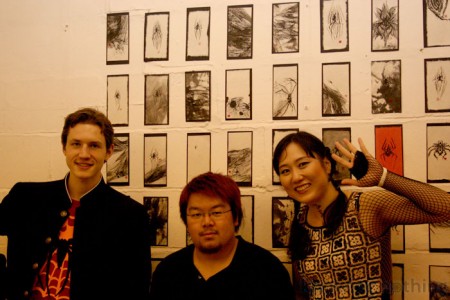 **********
Finally, check out the DJ Ozma Spiderman video below which we used for our inspiration. It's hilarious!