I was already on the train and leaving Kyoto at 8.30am after Ryosuke had dropped me off at the station. Today's aim was Naoshima, the fabled 'Island of Art' on the Seto Inland Sea. What's more, it seems that there is some sort of special art festival going on right now through to October – all the islands in the area are hosting special exhibitions. Perhaps this trip may turn out to be more cultured than I thought..? But first things first, I got me a pumpkin to see!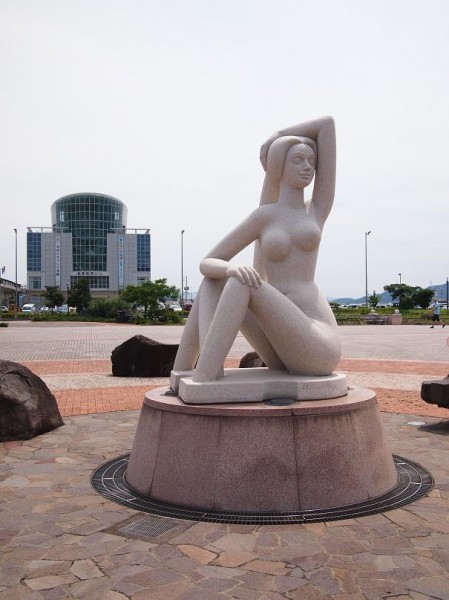 4 hours of JR trains later, I arrived at Uno port station, a little groggy from too much sleep but feeling pretty good. I snapped up a ticket for the next ferry over to Naoshima – a 5-minute trip on a tiny boat at a mere 280 yen! The voluptuous young sea witch above greeted me as I trudged to the docking area. Damn it was hot.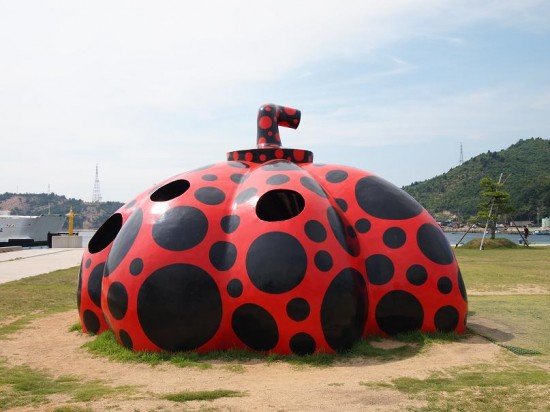 Not long later, I arrived on Naoshima and sorted out maps and accommodation for the night at the nearby Information Centre. Good to get the essentials out of the way first. Before I knew it, I was cycling the road circling the island on a rental bike with a couple of onigiri for fuel and a lukewarm bottled drink.
The red pumpkin jumped out immediately, resting quite close to the port I'd landed at. One of what was to be many eccentric outdoor exhibition pieces dotted around the island. This tomato-like object was big enough for adults to climb inside and illuminated with a splatter of yellow and red lights. I made a note to come back to see it again that evening and continued onwards and, much to my disappointment, steeply upwards…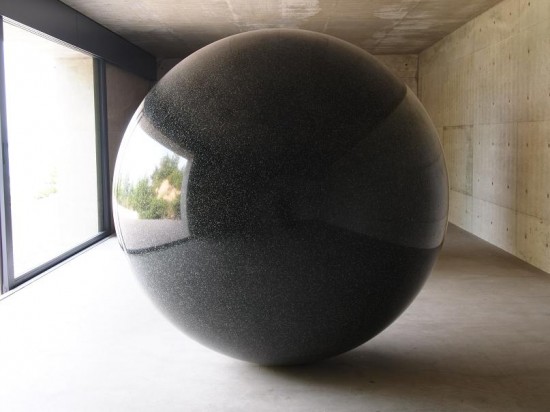 A nasty climb separated me and the nothingness balls. I was huffing and puffing and could feel the sweat trickling down my back from the intense midday sun before I reached them. Hidden away in a sort of tomb with only a small opening in the doors for a person to squeeze inside. Walking down the hill a little took me to the water's edge with some more outdoor artwork – some boat pieces and an odd frame full of different sized holes looking out to sea.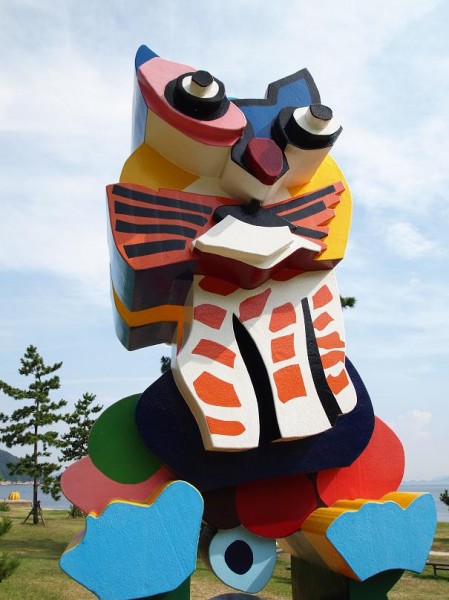 The rest of this section of road led me back downhill with a fantastic breeze and squeal of rusty bicycle brakes ringing in my ears. Apparently the section of road leading to the next set of outsdoor exhibits was for Benese hotel guests only, or normal pedestrians. No bikes allowed though. Screw that. No way I was opting for a 2km walk down a steep hill in this heat and leaving my vehicle at the top, so I zipped down to the bottom quickly. Turns out there were other people on bicycles too at the bottom, so all good there. Some colourful animal statues with gaping holes in them too. A rather pompous-looking cat stretched upwards towards the sky.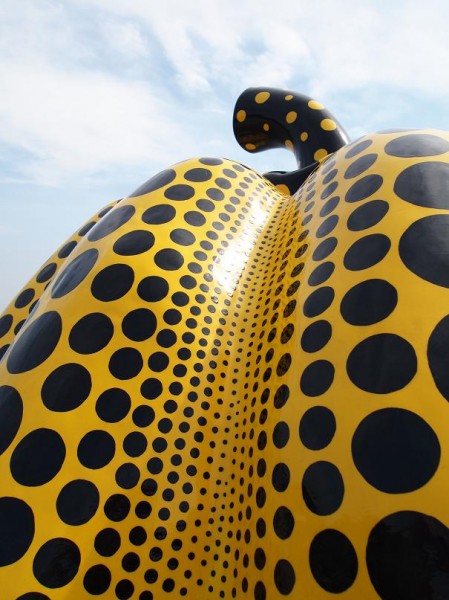 But my eye caught a glimmer of yellow. There it was, the second of the famous Naoshima pumpkins, all golden and spotty in the afternoon sunlight. I spent way too much time photographing it and myself and ended up getting sunburnt. Good a few good shots though – oh yeah!
It turns out that most all of the art museums were closed on Monday, so it was just as well I planned to stay the night. After completing a circuit of the island and arriving back at my cheap backpacker's lodgings, I checked in properly and when in search of food. All the eateries were closed too, but I did manage to find some really grimy little shack that sold the bare essentials. One rathr good niku-don later and plenty of water and I was back on my feet. The old guy who was sitting in the the shack with me (I reckon the husband of the old lady who cooked up my grub) was coughing a lot the whole time as he puffed on his cigarettes. At some point it all got to be too much for him and his false teeth fell out. Well, as I said, it was a good niku-don.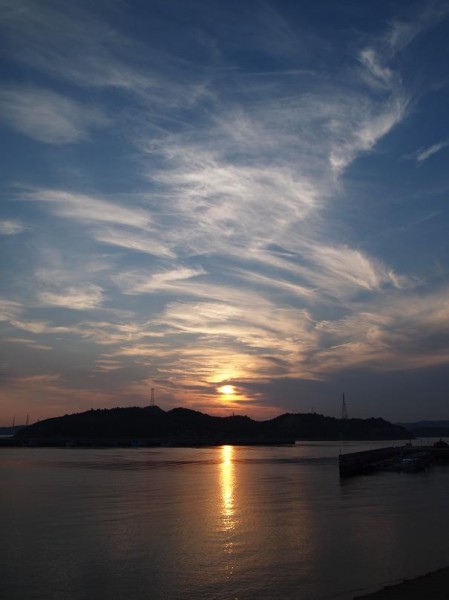 Cycling one more up the arduous slope and back to the same places I had visited that morning, I grabbed some shots of the sun setting on the picturesque little island and generally just relaxed listening to the sea and seeing the outdoor artwork lit up in the evening lights. More yellow pumpkin shots in the dark, but I won't burden you all with more! Finally, before heading back to the lodge before the 10pm curfew, I stopped off at the red pumpkin again and chatted to a couple of young women and an energetic old man who seemed to be touring some of his guests around the island. I'd seen him a couple of hours earlier photographing the sunset with me and now he was showing a different girl the illuminated red pumpkin. Evidently he does this often, as the compositions and shots he was telling the girl to take were all awesome.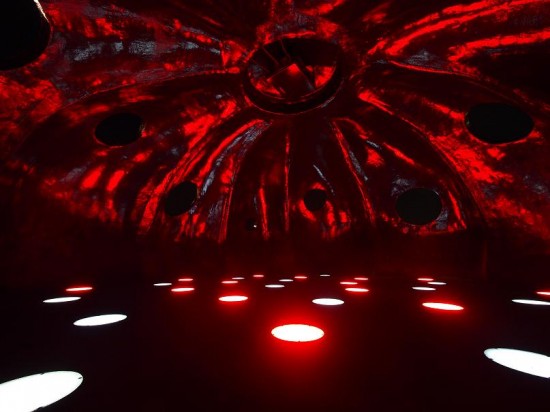 Back at the lodge, I hopped in the bath and then tried in vain to get the computer to download my pictures. It wasn't working for a while, but another of the residents named Aki came into the lounge to watch television and we got to talking. Turns out she is from Tokyo and has come to tour the different art islands and see many if the exhibits. She tells me there are special discount tickets if you buy in bulk and a book detailing the stuff on each island. Some pretty cool stuff looks to be on Teshima, another nearby island, but sod's law said the exhibits are closed tomorrow. Bah. Well, I may get to Takamatsu on Shikoku more quickly than I expected! Alrighty. Sleepy time.