Yesterday at 1am I was up and donning my black gakuran to attend the second J-blogger conference. Wonky Tofugu's Koichi hosted the conference on the popular live video learning platform Edufire. The focus was on the fantastic group of people that blog about all things Japanese.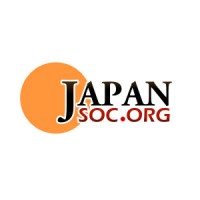 So for the second conference, we talked (and debated!) heavily about the up-and-coming Japansoc podcast, the next-big-thing in social networking 'Poken' and also about how to further build the Japansoc.org community. The conference lasted for 4 hours this time, stretching on into the early hours of the morning. After a little shyness, the discussion got going and we had a healthy debate full of rich ideas and jokes. Potential Lord of the Rings-themed podcasts were even mentioned!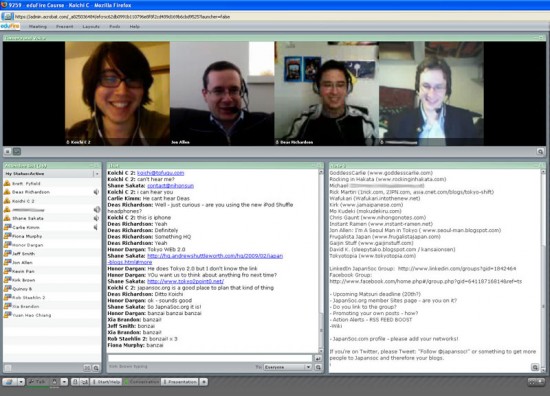 J-bloggers present:
The Nihon Sun (www.nihonsun.com)
JapanSoc (www.japansoc.com)
JapanSoc Google Group (japansoc.org)
Tofugu (www.tofugu.com)
GoddessCarlie (www.goddesscarlie.com)
Rocking in Hakata (www.rockinginhakata.com)
Gakuranman (gakuran.com)
Rick Martin (1rick.com, 2JPN.com, asia.cnet.com/blogs/tokyo-shift)
Wafukari (Wafukari.intothenew.net)
Kirk (www.jamaipanese.com)
Mo Kudeki (mokudekiru.com)
Chris Gaunt (www.nihongonotes.com)
Instant Ramen (www.instant-ramen.net)
Jon Allen: I'm A Seoul Man in Tokyo (www.seoul-man.blogspot.com)
Frugalista Japan (www.frugalistajapan.com)
Gaijin Stuff (www.gaijinstuff.com)
David K. (sleepytako.blogspot.com)
Tokyotopia (www.tokyotopia.com)
Next up:
Podcast
---
Some of the points we discussed and concluded(?) – please correct me if I'm wrong!
Koichi from Tofugu will coordinate the podcast
Time length of podcast to be 20 minutes to keep things simple.
Podcast every two weeks (undecided)
3 people presenting one podcast. Poll: 3 presenters – 10 votes, 4 presenters – 3 votes, 2 presenters – 2 votes.
USB microphones/setup to ensure clarity of voice required
Japansoc.com headlines and discussion, Japanese lessons, introducing J-blogger's websites, Japansoc Matsuri highlights
Content to be further discussed to avoid clashing with the good people at Pokya
Next, onto Poken!
Poken
---
These neat little things were introduced at a recent CGM hosted by Dannychoo and Andrew Shuttleworth. Website is here: Doyoupoken? They act as electronic business cards, allowing you to store your online social network profiles and swap them by 'high-fiving' the two devices. The idea is to make exchange of details much simpler and reduce the amount of time taken swapping phone numbers and such. They also come in colourful and cute varities: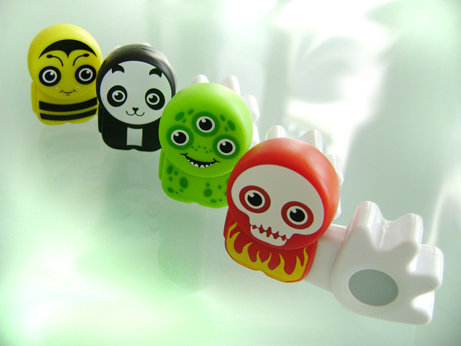 We want the people at Poken to promote their hot new toy through the Japansoc community! I think a lot of us are very interested, but in order for Poken to really work, everyone needs to have one. I wonder if they are feeling generous? *grin*
Japansoc.org
---
So there are two sites now: Japansoc.com, which is a Digg-style site to submit Japan-related content that you like and have it 'soc-ed' (pronounced 'sock'). You can find one at the bottom of this post! Please submit it to Japansoc if you like it!
Japansoc.org is the centre of the community. It is a Google Group, used to help members to promote their sites, organise 'action alerts' that members participate in and is generally the hub of all Japan-related things on the internet. If you like Japan, you'll be at Japansoc.org!
General discussion led us to conclude that we need to drive more traffic to Japansoc.org, use the 'Soc' button on our websites and encourage readers to submit our posts rather than just using Japansoc to drive readers to our blog. Efforts to get readers to participate more.
Some points made:
LinkedIn JapanSoc Group: http://www.linkedin.com/
Facebook Group: http://www.facebook.com
– Upcoming Matsuri deadline (20th?)
– JapanSoc.org member Sites page – are you on it?
– Do you link to the group?
– Promoting your own posts – how?
– Action Alerts – RSS FEED BOOST
– Wiki
– JapanSoc.com profile – please add your networks!
– Twitter, please Tweet: "Follow @japansoc!" or something to get more people to Japansoc and therefore your blogs.
– Join http://www.japansoc.org !!! <- created after the last J-Blogger's Conference - Japan Blog Matsuri: http://wiki.japansoc.org/index.php/Japan_Blog_Matsuri
**********
So, are you a member of Japansoc yet?