I've been pondering over this issue so much recently that I feel compelled to write an introspective post. So here are the naive reflections of a young 20-something adult. The topic? Overtime in Japan. With my impending graduation and the possibility of work in Japan, it's time I faced this troubling problem head-on.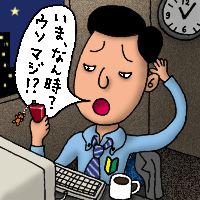 It's no secret; the majority of Japanese people (especially men) seem to devote their life to the company. Working overtime demonstrates commitment, diligence and a strong work ethic. Going home on time gets you pressured, discriminated against or even fired. At least, that is the stereotypical impression I have gotten from my various excursions to the Land of the Rising Sun. How much of this is the truth? And importantly, what can a person like me with a firm distinction between working life and family life do to fit into the Japanese working system?
Questioning
---
I've been questioning many people. Over the 7 years I've been studying Japanese; the two years I've spent in Japan and during my 2-month stay and hitchhike in Japan last summer; on Twitter to both Japanese followers and foreigners working in Japan, I've frequently (even to the point of bombardment) questioned everyone in Japan about their overtime habits. Perhaps by questioning a large number of people I might somehow placate myself? Thought I. Perhaps by seeking out those few individuals who agree with me, I might be able to trick myself into believing I could work in Japan 9-5pm and go home on time?
Foolish? It seems so.
The response has not been good. Not, at least, if you are like me and wish to 'work hard and play hard' in Japan. I can't recall a single person who has consoled me over my worries, save for the few endearing careers advisors and teachers at Akita International University, bless them. It's all been doom-and-gloom. Suck-it-up and stop whining or work in another country.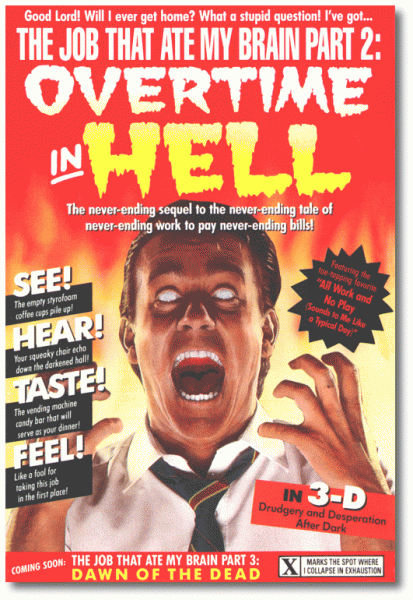 Let's take a look at one article on the topic, with an unsettling doomsday overtone:
Work-Life Balance – Coming Never to Japan
Here's a quote that sums up the gist of it:
Westerners immediately decry the madness if not the moral offense of workers slaving away at their companies until the wee hours of the nights. Liberal enlightenment ideas of the individual having free reign over his own self-definition tend to resent the concept of the "company man" – when individuals are reduced to inputs. Marxists believe that the worker must pursue a self-actualization that puts the fruits of his labor within his own hands and not the capitalist's.

Work-life balance, however, is a completely loaded Western liberal concept because it creates a dichotomy between work and life – as if they are antagonizing forces. The Confucian-Statist philosophical underpinning of modern Japanese society assigns each individual a specific, unmalleable role and posits self-actualization as the loyal and perfect performance of that role. Conditioning of these beliefs starts early: young athletes choose to play one sport for their academic careers and do not change sports with the seasons like you see in other nations. Baseball players are baseball players. In general, Japanese people have one hobby, which leads to the famously maniacal dedication to certain "ridiculous" pursuits like competitive eating or obsession with a single fashion brand.
This. This is what I'm up against. I can sit on my high-horse and parade around preaching moral corruption and worker's rights, the health of the nation and the unproductivity of working long-hours but it seems, when all is said and done, that this is Japan and how the Japanese work, and I must either consign myself to its wrath or shut up and go home.
I love Japan, the culture, the people and the country. But I must say I fundamentally disagree with the generalised working practices of long, often unnecessary hours and a lack of personal or family time. How do I resolve this infuriating dilemma? My soul is screaming. I want to go to Japan to live; to genuinely give something to the country, but I am slashed by a red-hot iron that will let all semblance of personal time and balance in my life seep away.
Here's a manga page that depicts a typical zangyou (overtime) situation: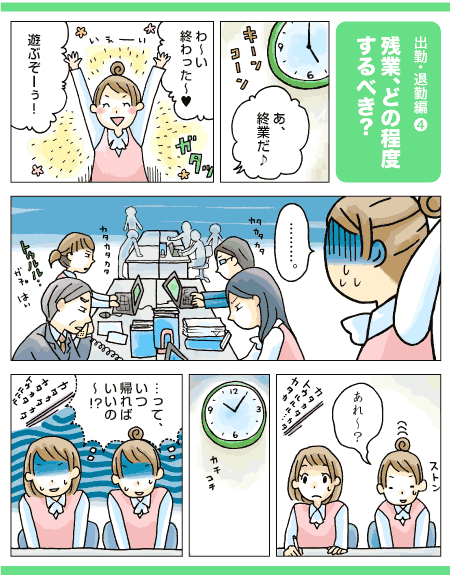 Advice for new company workers (Japanese)
Working oneself to death
---
We're not talking about English-teaching here, noble as that job may be. It (I feel) doesn't give a true representation of working in Japan. I'm talking about working for a company – a business – and having a successful, long-lasting career in Japan. I attended a careers event a couple of weeks ago at my University, conducted entirely in Japanese about finding work in Japan. The main speaker, after he was done, was quizzed by pretty much the entire audience individually. When my turn came around, I tried to be gentle, knowing how much of a weighted question I would already by pushing on him and his already strained vocal chords.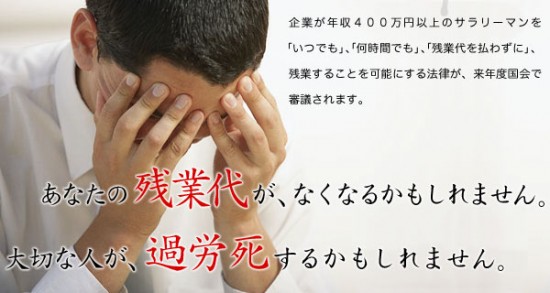 His answer? Pretty typical of most of what I have heard from every other Japanese person to date (both young and old): It's not really possible to defy the overtime system. If you value your personal time so much, perhaps you ought to re-consider working in Japan altogether? Even gaishikei (foreign companies) in Japan expect overtime. He even went as far as telling me a personal anecdote of his experience being a teacher in Japan:
He spoke that, during his career as a high-school teacher, he had worked himself to the point of illness. In fact, he said, he worked himself so much that he starting getting blood in his urine! I need say no more to convince the majority of Western readers of the absurdity of this situation, but what would most Japanese people say to this? An unfortunate side-effect? Extreme, but not unheard of? What about 'karoshi' (death by overwork)? Please, let me know!
This man's response echoed many other responses. Sure, there are certain types of worker in Japan who, in general, are able to return home more or less on time (bankers, workers for large companies like Canon during this economic crisis), but it seems that most workers feel that overtime is a necessary thing, even though they'd prefer a more balanced life. Look at these surveys, translated courtesy of What Japan Thinks:
Overtime in the Workplace
Work-Life Balance Apparently 68.7% of 129 people say that a Work-Life Balance system has not been introduced in their workplace.
According to one survey by CNET Japan, over 90% of the 1,080 people questioned (around 68% of whom were male businessmen) think that overtime is necessary for the company's survival and, to a certain extent, something that cannot be helped. However, nearly everyone thought that Work-Life Balance is important and in order to achieve it, we must 'raise the efficiency of work' and 'reform the thinking of companies that see overtime as necessary'.
Here's another site which has statistics on overtime (in Japanese):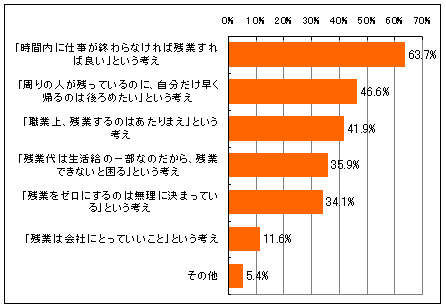 Positive trends?
---
A few of the Twitter responses I received from my followers about overtime in Japan. A mixed bag really. Definitely a few more positive vibes than I have gotten before: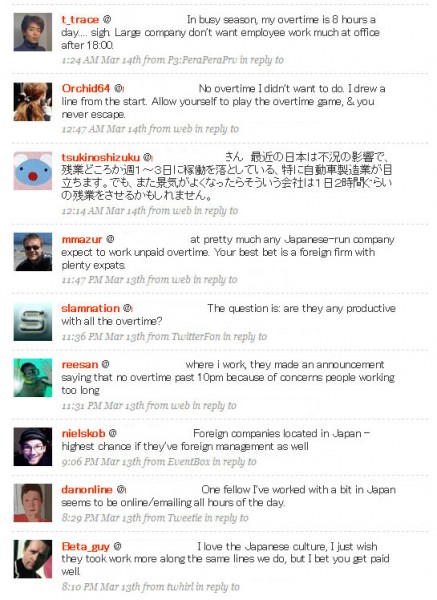 The response in Japanese reads: "Recently, rather than overtime, the amount of work has actually been falling – especially in the car-industry. But when the economy gets better again, those sorts of companies will probably make you work 1 or 2 hours of overtime."
There are also trends to suggest that, slowly, perhaps, the Japanese government is waking up to the severity of the situation. Posts like this in the Japan Times or this one in Japan Today highlight changing attitudes towards work and moving towards a more balanced lifestyle which helps try and address some of the issues of the absent father in many Japanese families and poor health of company workers.
Another site here, offers advice and tests on how to help you, the budding Salaryman, escape the wrath of Zangyou:
Trepidation
---
So, where does all this leave me? Yes, it can certainly be seen above that the majority of Japanese people seem to also want rid of the heavy amounts of overtime, but see it as a 'necessary evil', in some sense. It's also true that there have been governmental efforts made into bringing a more stable Work-Life Balance to Japan. But is it really changing anything, and if so, will it change enough in my lifetime? It is really, in reality, possible for a newly graduated foreigner to go to Japan and work a respectable 9-5 job at a decent company? Or am I doomed to submit to the system if I wish to work in Japan?
Don't get me wrong. I am perfectly happy to do occasional overtime (we're talking once, possibly twice a week here) or in longer stretches during particularly busy periods a company faces. I'm not so naive that I think the world stops revolving at 5.30pm. Heck, I might even *want* to do overtime sometimes (gasp), or love the work I'm doing so much that I lose track of the time. My worry is that I will be ostracised by my company and my co-workers if I try to balance my life by leaving work on time most days.
So, my questions: How have you found overtime to be in Japan? How many hours a day do you usually work? What company do you work for and how do you find a healthy balance between work and personal life?