A recent trip took me West of Kyushu to a small Korean island known as Jeju, famous for its three plentiful things – wind, women and rocks. What I wasn't expecting to find was a stunning optical illusion and ghoulish graveyard ruin full of rotting totem poles!
---
Mysterious Road
---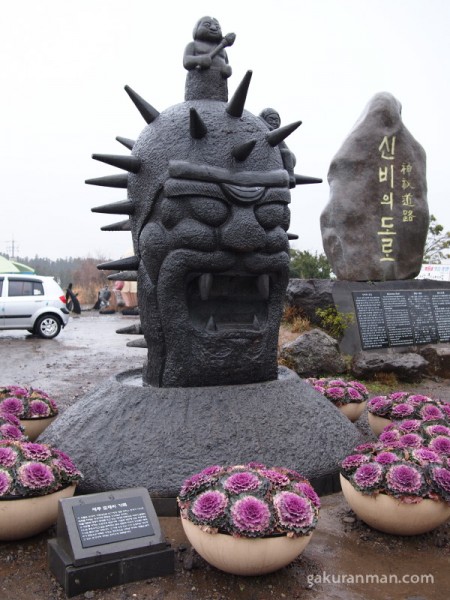 Slightly off the beaten path of luscious waterfalls and beautiful volcanic caves formed by ancient lava flows is an unusual tourist attraction that at first glance seemingly amounts to nothing more than just an ordinary road. But take a closer look and you'll soon see why it has been dubbed as the 'Mysterious Road', or 'Obake doro' (お化け道路) – Ghost Road – in Japanese.
Our taxi driver stops the car, turns off the engine and flicks on his hazard lights.
"Watch" he says, grinning to us in the rearview mirror.
Slowly but surely, the stationary car begins to roll and we see the green trees aligning the side of the road creep past us.
"But this can't be right?" I utter to myself. "We're looking uphill. Cars don't roll uphill!"
"Ah-ha" beams our taxi driver, a native of Jeju island. "They do on the ghost road!"
"It's all to do with an optical illusion you see, the scenery…"
I'm still captivated by the sheer incredulity of the action and don't really hear his explanation. The car really was rolling uphill! Soon after our driver pulls up the car and tells us to get out.
"Run backwards" he says. "You'll see".
Obligingly we do so and soon find that we are picking up speed. The slope is clearly going downhill.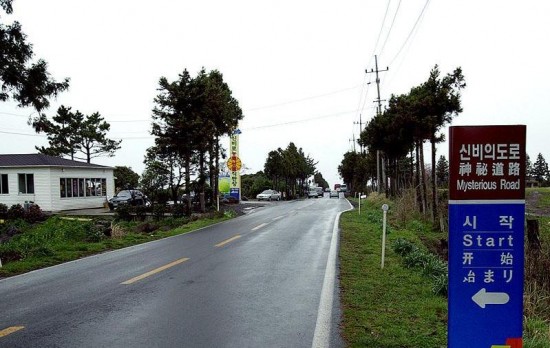 (Image Source: Trip to Korea)
Allegedly the illusion was first discovered by a taxi driver who was driving tourists around the island. One version of the story says that he pulled over the car in order to answer a call of nature, only to find his vehicle creeping away from him back up the hill! It seems to be a fairly popular destination now, with huge tour buses killing their engines to treat the passengers to the weird phenomenon. Here's a video of the effect:
---
Totem Pole Graveyard
---
Tucked away just behind some rickety shacks just opposite the Mysterious Road is a overgrowing patch of grass with some wooden totem poles with twisted faces poking out. I guess it was originally some sort of walk around attraction to boost the attractiveness to tourists stopping by the freaky road, but now it lies rotting and disused. A mini haikyo of sorts.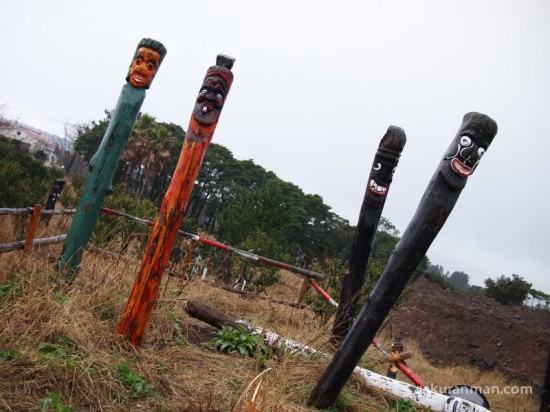 It was pouring with rain the day I visited, which only seemed to heighten the striking effect of the monstrous faces and peak my curiosity enough to venture down amongst them.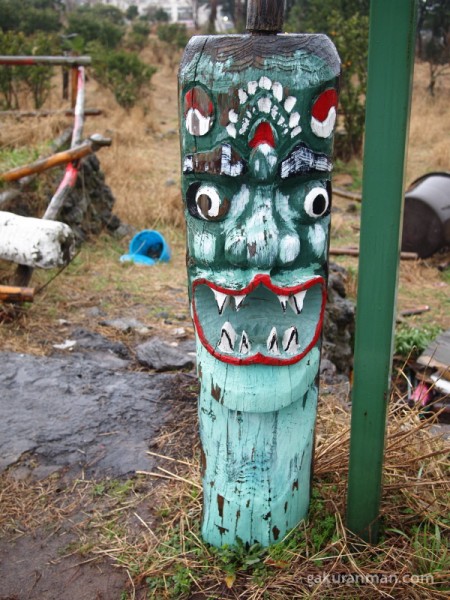 A closer look really reveals the natural decay and consumption so very telling of haikyo. It's almost as if this guy's teeth are slowly dropping out one by one…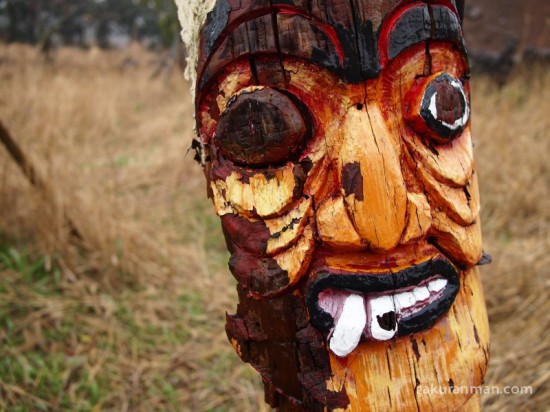 A few were left standing majestically and eerily amongst a greyed and sombre sky. The only thing lacking was a crack of lightning and rumble of thunder to really seal the effect.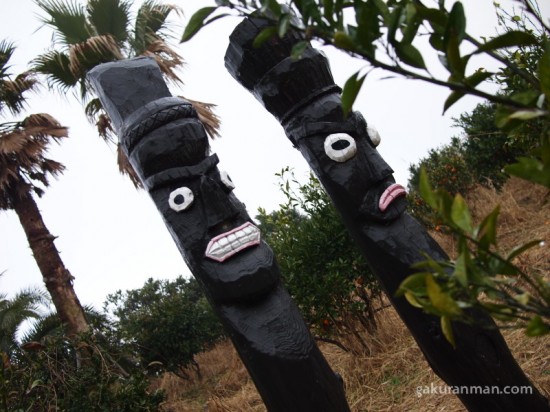 And some were resting, gracefully being consumed by the surrounding foliage. It hasn't seemed to have damped this fellow's spirits though.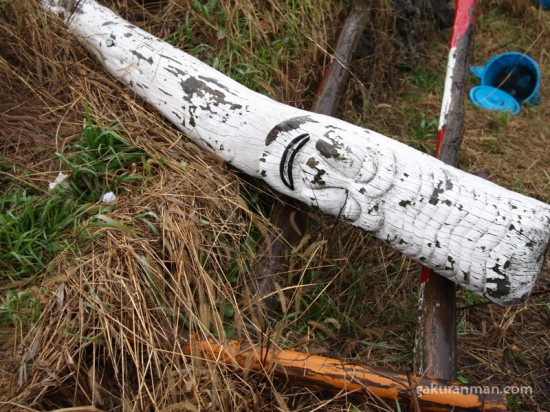 Others were lurking in the background with faces quite horrifying. A sudden squawk and rustle from the tall grass nearby gave me a bit of a fright as the rain continued to pitter-patter upon my umbrella.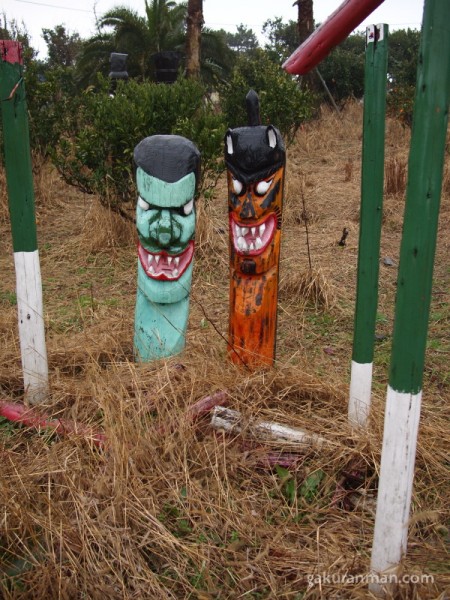 I would be completely freaked out to have come across these in the dark. The eyes seemed to have a supernatural glow…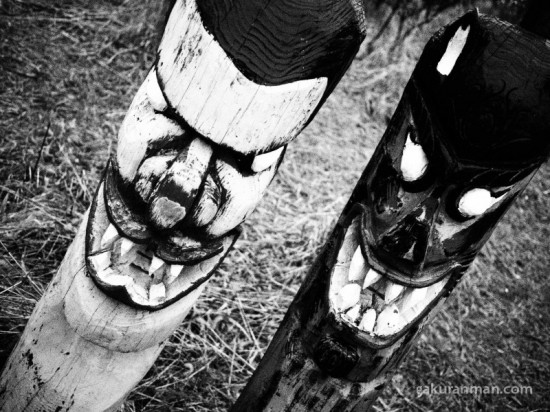 What are your thoughts? Have you ever come across a ghost road yourself?