A recent interview saw me exploring some of the wonders of Kansai-ben with a native speaker. If you're like me, you might have an interest in this wacky dialect from Southern Japan, so come and learn a few phrases with us!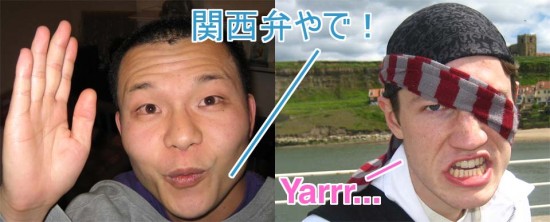 Ryousuke is a resident of Kansai, living in Hyogo-ken and is currently studying abroad here in the U.K. The Kansai dialect is well-known for it's use by Japanese comedians, television shows and also by 'ruffians'; the yakuza-like types who are all lip and loudmouth. Of course, it's also used by the native residents of Kansai, and particularly strong forms by older generations. It's still quite popular among young people though, in my experience!
One thing to remember when learning Kanasai-ben is that the accents and intonation used is very different from hyoujyungo (the standard Tokyo dialect that is usually taught in textbooks), so pay attention not to pick up bad habits if you are a beginning student of Japanese. It may be hard to correct your pronunciation later! And yes, hyoujyungo is required when working in business environments and cities outside Kansai – you can't get away with speaking polite Kansai-ben in Tokyo, lest you want stick out like a sore thumb!
With that in mind, let's watch the 2-part pub interview:
Learn Kansai-ben with the Gakuranman! Part 1
---
Phrases learnt:
どないやねん – (どういうことだ) What does it mean?
ね changes to な – Isn't it?
やかましいわ! – (うるさいよ!) Shut-up! / Noisy
ほんまに?- (本当に?) Really?
いい changes to ええ – Good / Yes
なんでやねん – (なんでだ?) Why? / What?
どついたろか?! – (殴ろうか?!) Shall I hit you? / Wanna knuckle sandwich?
ほないこうか? – (今、いこうか?) Shall we go then?
Part 2
---
Phrases learnt:
しんどい – (疲れた) It's tiring / I'm tired
ちゃう – (違う) That's wrong / It's different
ちゃう、ちゃう。ちゃうちゃうちゃうんちゃう? – No, no. It's not a chihuahua is it?
どや顔 – Stuck-up face / Being full of oneself
うっとうしい – (むかつく) Annoying / Irritating
ひくわ – That's gross / That's unpleasant / Pull away from (you)
何してんねん? – What are you doing?? (Rhetorical question)
Sorry about the poor video quality. I'm having to use a digital camera's video settings and it sucks in low light. At least this time the audio is good though – I'm using my new podcasting mic, the Samson C03U! (Look out for a secret, upcoming podcast hosted by myself, Koichi from Tofugu and Deas from Rocking in Hakata. It's gonna be swell!) (爆笑)