NihongoUp is a neat little game that installs quickly and cleanly and offers great benefits to you learning Japanese. With Kana and Kanji practice and even vocabulary drills for up to the highest level of the JLPT, it's certainly getting itself noticed in the language-learning arena. You can also win a free copy!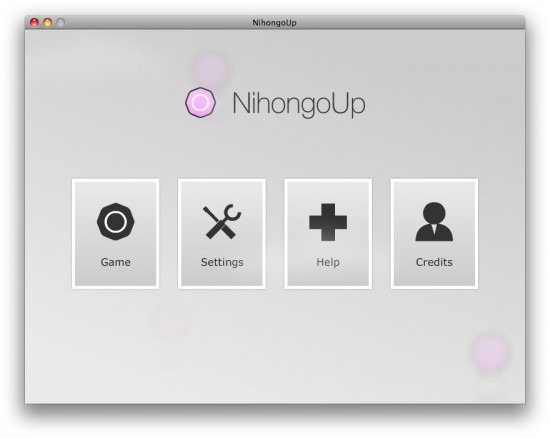 Philip Seyfi, new media designer and developer at Divita is behind the swanky looking program NihongoUp, which also has an iPhone version. He commissioned me to take an in-depth look at the software and review it. So here's the good and the bad. Video at the bottom of this post for those of you who don't like to read :). See the end of the post where I'm giving away TWO free copies of the game! Yes, free! Who doesn't like free!? There is also a 15-day free trial on his website.
Skip down to the bottom of this post for my Overall Impressions if you are in a hurry!
(Note: I have only been able to test NihongoUp on the Mac, so I cannot comment on the Windows, Linux or iPhone versions of the game.)
Aesthetics
---
While the goal of the software is to help you learn Japanese, the look and feel of the tools we use are also very important. Studying is often hard, repetitive and just plain boring, so anything you can do to liven up the prcoess is a plus. The Japanese stationary market is flooded with colourful pens, finger-huggingly grippable pencils and cute folders to bring excitement to your work, so a good-looking and well-designed program would have a similar effect.
I'm pleased to report that NihongoUp succeeds at all levels on the design front. I wouldn't expect anything less from a designer like Philip – his website and products reflect the clean, smooth designs of the modern internet and the animations glide between one-another like the airy clouds floating in the background of the game.
It looks lovely to behold and is a pleasure to use for the most part. A simple, pink layout with sharp transitions as you click between the various types of game available reassure you that this is a product that has been lovingly produced. Even the music fits the design and for the first 10 minutes of so, it's quite nice to listen to.
Unfortunately at this stage, there only appears to be one track in the game and while it does make for good background music, I quickly became tired of it, preferring to turn it off completely in the settings and stick on Fatblueman's new album to enjoy while studying. It definitely needs more tracks to choose from.
Functionality
---
The software is very simple to use and requires no learning curve, so you won't have any trouble using it. I installed it quickly and simply on my computer and was playing within 3 minutes. The menus and layout for the different types of Japanese review are all clearly separated, as you can see above.
There are also some basic options in the Settings panel that allow you to control music, sound effects, the game duration and, importantly for us Japanese language learners, whether you are viewing kana or kanji in the game (which is great for beginners who might fear kanji). I'll touch more on this later.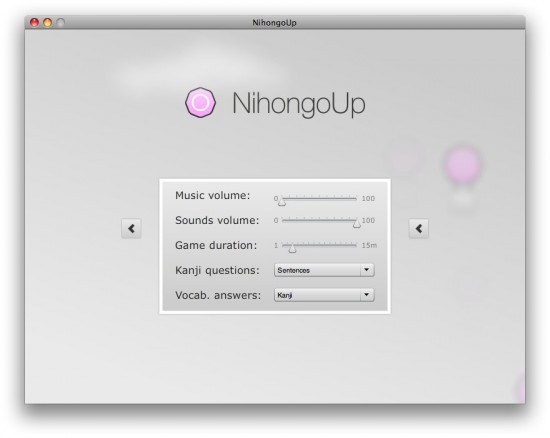 My only minor gripe with the game's functionality is that it has been designed primarily with keyboard input in mind. A mouse works, for sure, but when I attempted to use it to click on the balloons in the game modes, I sometimes missed, resulting in me 'pausing' the game. Rather frustrating and, I reckon, easily fixed. Why not put a small menu button in the corner of the window and have that for pausing the game?
Also, the point-scoring system is somewhat basic. You get more points exponentially as you get a series of correct answers, but I would like to see additional points given if you type or click the correct answer more quickly (i.e. when it is higher up the screen).
Gameplay
---
The game is divided into 4 sections: Kana, Kanji, Vocabulary and Grammar, so I'll take a look at each one separately.
Kana Mode
Kana mode offers you 3 types of game: Hiragana, Katakana or mixed practice. The concept is simple: score points by typing the correct meaning of the Japanese characters that you see being transported down by balloons.
Sound easy? It is, but the catch comes when you start doing well. The more unbroken strings of correct answers you get, the faster the game becomes and the more points you rack up. It can get quite challenging, even for a person like me who deals with Japanese characters every day.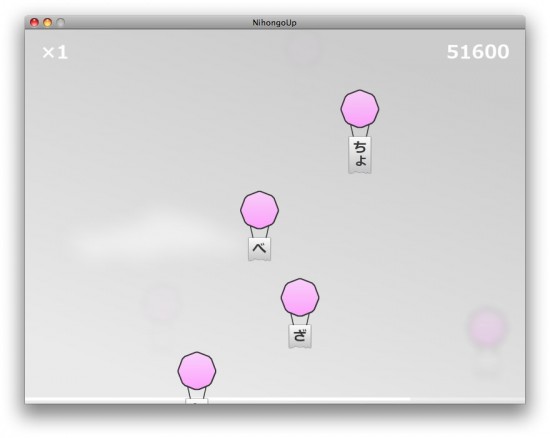 The big problem with this method is that is really requires you to have good typing skills. I don't touch type, and I had trouble keeping up reading the characters, looking at my keyboard and knocking out the readings, especially for those odd combinations like ぢゃ (dya). Still, it is challenging and enjoyable enough to keep you trying again and again. Perfect for absolute beginners of Japanese who really need to nail those character readings. And believe me, you *need* to know the readings before you can progress in the language.
Kanji Mode
Kanji mode currently only offers two levels of study: JLPT levels 4 and 3. This is a big shame, because otherwise the game works quite well. On level 4, you are faced with sentences of hiragana or katakana test and 4 balloons float down. It's your job to pick the kanji character that matches the highlighted reading at the bottom of the screen.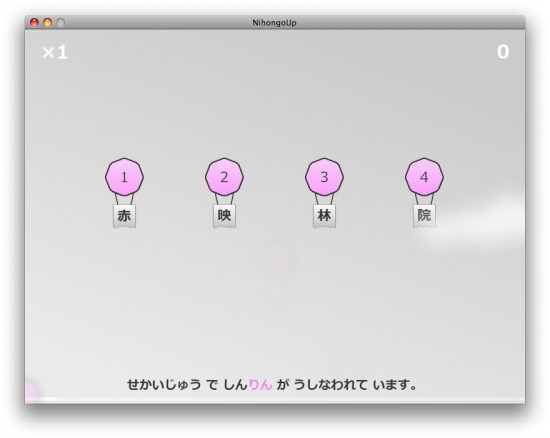 The good thing about this is that Philip appears to have accounted for kanji knowledge in-between levels. I can't verify that for all kanji, but I did notice that in level 3, basic kanji characters you should have learnt in level 4 are used – so there's no use cheating yourself! Let's hope this trend continues when he adds JLPT levels 2 and 1 in the future and it'll make for a very useable tool to track your reading progression and kanji recognition.
Also, you are able to change from sentences to just words in the settings if you prefer to focus on only one word when looking for the right kanji.
One problem, however, is that you cannot swap the kanj and matching kana around. In other words, you cannot check your kanji reading skills by looking at the character and selecting the correct reading for it. This sort of practice is essential because the JLPT test has a section that requires you to select the correct reading of kanji based on the characters you see in word combinations. In other words, you have to remember the readings for yourself instead of having to match the character to a reading already displayed. I hope to see this in future versions, as it is crucial to learning to read kanji well, in my opinion.
An example from the game. Choose the kanji:
おもさ  Choose: 重 昼 土 犬
Not in the game – I want an option to be able to choose like this too:
重さ  Choose: おもさ いもさ じゅうさ じょうさ
Vocabulary Mode
This is more like it. All the levels of the old JLPT test are here 1-4. You are presented with an English word at the bottom of the screen and can choose to display answers in either kanji or in kana from the settings.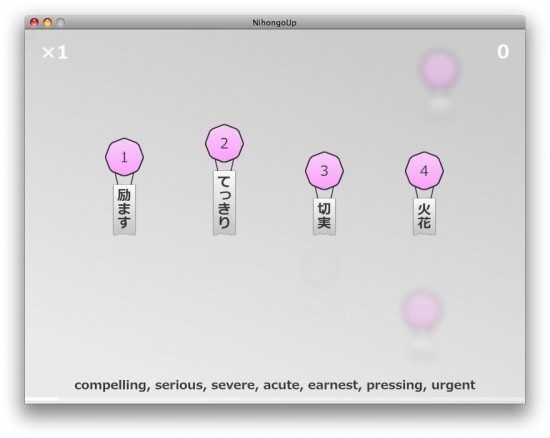 Unlike the kana mode games, this mode doesn't get any faster, and I found it to be a little too slow at times. It works like many other drill programs I've seen whereby you just select the answer that matches the text, resulting in a satisfying ringing sound when you are correct and a bleep when wrong. Points increase exponentially as you get successive answers correct.
The big problem with this mode, as with the Kanji mode, is that there is no apparent way of swapping the recognition modes around. You must always select the relevant kanji based upon the English reading. Again, this is unacceptable for a serious learner, who must be able to understand kanji as seen in context. I think it is much more important to be able to see a kanji compound piece of vocabulary and choose the closest match in English to what it means.
Grammar Mode
Finally, we come to the grammar mode, with its Japanese particles and Japanese counters practice sections. Both items are very important in mastering the language, and even I struggle with counters after many years of study, so they are very welcome additions.
The counters practice in particular is a nicely done mode, utilising sentences complete with kanji and the counter in context. You choose the correct reading. The particles section is also good, but unfortunately only uses kana to keep things simple and at times has sentences to which there are multiple possible answers. A good start and fine for testing basic grammar, but this mode could use further improvement to really help it shine.
Overall Impressions
---
Alrighty then. No doubt there are some of you who skipped here to read my conclusion first. I don't blame you – you want to know whether or not this piece of software is worth the $5 asking price, right?
Here's your answer: Yes!
That's going to be especially true for those of you who are still beginners learning the language. There's so much to offer for the beginning learner – complete kana practice, JLPT levels 4 and 3 kanji practice and plenty of sentences in the vocabulary and grammar sections to get you off on a good start. Yes, you could find many of the same things online for free, but you can save yourself the time by just giving NihongoUp a try. I think the excellent kana practice and counters drills are the best I have seen to date and are worth the asking price alone.
For the more advanced learner, the answer is a more reserved yes. I would hope to see more on offer in future updates, such as additions to the kanji mode for JLPT levels 1 and 2. You can practice your advanced vocabulary up to the highest level JLPT1 though, which is great for improving your recognition skills one-way, but it is still limited. The big advantage is that all the words are already ready for you inside NihongoUp. If you use another SRS program like the marvellous Anki, you will need to create or download the databases containing all the vocabulary yourself.
Still not sure? Philip offers a free 15-day trial of the software on his website. Go over and taste it for yourself! NihongoUp Free Trial
Suggested Improvements
---
As outlined in my breakdown of the program, here is my list of suggestions for improvements:
Option to switch recognition in kanji mode – currently you can only learn by matching the kanji characters to the reading you are given, and not vice-versa.
Option to switch recognition in vocabulary mode – currently you can only learn by matching the kanji words to the English you are given, and not vice-versa.
JLPT levels 1 and 2 added to the kanji mode.
Faster in all modes except kana. Alternatively, a speed control.
Pause button instead of having the mouse pause the game when you mis-click on the screen.
Additional points for typing or clicking the correct answer more quickly.
Option to see kanji in the grammar mode – sentences using only kana are difficult to read for more advanced learners.
More music tracks! One track quickly becomes repetitive.
Competition to win a FREE copy of the game!
---
I have two copies of the game to give away. There are three ways to win! You only have to do *one* of the below to enter, but do all three if you like :)
1) Re-tweet the following text on Twitter. Make sure to include everything, especially the hashtag at the end!:
Win a FREE copy of NihongoUp and learn Japanese! Simply re-tweet. http://bit.ly/gakgoup #gakUP
2) Make a Youtube video telling me why you want to win a copy of NihongoUp and make sure to post a link to your video in the comments of this post.
3) Leave a comment on this post telling me why you want to win a copy of NihongoUp.
You can also follow me or Philip on Twitter for further Japanese stuff and general cool points :)
Follow @gakuranman on Twitter
Follow @nihongoup on Twitter
Winners will be announced by 22nd January. Good luck!