Another deep sea creature-related post that vaguely sings of bioluminescence. Behold! No longer is your USB key bound to those boring plastic cases! Accessorise your keys with a squid. And not just any squid – a Firefly Squid. I wonder if it glows blue when you plug in its tentacles?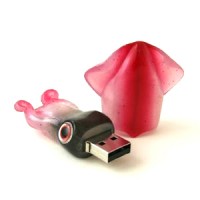 Why yes, yes it does! It also comes in authentic Japanese seafood packaging, complete with expiry date! You can hook yours from a company called Solidalliance, but I bet they won't ship outside of Japan… *Update* They sell 2GB versions online here that ship abroad: Audiocube
What more could you want? How about a plotting cuttlefish tie to spruce up your work life and make you the centre of attention?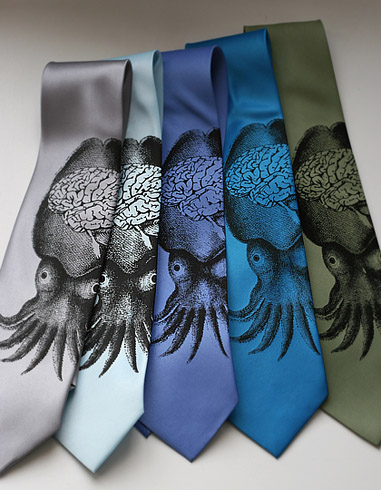 But what would this tie say about you, really? Squids on the brain? I'm thinking sushi dinner? Or perhaps something more sinister… I mean, just look at those cold, piercing eyes… Cyberoptix are the company you want, should you be drooling for one. I recommend aquatic blue… Pity there are no jellyfish versions, or I would have bought the stock!