I'm not going to be roundabout with this. Today's post borders on the sickening. If you want to hang onto your dinner or are easily offended, go back now. Even it takes a lot to offend you, consider yourself warned. But if you're feeling a mite plucky, come with me on a philosophical journey.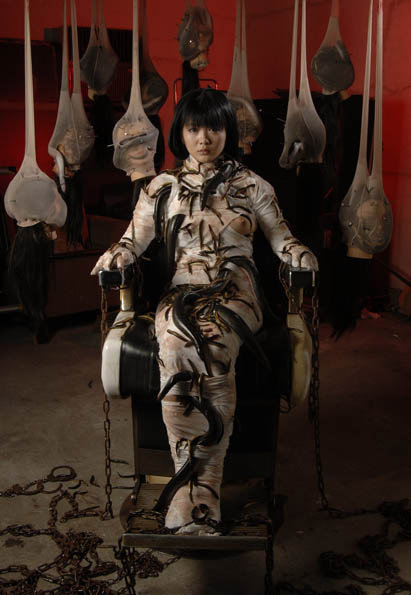 Still here then? You've got guts! Or wait, are those guts where I think they..? Oh no. They are. Everywhere.
I'm impressed. You're still reading. Well then, I'd best start writing a little bit about the curiosity that is Daikichi Amano. Self-proclaimed "perverted master of fish and girls", this Katsushika Hokusai of the present age is anything but shy, frankly claiming his film-work is "not art, but porn". (I would link to the source video documentary but it is just too explicit).
Many seem to disagree, however. Mondo Bizzarro Gallery describe his work quite eloquently:
Amano's photographs are drawn from his own private fantasies. Fantasies that are animistic, animalistic and atavistic in nature, but all-too-human in execution, evoking primal fears and desires. In Amano's world, the human body is worshipped and admired for its awesome beauty but also deformed and fused with nature – with wood, blood, bones, scales and feathers – transforming it into an erotic grotesque. But these frightful dioramas are also cut through with the blackest humour.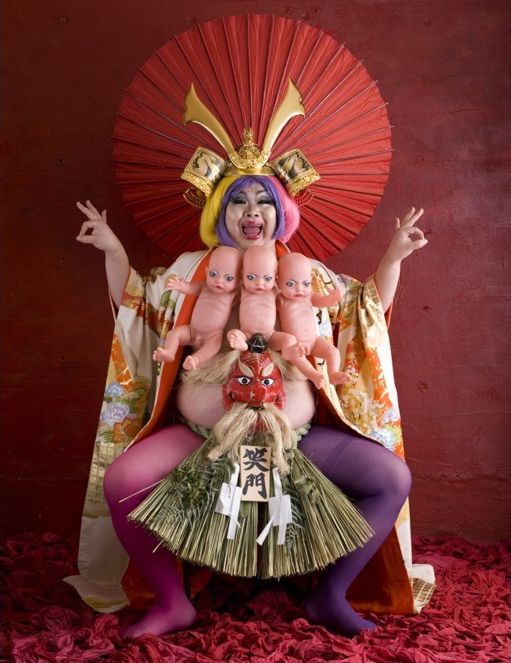 Most of his photography is surrealistic, but his videos might better be described as just 'shocking'. The works of his adult film company 'genki-genki' are notorious. There is a very good reason I have not linked to the site; I think it exists in a category of its own for its sheer primal and explicit nature. But I imagine the more daring amongst you are already copying and pasting the name into Google. Do let me know your reactions in the comments, won't you?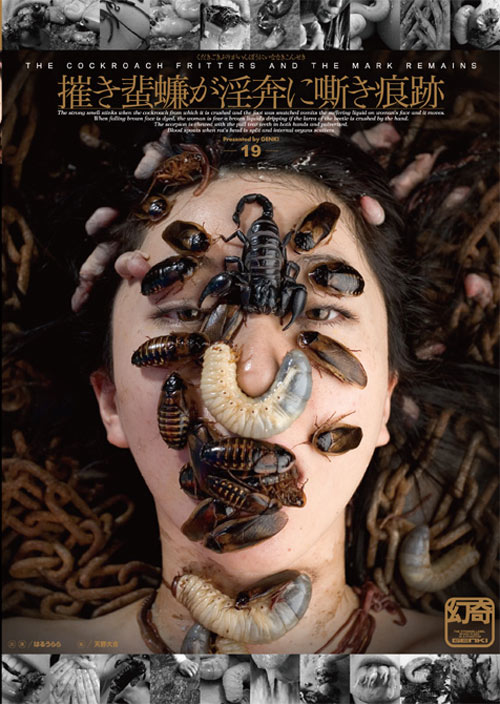 So why such a brazen post today? I guess I like to challenge my readers to confront themselves from time to time, and I think that's exactly what this type of work does. It forces you to go places you'd never dreamed and in doing so better understand yourself. At least, that's what I hope it does. I'd like you to really ponder over your reactions today.
Why are our impulses towards adult video and such explicit material usually so negative and powerful? What are the roots of our shameful feelings? Couldn't pornography just be explained as a form of art and self-expression? And is it really *philosophically* morally wrong to create or view such material?
I know, I'm opening a can of worms on myself (sorry for the bad contextual pun). But I'd love to hear your thoughts :). Peace.