Ho ho! Today I have a fun little philosophical puzzle for you that you can impress your friends with (after getting it right yourself!) It's called the Wason card problem, and only a reputed 5% of university-educated adults get it right!

If you are looking for the solution, you can find it here: Wason Card Puzzle Solution.
**********
There are four cards. On one side of each card is a number and on the other side is a letter, like so:

The claim is:
"If a card has a vowel on one side, then it has an even number on the other side."
The question is:
Which of the cards would one need to turn over to see if the claim is true or false?
See if you can get it (and no cheating!)
**********
After doing that one, try this one as well: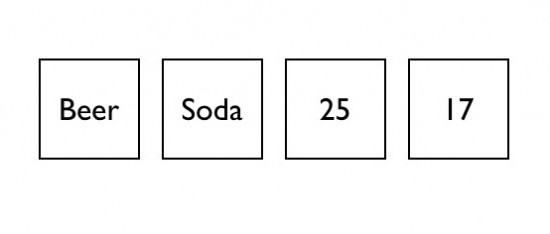 Now, imagine you are a bartender. You must stop people under 21 years of age drinking alcohol. Each card above represents a person and shows their age on one side and what they are drinking on the other side. The claim is:
"If a person is drinking beer, then they are over 21 years of age."
The question is:
Which of the cards do you need to turn over in order to check which people are breaking the law?
**********
Answers in the comments! ^_^