I've been pretty busy during the last few weeks, hoping back and forth between Tokyo and Nagoya, stopping off at Hakone and infiltrating numerous haikyo. And in the crevices between all that? Networking with some of Japan's finest j-bloggers, adventurers and musicians. And hey, Autumn isn't even over yet!

As part of my grand master plan to make my face as wide as possible (see quirky Japanese idiom: 顔が広い), I've been making extra efforts to get out and about recently. I hear that being well-connected is the key to landing sought-after jobs, securing beds to sleep in all over the country when travelling and the ticket to many cool freebies. (Did I just say that out loud?)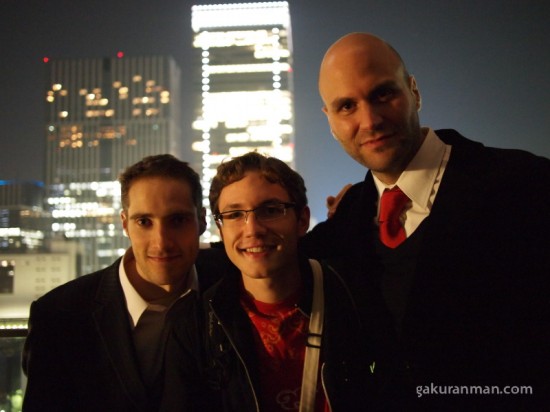 Above: With Joseph Tame and Paul Papadimitriou at the Business in Japan event, Tokyo, Oct 28th. Much meishi-exchange, poken-tapping and jovial chit-chat.
But seriously now, if there's one thing I dislike about the internet, it's the 'disconnectedness' of it all. Oh sure, you can send your ugly mug thousands of miles via webcam on Skype, boast about and chat to hundreds of Twitter followers and find lists of like-minded oddballs similar to yourself, but when it comes down to it, there's a very disconcerting feeling about only 'knowing' people online.
Above: Networking at the Pink Cow, Shibuya, Oct 29th.
Meeting them face to face brings about a whole new appreciation for who they are, and what type of burrtio takes their fancy: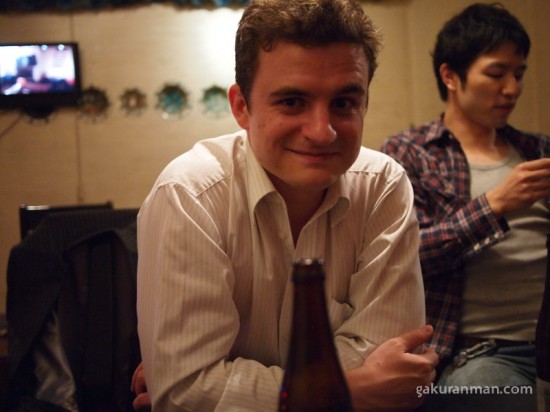 Above: Reflecting on life and love in Japan with Andrew Wright at the Pink Cow, Oct 29th.
And I'll take the human warmth of a chat about rustic ruins and tales of adventure over a shared beer any day. Serve that with a hefty plate of fish and chips, if you would: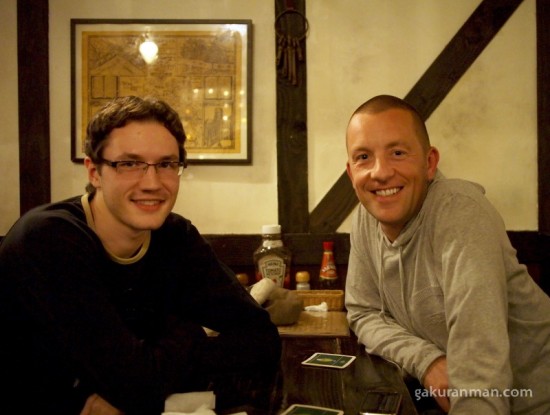 Above: With Tokyo Times blogger Lee at a British pub in Shibuya, Nov 8th.
Not to mention the pleasure of meeting other passionate adventurers. A pure splash of interests, mixing talk of decaying buildings with humbling tales of anguish and peril while mountaineering: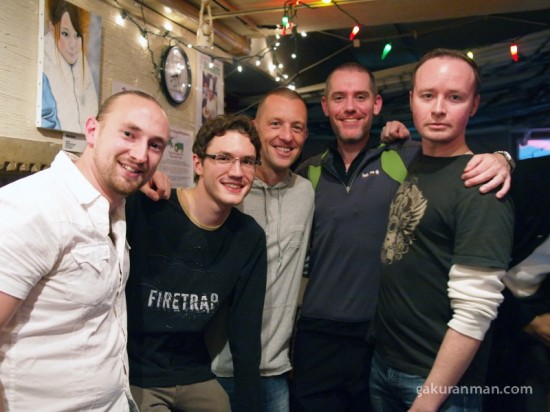 Above: Amity between fellow explorers. Four haikyoists and a mountaineer, Pink Cow, Nov 8th. (L>R Michael John Grist, Gakuranman Michael, Tokyo Times Lee, i-cjw Chris & Mike's Blender Mike).
And let's not forget Japan's aspiring musicians. I owe many hours of listening joy to the awesome band Fatblueman: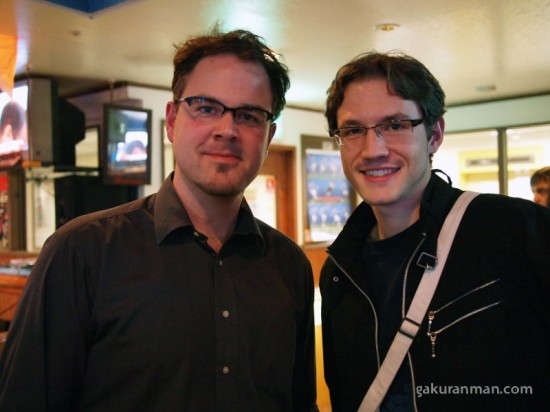 Above: With John from Fatblueman live at Shooters, Nagoya, Nov 15th.
Truly something special to be meeting all these inspiring people. Let's hope Christmas serves up even more of the same – a Tokyo CGM night would also go down a treat! (Here's winking at you, Danny Choo & Andrew Shuttleworth).
In case you don't already recognise some of these great people, below is a list to their websites and twitter accounts. Highly recommended for stimulating news on Japan!
Joseph Tame @tamegoeswild
Paul Papadimitriou @papadimitriou
Sandrajapandra @sandrajapandra
Gwen Bell @gwenbell
Kimberly Tierney @kimiecat
Masafumi Matsumoto @mma323
Jay Hori @jayhori
Alex Brooke @alexbrooke
Andrew Wright @wrightak
Lee Chapman @tokyotimes
Michael John Grist @michaelgrist
Chris White @i_cjw
Michael Beddall @blender
John Janzen @fatblueman
And of course, you can follow me on twitter here: @gakuranman
What are your experiences with networking? Do you prefer meeting people in real life as opposed to just knowing them online?