Illuminations, fashionable restaurants, Christmas cake, KFC, omnipresent Santa Claus avatars, Disneyland and the infamous love hotels. For many people in Japan, Christmas Day in Japan is Valentine's Day, take two.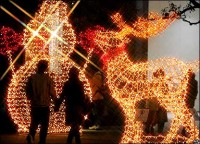 That's right. For couples and lovers, Christmas Day is the day of the year to spend time together. According to JapanToday, 63% of people want to find a boyfriend or girlfriend over Christmas, the majority saying that Christmas 'is the season of love' (JapanToday). It's not surprising considering – the commercial aspect of present-giving mixed with the rosy fantasy-land of upmarket places like Ginza and the Tokyo Bay area create the perfect atmosphere for spending time with that special person.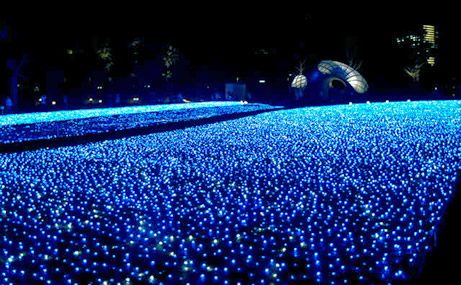 But how best to wow your date this Christmas Day? The stereotypical date-plan a guy has might run a little something like this:
1) Buy expensive present. Have it lavishly gift-wrapped and double-boxed for good measure. (Ensure present can fit in your pocket, unnoticed.)
2) Don a deep black cashmere coat and a scarf with this season's Winter colours. A smart shirt, tie and pressed trousers wouldn't go unnoticed either.
3) Take your date to the posh restaurant you pre-booked. Ideally this will be on the top floor of a well-known hotel and will have wine and a 3 course meal.
4) Give expensive present at the opportune moment, and hope it's within the price range she was expecting.
5) Watch your date's surprised and gleeful reactions with satisfaction, and then retire to luxurious hotel suite for a night to remember.
* If by step 5 you've already exhausted your bank account, check out your budget 10,000 yen kitsch Santa-themed rooms at your local Rabuho. Alternatively, head down to Kabukicho 2 Chome. Take a look at this website too – it has a cool flash-based map for searching for local love hotels!
** Depending on your date's standards, mentioning Rabuho may result in an early bedtime for yourself.
*** Rabuho is short for 'Love Hotel' in Japanese – a place where couples can have some private time together, usually rented in short 3-hour stays.
I jest. But in all seriousness, I was quite surprised when I first learnt about the significance of Christmas for couples in Japan. Check out this video of several years' worth of JR adverts. They are basically marketing Christmas as a time to take the train (the 'Christmas Express') home to see your special person. The song is by Tatsuro Yamashita (山下達郎), which I wrote about last year. Download it at the bottom of this page.
But more than the whole dating atmosphere, what caught me off guard was the pressure on the guy to buy expensive presents. I began hearing stories of expensive diamond rings and lavish presents of jewellery and dates at expensive restaurants. As a guy, we're expected to go all-out! Take a gander at retailer The Kiss's answer to a Christmas present. Those rings right there are in the cheaper range too. Of course, such expectation for expensive or luxurious gifts isn't isolated to Japan alone, but it did cause me to wonder about commercialism and gift-giving. When I was in Japan for Christmas two years ago, I saw quite a few couples spending time together and felt a subdued pressure to buy jewellery and spend a lot of money. Anything less would have been seen as stingy. Whatever happened to the adage 'it's the thought that counts'..?
After the date and (hopefully successful) giving of gifts, many couples – both young and old – finish their romantic evening with a night of passion. Apparently, hotels in Japan on Christmas Eve are booked well in advance, so many couples have to settle for the glitzy world of Rabuho (BBC News). Osaka even has a Christmas-themed love hotel, open all year round. What better an end to the evening than playing the roles of Mr. and Mrs. Claus after a few too many sherries? You could even try on some of LoveCosmetic's 'Nuru nuru Lovely Kiss Christmas' (Lovely wet kiss Christmas) if you really want to put some zing into the evening!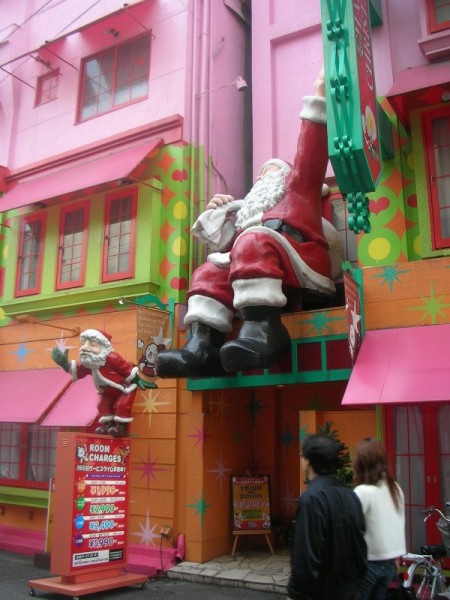 But the build-up to all that passion: The romantic evening for two. The clink of wine glasses, nice food and a kiss in front of a huge Christmas tree sprinkled with fairy lights. Where does the present feature in all this? Just how much does a guy have to spend on a gift for his date to round off the evening? Or are you of the mindset that thinks that most any present is good, so long as it is thoughtful?
So, to all the female readers: Do you expect an expensive present from your boyfriend/husband/lover at Christmas?
To male readers: Do you think giving an expensive present is important?
**********
Download Tatsuro Yamashita – Christmas Eve